Bates Smart has updated its design for 435 Bourke Street in Melbourne, lopping off 80 metres and nine storeys from the planned curvaceous tower.
The original scheme, submitted for planning approval in December 2018, called for a 58-storey office tower measuring 250 metres. Its height has been reduced to 180 metres, largely to comply with overshadowing controls. The architects say the new building envelope will protect daylight and sunlight access to the Yarra River and surrounding public spaces.
"The tower's envelope…has been carved to allow solar access within the mid-rise of the tower. This provided an opportunity to give the tower a sculptural expression," states a design report.
At a Future Melbourne committee on 15 October, councillors voted not to object to the tower's approval. The planning minister has final say.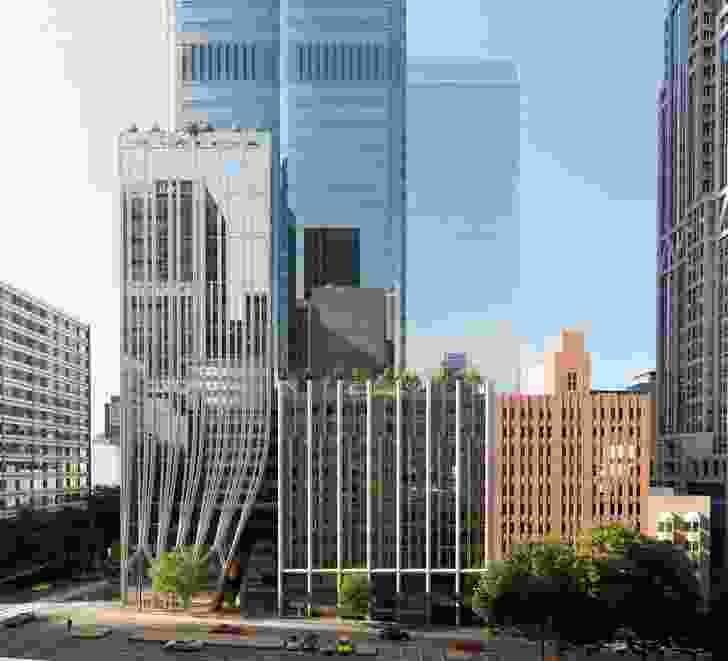 In addition to the 49 level commercial office tower, the project will include development of the site at 21-27 McKillop Street with a four level building comprising a mix of retail tenancies at lower and ground levels, and multi-function spaces above for a mix of uses such as flexible meeting, recreation and "lifestyle spaces."
Landscaped terraces and open space are proposed at ground levels along with outdoor roof terraces and sky gardens. The project will see the demolition of a "significant" graded heritage building at 140 Queen Street – the Scottish Amicable Life Assurance Building, constructed in 1964-5 to a design by Yuncken Freeman.
Despite its heritage significance, the building has been found to be structurally unsound by a number of structural engineers. Council management said it therefore supported demolition "in this unique circumstance."
Bates Smart has modified its proposed design along the Queen Street façade to create a modern interpretation of the existing heritage building by referencing its vertical and horizontal geometry elements.
Cian Davis, Bates Smart director, said when unveiling the initial design, that the tower would create a new paradigm for commercial projects in Melbourne.
"Due to its prominent corner site location, we were focused on ensuring the typology of the building contributes to the overall experience of the city," he said.
"The building's design references the neighbouring streetscape and is crafted to be more organic in form, aspiring to enliven the precinct and create a more people-friendly environment that stimulates the senses and imagination."
Related topics