Located in Melbourne's leafy, premier suburb of Armadale, Bouzy Bar à Vins is a petite wine bar influenced by those quintessential bars found on most corners of "gay Paree." Bouzy is the product of hospitality sage Jason M. Jones and partner Brahman Perera, an up-and-coming designer, and represents the progression of Melbourne's hospitality scene – "small bites and a glass of wine after work; it's about making a special occasion of every day," explains the duo.
Occupying a corner site in the historic Kings Arcade, the brilliantly preserved arcade and former milk bar tenancy gives Bouzy two distinct yet connected dining experiences. The arched walkway is lined with timber banquettes softened by an assortment of traditional Côte d'Azur blue cushions, offering a sheltered alfresco setting complete with requisite cane bistro chairs. Above, expansive copper-framed window niches present provocative glimpses of the interior through a delicate and diverse landscape of wine bottles and glassware suspended on fine steel shelves.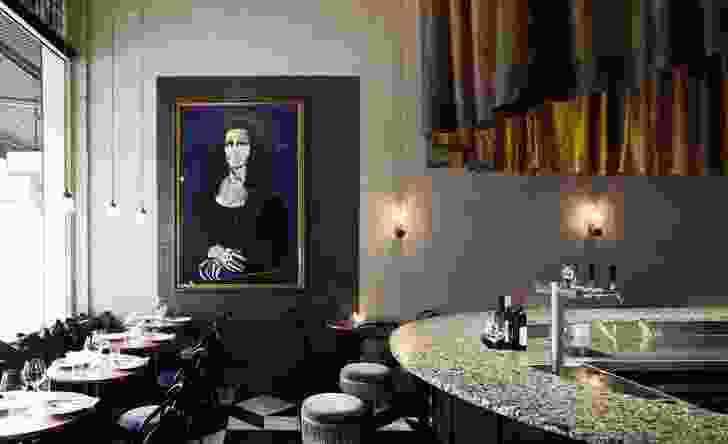 This striking feature links the arcade to the interior, where Bouzy's rhythm and activity are woven around a central bar. Despite its dark lacquered finish and monolithic presence, the bar is given a sense of weightlessness as its mirrored plinth reflects the graphic linoleum flooring – a tongue-in-cheek play on traditional bistro chequerboard floors. A grey terrazzo top flecked with red and pearl shell aggregate is a subtle yet playful culinary reference to delectable French terrine that diners may well be feasting upon.
Elegantly tasselled fixed-post stools surround the bar, giving a flirtatious and feminine contrast with their velvety fawn upholstery and bullion trims. The bar terminates at the intersection of the kitchen pass, inviting patrons to delight in the hustle and bustle of white-clad and hatted chefs, the theatre of the kitchen evocative of the French bistro experience.
A sinuous curtain track outlines the form of the bar, with a backlit, lustrous gold curtain creating a dramatic golden glow – "a sort of whimsical, exaggerated lampshade," explains Perera. The curtain accentuates the vast height of the space, drawing focus to the site's original, multi-hued leadlight windows. A secondary gold curtain surrounds the entry, the fabric dancing gracefully in a performative gesture as guests arrive.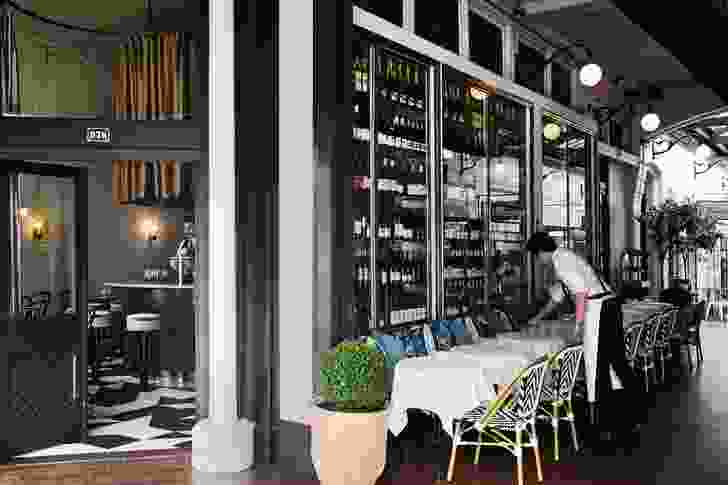 Golden hues are echoed in Bouzy's delicate custom wall sconces – faceted glass discs laminated with amber-toned film and secured by simple steel brackets. The fittings complement tulip-shaped crystal light shades lovingly brought back in the couple's luggage from a trip to Aix-en-Provence, finding a home illuminating the peachy variations of red-marble tables lining Bouzy's High Street window.
Inside this niche, a deep banquette with apricot and burgundy silk cushions gives a charming sense of comfort and domesticity. Nearby, a dramatic artwork by Kim Barter playfully depicts a "boozy" Mona Lisa, who may have had one too many Mourvèdres at the bar. This spirited piece is a powerfully succinct encapsulation of Bouzy's traditional yet idiosyncratic stylings.
"It's an incredible responsibility making a client's vision a reality, and never more so than when the client is yourself," laughs Perera. While cleverly referencing aspects of traditional French style with clear intent, Bouzy is meticulously layered with personal touches that give a generous sense of theatre, romance and individuality to the space. A coherent and truly intimate experience, Bouzy transports you to where you'd rather be – the perfect French wine bar in which to rest your derrière.
Products and materials
Walls and ceilings

Walls painted in Dulux 'Domino,' 'Grand Piano,' 'Vintage Beige.'
Windows and doors

Copper window frames, new raw blackened steel.
Flooring

Black- and-white vinyl tiles from Armstrong.
Lighting

Custom designed with steel manufacturer. Axess Glass dimpled glass with custom amber gradient film.
Furniture

Thonet chairs. Upholstery by Camm Upholstery. Trimming by Galleria.
Other

Commissioned artwork by Kim Barter.
Credits
Design practice

Jason M. Jones and Brahman Perera

Project Team

Jason M. Jones, Brahman Perera
Consultants

Builder Upfront Concepts

Site Details

Location Armadale, Melbourne, Vic, Australia
Site type Urban

Project Details

Status Built
Design, documentation 3 months
Construction 3 months
Category Hospitality, Interiors
Type Bars, Restaurants

Source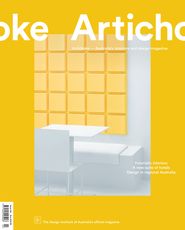 Issue
Artichoke, September 2018
Related topics