The scale of Walter Burley Griffin's design for Canberra is quite beyond the visual comprehension of any ground-level observer. It is a marvellous landscape composition that has served the city and the nation well for more than a hundred years. With Griffin's main lines firmly established on the ground, the attention of the federal government and the National Capital Authority (NCA) has moved in recent times to the creation of a finer grain for the Central National Area and a careful filling in of the bits that people should be able to use. Once described by Griffin as an "accessible but still quiet area," the southern lake shore of the central basin is one such precinct, which is developing as a very successful linear park.
The new Bowen Place Crossing fits into a small corner of this "still quiet area" at the southern end of Kings Avenue Bridge. It is the most recent addition to a collection of thoughtful landscape insertions bringing human scale and varied character to Canberra's formal public spaces and the NCA is to be congratulated for the high standard of its design and execution. A principal objective for this project was to ensure the safe and separated movement of cars, pedestrians and cyclists at road level and at lake level, but the NCA was looking for more than just clever traffic engineering. With a lengthy process of option studies, public consultations and finally a competition among five highly qualified design teams, the NCA wanted a design that would address the national agenda and the wider community and at the same time integrate with the existing landscape and built context in a "robust, sensitive and enduring manner."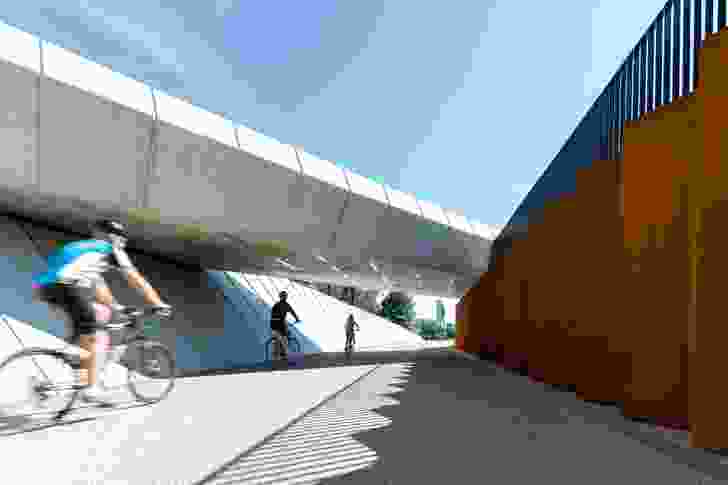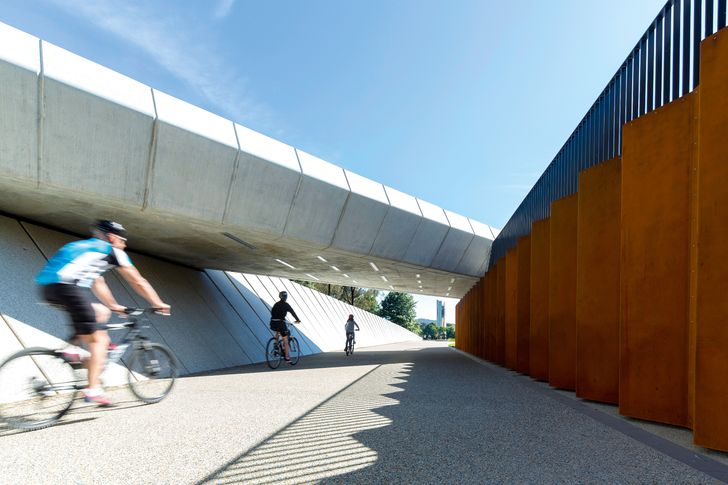 The winning design by Lahz Nimmo Architects with Spackman Mossop Michaels was refreshingly minimalist in form and detail. The assessment panel, chaired by Australian Capital Territory Government Architect Alastair Swayn, found the design "elegant, logical and direct." An early reviewer of the competition entries, misunderstanding the ambitions for the project and more at ease perhaps with established urban squares in older cities than with the clear light and soft edges of Canberra, lamented that the winning design did not do "anything remarkable" to transform the space into a place. Now that the crossing is open for business, the project can be seen to do all it was asked to do with a generosity that will moreover allow it to develop further over time.
Asked in 1957 for his view as to whether federal expenditure could turn the largely empty Canberra into a capital city worthy of the nation, British architect and town planner Sir William Holford suggested that high-quality urban infrastructure in Canberra would always be a very good investment. Bowen Place Crossing is such a good investment. It sits comfortably at the starting point of a promenade of national significance and resolves modern-day problems of movement and safety with confidence and considerable panache.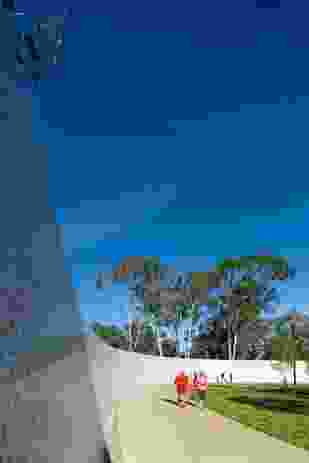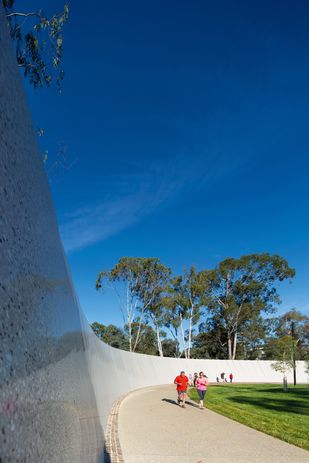 The challenge to separate motorists from cyclists and pedestrians produced a number of interesting ideas from the other invited teams participating in the design competition. One proposal offered short cuts at a steeper grade for those in a hurry, hinting at some local knowledge of Canberra's peak hour conflicts between speedy lycra- clad cyclists and slower moving walkers and joggers and baby strollers. There were also some dramatic "landscape rooms" and a colourful "underpass room" plus a suggestion to float the full length of the roadway above ground level. With straightforward geometry, architectural elegance and clean detailing, the Lahz Nimmo design avoids tricky turns, junctions and abrupt level changes and focuses instead on a wide, sweeping ramp that straightens out at the bottom and flows under an almost invisible roadway.
The design anticipates the possible expansion of the adjacent National Gallery of Australia with hopes for "meaningful connection" to the wonderful sculpture garden by Harry Howard and Associates and James Mollison. Bowen Place Crossing is, however, a functional landscape construction rather than a place of assembly or reflection and accordingly picks up on the quality engineering style of the busy traffic interchange by Johnson Pilton Walker at the northern end of the bridge. Pedestrian underpasses are often shunned as unsafe and the design therefore ensures long clear sightlines with no opportunities for concealment. Vandal-proof luminaires located high on the Corten inner wall and in the soffit of the pedestrian underpass address concerns for night-time safety and provide atmospheric lighting. A subtle swelling of the pathway at the centre of the underpass makes that part of the journey seem less daunting, a reminder of the entasis of Greek columns, which acknowledges that the eye can play tricks with straight lines and on occasion needs a helping hand to make things feel right.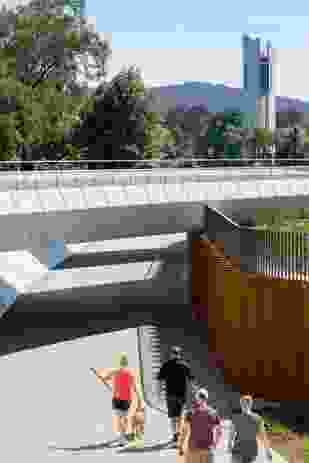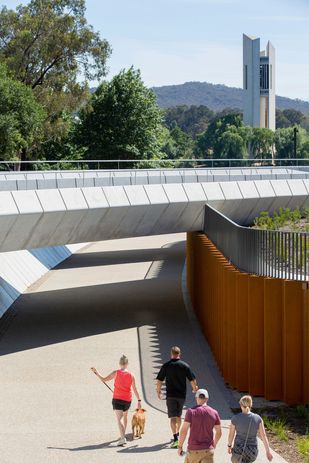 The durable and visually interesting palette of precast concrete, washed aggregate paving and porphyry setts is almost a lingua franca for public places in Canberra and elsewhere. Junctions are neatly handled and steel balustrades and handrails are remarkably smooth to the touch. Lines on the ground separating users are thankfully absent but small stencilled signs remind us this is a shared pathway and advise one to ride slowly, keep left or give way. The soft landscape has a few scattered trees in a gently sloping green sward with a planted "raingarden" to collect and filter stormwater before it enters the lake. It is an attractive and photogenic spot and the intermittent arrival of people of wildly differing age and appearance and modes of transport moving one way or the other makes for a fascinating vicarious experience. Perhaps in time there will be a sculpture or two swaying in the wind. A place of movement rather than rest, the peaceful setting might also benefit from a few wooden benches to the side of the ramp where people could take a well-earned break and enjoy the passing parade.
The significance of the word "crossing" in the name of this place will not be lost on those who came to Canberra before there was a lake. For Canberra's first fifty years as Australia's seat of government, and prior to that when the Canberra Valley was a gentle collection of farms and sheep stations, the Molonglo River flooded regularly. Griffin's design showed a causeway but this was never built and residents and visitors had to rely on a temporary wooden bridge and two low-level river crossings. The most popular of these routes linking north and south Canberra, and the first to be closed when there were heavy rains, was known as Scott's Crossing, which started halfway along Kings Avenue, almost exactly where the new Bowen Place Crossing sits. The road crossed the river near what is now Aspen Island and ran in a long line to Blundells Cottage and St John's Church and on to the civic centre. In the Lahz Nimmo design, diagonal view lines at bridge level and at lake level tie the new crossing lightly but clearly to the National Carillon on Aspen Island, a reminder of earlier times in a town where it is easy for developers and too many of today's leaders to believe that history started last week.
Credits
Architect

Lahznimmo Architects
Sydney, NSW, Australia
Project Team

Annabel Lahz, Andrew Nimmo (principal architects); Hugo Cottier (project architect); Martin Tarnawski (design architect)
Consultants

Building contractor Woden Contractors
Electrical and lighting consultant Lighting Art and Science
Landscape architect Spackman Mossop Michaels
Structural and civil engineer Taylor Thomson Whitting

Site Details

Location Canberra, ACT, Australia
Site type Urban

Project Details

Status Built
Category Landscape / urban
Type Bridges, Infrastructure

Client

Client name National Capital Authority
Website nationalcapital.gov.au

Source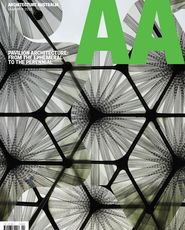 Issue
Architecture Australia, March 2016
Related topics