There is a synergy between the architecture of Brae by Six Degrees Architects and the food by its client and chef Dan Hunter. Brae is located on a farm outside of Birregurra in Victoria, a town of eight hundred people. It's not all that remote – just ninety minutes by car from Melbourne and thirty minutes from the coastal holiday town of Lorne. Or, for some guests, a short helicopter ride away. Needless to say, it's a fancy restaurant. Brae has a global culinary tourism audience, but operates with local, homegrown, sustainable practices. The cuisine is cutting-edge "modern" and uses local produce, with many of the ingredients taken from the organic farm it sits within.
A 1980s architectural theory called critical regionalism advocated for a return to modernist tectonics (the artistic expression of abstract constructional truths) but tied to a sense of place – in other words, balancing international and local idioms, without resorting to the kitsch historical references of postmodernism. The idea was to create modern forms out of site-specific materials and use construction systems that were appropriate to the local climate, heeding the lessons of the building traditions of the area, but without aping past styles.
Six Degrees' first project on the site was the refurbishment of the Brae restaurant. This is a literal blending of the vernacular farmhouse with a contemporary restaurant interior. The fitout is simple and restrained, keeping the nineteenth-century windows and ceiling linings, and inserting a few modern elements in key places – the bar, the entry vestibule and the waiter's stations. With the six-room accommodation, Six Degrees created a completely new building with a delicate balance between "contemporary cool" and local traditions. The team drew on materials from the rural context. For Six Degrees director James Legge, the brick chimney left standing after the rest of an old country house is long gone, often accompanied by the odd ceramic tile remnant, served as inspiration. Corrugated iron and a pitched roof make reference to shed typology, but, as Legge says, "we've messed with it."
Another inspiration was the make-do spirit of DIY self-sufficiency that characterizes country construction. This doesn't mean things are held together with rusty wire – far from it. Six Degrees has translated the country ethos into bespoke fittings and joinery elements that are handmade rather than selected from a catalogue. Handcrafted solid timber and hand-welded steel predominate. The clientele expect luxury, and they get it, but without showiness and with a refreshing informality and quirk- iness in comparison to most boutique hotels. "Country style tends toward scones and doilies," says Legge. "[Brae is] not that, but it's not the conservative beige of a typical city five-star hotel either." Idiosyncratic touches make visiting seem more like a stay at a friend's house, albeit a well-off friend. There is a curated selection of books on the shelf, and a collection of vinyl records to play on the old school record player. Fancy one-size-fits-all gumboots by Hunter are provided near the front door, a wordless encouragement for guests to get out and wander the property.
For this project, Six Degrees got to design a lot of things they don't normally get the chance to – the bed base, for example, and the inside of kitchen drawers that hold glasses and tableware. The clients commissioned ceramics by Cone 11, which sourced clay from the property and sprinkled the glaze with ash from the wood-fired oven in the restaurant. The clients also discovered that one of their favourite artists, Rhys Lee, lived in Birregurra, so it seemed an obvious choice to commission him to create works for the rooms to give each space a unique identity. Lee painted murals directly onto internal brick walls that Six Degrees had planned to be left white. The art helps to create interiors that are far from the neutral safety of typical hotels – these spaces are much more personalized.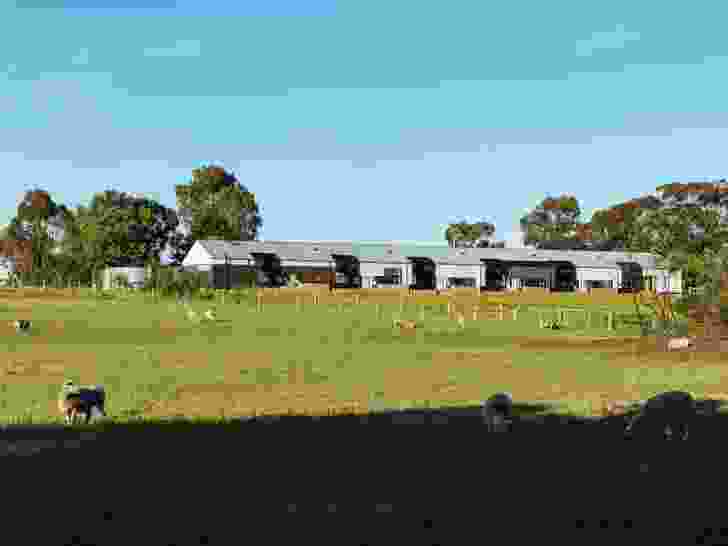 Sustainability was a big design criterion. Some of the accommodation's features include solar power, in-slab heating, natural ventilation, rainwater tanks and a worm farm wastewater treatment system that produces fresh water for irrigation. Reclaimed timber fulfils both a sustainability goal and an atmospheric one. In this context, the signature Six Degrees coloured and opaque re-used glass refers to the leadlight often found in country homestead architecture, and provides northern light to the bedroom while maintaining privacy.
In the early planning stages several sites were considered with the architecture team looking for the optimum combination of northern light, outlook and privacy. The northern entry of the building feels welcoming and open, screened from the carpark by planting and an artificial earth berm. The front courtyards are minimally separated, allowing guests to mingle with each other if they wish (pairs of friendly couples will often book together and stay in adjoining rooms), while the rear balconies facing the distant views are private and secluded. Each room looks over a hillside that is "almost sickeningly Australian," says Legge, with gum trees, sheep and grassy fields, which must be a delight to international tourists. And like the Brae menu, the view outside changes seasonally.
In this project, a number of different materials, forms and ceiling heights gel into a balanced whole – much like the ingredients in a good recipe. Brae is a balance between luxury and homeliness, and urban chic and country warmth. Hunter reports feedback from one guest who said, "I don't know how you did it, but you've made interiors like your food." Michael Harden, writing about Brae for Gourmet Traveller , talks about the food coming "from a sharply focused purpose: to recreate the surrounding region in flavour." But it does so with an urban brain, for an urban clientele. Six Degrees is known more for its design of urban hospitality venues, multiresidential projects and large institutions than for country retreats, and that is part of the genius of selecting the firm for this project: Brae reconsiders what it means to be in the Australian countryside in today's globalized world.
Products and materials
Walls and ceilings

Blackbutt Armourply from Big River. Stained AC exterior-grade pine plywood from Austral Plywoods. Blackbutt timber battens from Urban Salvage.
Windows and doors

SteelCraft Windows steel windows and doors installed by Ficus Constructions.
Window coverings

Blockout blinds and curtains from Clearview Sun Control.
Kitchen

Antique brass tapware from Astra Walker. Black Onyx sink from Franke.
Flooring

Residence carpet from EC Group. Indian black slate tiles from RMS Traders.
Lighting

Custom-made cross pendant light with Darkon profiles by Six Degrees Architects and fabricated by David Murray. Beta 45 downlights from Optique lighting. Mini Hood wall lights from Masson for Light. Glass Bowl surface-mounted light from Tom Dixon. & tradition Smoked Mega Bulb pendant in bathroom from Great Dane. Wallace lamps above bed from Onefourtythree. Make light by Great Dane.
Joinery

Blanco Carrara marble counter tops from Stone Boutique. Perforated joinery fronts powdercoated black from Sefar Metal Mesh. Blackbutt hardwood veneers from Ventech. Maxifilm formply wardrobe and feature shelving from Maxiplywood. Brass cabinet knobs from Pittella.
Furniture

Outdoor seating and table for north patio by David Murray. Milo sofa from Jardan. Zeitraum Plaisir coffee table from Cafe Culture Insitu. S2 stools by David Moreland Design in kitchen and bathroom from District. Tidal side table and lounger for south deck from Tait.
Bathroom

SteelCraft internal screens installed by Ficus Constructions. Reeded glass from Star Glass. Santosa wall tiles from Classic Ceramics. Starlett Island steel bath from Caroma. Corian bath hob. Ceramic ware from Caroma.
Other

Paintings on internal brick walls by artist Rhys Lee.
Credits
Design practice

Six Degrees Architects
Melbourne, Melbourne, Vic, Australia
Project Team

James Legge, Simon O'Brien, John Hajko, Shol Nicholas, Aaran Merrill, Emma Serraglio
Consultants

Access consultant Morris Access Consulting
BAL assessment Ecotide
Branding, identity & styling Studio Round
Builder BDH Constructions
ESD consultant Nick Bishop ESD
Industrial fabricator David Murray
Land management 2020 Engineering Solutions
Landscaping Jon Houghton Garden Productions
Services engineer Lucid Consulting Australia
Structural engineer Andrew Cherubin & Associates

Site Details

Site type Coastal

Project Details

Status Built
Design, documentation 3 months
Construction 10 months
Category Interiors
Type Hotels / accommodation

Source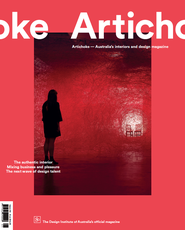 Issue
Artichoke, March 2017
Related topics