Doctors have surgeries; psychiatrists have rooms. When we think of a psychiatrist's room, we tend to think of a place of calm luxury, of couches and cushions, a view of the garden and small, beautiful objects tastefully arranged on the mantelpiece. It is a soothing image, a popular dream.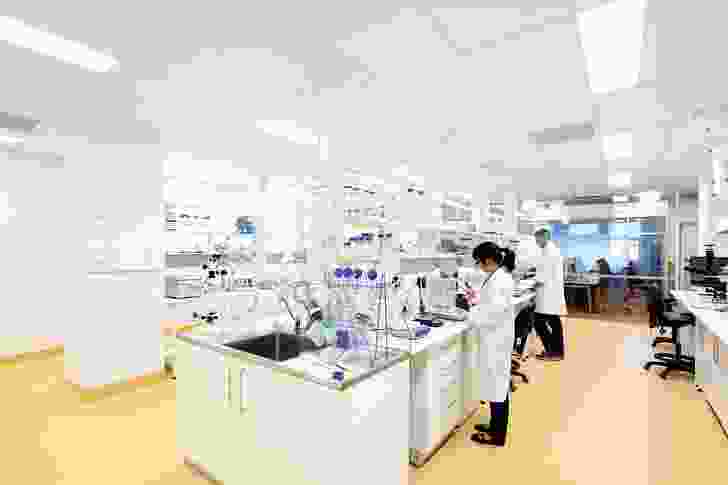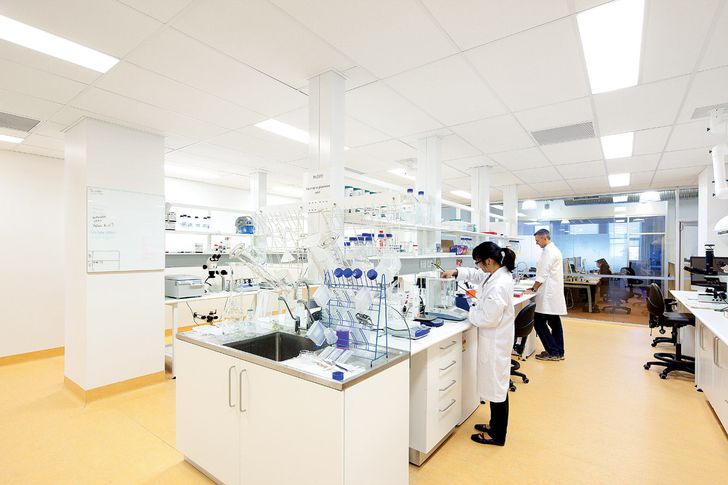 "That's a 1940s image of mental illness," says Dr Ian Hickie. As professor at the newly completed Brain and Mind Research Institute (BMRI) at the University of Sydney, Dr Hickie has other ideas as to what rooms are needed for the treatment of mental illness. Designed by James Grose of BVN Architecture, the building is part research centre, part clinic. Grose credits Professor Hickie and Professor Max Bennett as the true authors of this building. Their brief to the architect was twofold: first, a centre for the study of the brain, Professor Bennett's domain of neurophysiology; and second, a centre for the study of the mind, Professor Hickie's field of psychiatry. Professor Bennett runs the two top floors as research laboratories, and Professor Hickie the first two floors from the street up as a youth access centre and clinical consulting rooms.
As a passionate advocate for early intervention in mental health issues, Hickie sees these community rooms and bulk-billing clinical facilities as a chance to catch mental disease early, before serious deterioration sets in. To achieve this, their plan was for an open place – an open door to the street and open access for patients, families, psychiatrists, students and scientists to exchange ideas. "On entering, though," says Hickie, "we leave our labels at the front door."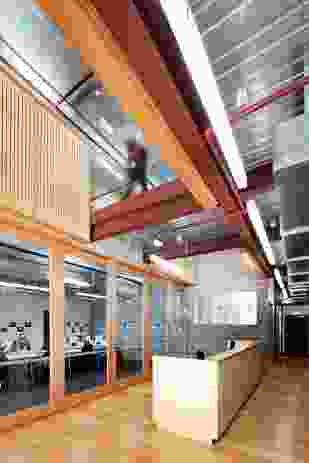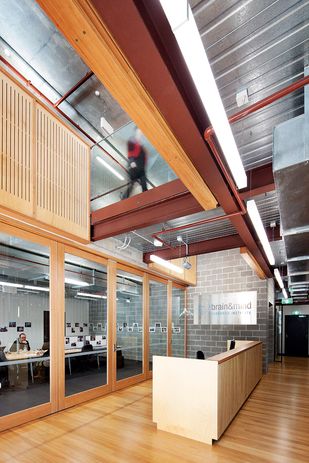 From the street, the building is dramatic. With a palette of glass, timber and steel, the new structure appears to hover weightlessly above the existing two-storey heritage brick facade. The program within is made transparently available to the street. The distinction between clinic and laboratories is clear, literally, with the laboratories sheathed in pure glass – untrammelled structural planks of glass articulated with a subtle pattern of varying translucencies that catch the shifting light. This is one of those rare instances where a very difficult architectural idea is pulled off with complete assurance. It's a pity it's a narrow street – this is so good, you want to stand back and just gasp.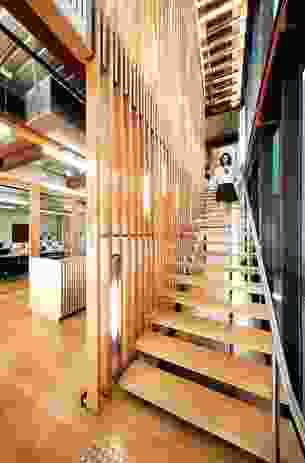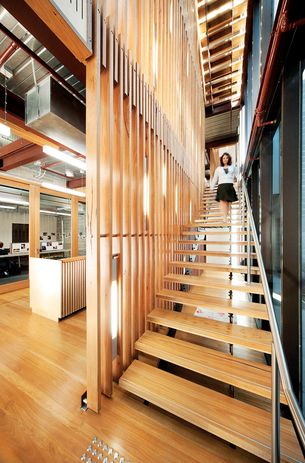 As counterpoint to this shimmering horizontal stands a four-storey-high box beam of steel, marking the entrance. Within this entrance is the "vertical street," as Grose describes it, set back from the adjacent northern building to allow for sunshine, a garden and air. This vertical street is a lively space: four storeys of timber screens and steel stairs with a glazed northern aspect, connecting every space in this building and the adjacent laboratory buildings via bridges. Hickie sees this space as the most important in the building. "The worst thing in the world is a lift," he says. "They kill communication. Communication happens in stairwells." It is a warm and welcoming space, and would be filled with sunlight in winter. There is a kitchen and a big table on the first landing, right in the heart of the building. It's a clever plan, and a very generous and singular public gesture.
The ascent of these stairs culminates in the laboratories on the top two floors. Here we find the very opposite of the ivory tower. They are open in plan, fully visible to the public, and beautifully lit by the floor-to-ceiling glass walls which pour diffuse light deep into the space. These laboratories have an ethereal quality, an almost religious feel to them. They are utterly functional, but there is a poetic quality in their light and placement at the summit of the grand stair that says a lot about the role of science for professors Hickie and Bennett in the treatment of mental health.
Transparency reigns supreme in this building. This is entirely appropriate to a scientific facility, particularly one with such an ambitious and democratic social agenda. The internal program is transparent to the street outside, the open floor plans are transparent to the "vertical street," and the external new walls are transparent both to the street and, for the most part, within. Even the patient consulting rooms, arranged as office cubicles, have glass walls – translucent glass, but glass nonetheless. One wonders how an intimate conversation could unfold in such a space; we're a long way from cosy cushioned consulting rooms here. This transparency is particularly remarkable when seen within the context of the history of public buildings dedicated to the treatment of the mentally ill, commonly called asylums.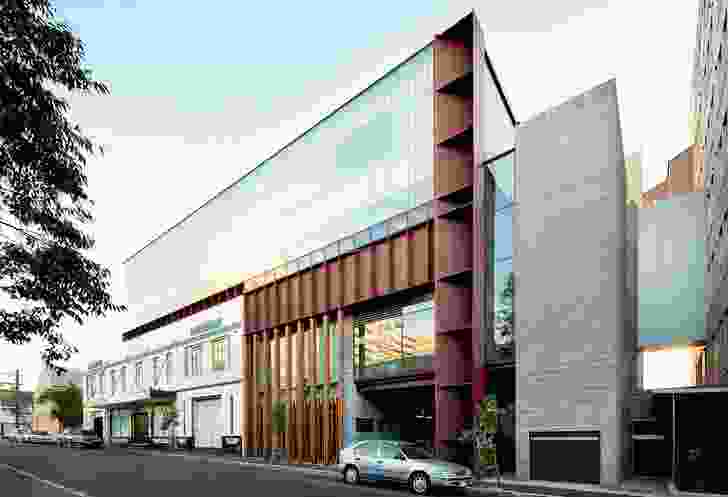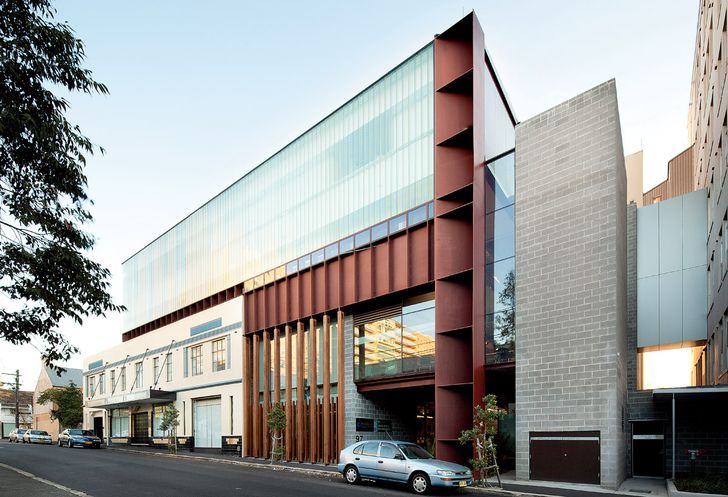 The word asylum is interesting here, with its apparently contradictory meanings of both "madhouse" and "sanctuary." Take Bedlam, the original asylum in London: the mad, as they were then called, were taken from the streets and housed under lock and key. Bedlam was the original madhouse, a cuckoo's nest, and over time became a popular tourist attraction. Under the public gaze, a stigma attached itself to the mentally ill. The godless, immoral city life was seen as the cause of madness. The asylum became a prison for the wicked.
The later Kirkbride asylum model sought to counter this with a program of "moral treatment." Sunlight, fresh air and gardens would provide the cure. This medical philosophy became known as "building-as-cure." These asylums were laid out as long wings of private rooms with tall windows, set within walled gardens – true sanctuaries. It was, however, a utopian plan, and the accountants started asking questions. Cuts were made and, by the 1980s in Australia, the most severely mentally ill were in dispersed and inadequate care, in prison, or back on the street.
The BMRI is, in its own way, a new kind of "building-as-cure." Moral judgments have been shelved in the name of science. The clinical rooms for patients are functional and spare – they say biology, medicine and cure. We are at a far remove from the asylum rooms of Bedlam and Kirkbride, the closed Freudian rooms of cushions and couches, dedicated to the unravelling of a narrative of self. All is clear in the light of a knowing science.
Rooms take new shapes for new dreams.
Credits
Architect

BVN Donovan Hill
Australia
Project Team

James Grose, Sarita Chand, Ian Goodbury, Nicola Bertrand, Kate Smith, Andrea Fink, Alexander Suen
Consultants

Acoustic engineer Acoustic Studio
Building advice Cockram Construction
Building regulations consultant Steve Watson & Partners
Construction manager Buildcorp Interiors
Cost consultant Davis Langdon
Fire engineering Rawfire
Heritage consultant Godden Mackay Logan
Imaging equipment Siemens
Landscape consultant Sue Barnsley Design
Planning consultant City Plan
Project manager APP Corporation
Quantity surveyor Page Kirkland Partnership
Structural consultant Aurecon
Structural, traffic, electrical, hydraulic and mechanical engineer Arup Sydney

Site Details

Location 100 Mallett Street, Camperdown, Sydney, NSW, Australia
Site type Suburban

Project Details

Status Built
Category Education, Health
Type Clinics, Universities / colleges

Client

Client name The Brain and Mind Research Institute, University of Sydney.

Source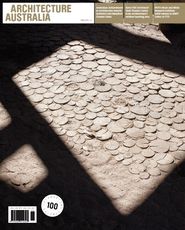 Issue
Architecture Australia, March 2011
Related topics