My business partner Nick [Nicholas Russo], and I have been close friends since architecture school. After finishing up an associate level position at an architecture office in Melbourne at the end of 2011, and previously working for John Wardle Architects for three and a half years, I needed to clear my head and start something of my own.
Nick had been working with his father in his sculpture studio at the apple orchard his family has owned for several generations. Nick had also just finished building his own house and co-incidentally we got in contact and decided we would start a practice together.
I live in Brunswick, about an hour away from the orchard at Officer, while Nick lives an hour away in the opposite direction at Kilcunda – a small coastal town about 115 kilometres from the CBD. So we came to agree that 'the orchard' would be a good halfway point along the map for us to meet and collaborate.
Given the sculpture studio was already on site in the orchard, with a wood and metal workshop, we thought it would be an interesting testing ground for our own building and experimentation. It's proven to be true, as we often find ourselves out in the workshop making furniture and testing ideas.
Our brief to ourselves was for a small studio space and meeting area for two architects (myself and Nick) and a landscape architect (Karl Russo, Nick's younger brother) who shares the space with us. The building was composed to maximise the views, so the architects face into the orchard, while Karl faces directly into a small landscaped courtyard.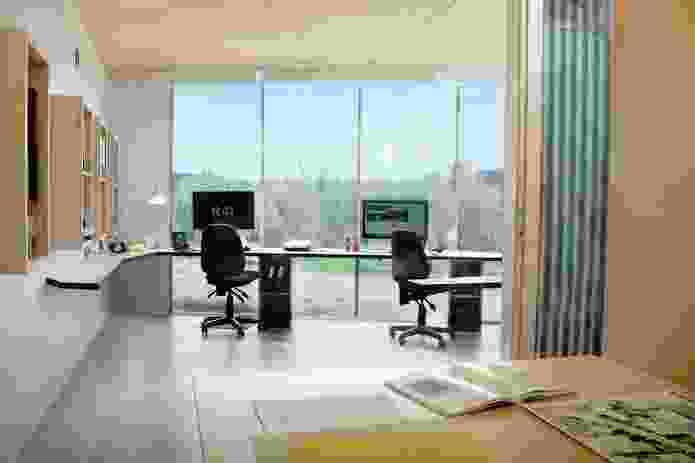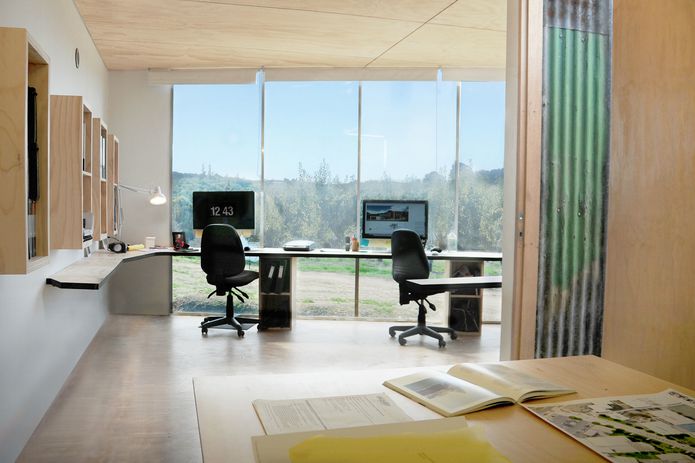 We used a "thin" glazing system to create a minimal threshold between our desks and the orchard, and solid form to block our views of the car spaces and the back-of-shed areas. Inside are raw plywood floors, white walls and joinery of laser-cut plywood with burnt black expressed edges, carved continuously to create work-stations, benches and a cantilevered display bench for our models. A series of layered plywood boxes are 'tucked' into cavities between the wall studs as storage for books and folders. A single strip of fluorescent batten lights zig zags its way across the studio ceiling and down the wall, reminiscent of the way stems branch out from the trunk of the apple trees.
As a contrast to the "thin" glazing, recycled corrugated iron, collected from the surrounding paddocks, was used to compose the studio's outer skin. The corrugated iron is an interesting story. Originally we proposed to clad the studio in a natural timber that would weather over time and go grey. Several days leading up to the cladding installation, we did a big tidy up around the site and came across a large heap of corrugated iron scatted around the paddocks. It was literally on the day the timber cladding arrived by truck that we changed our minds (wouldn't be the first time an architect changed his mind at the last minute) and sent it back.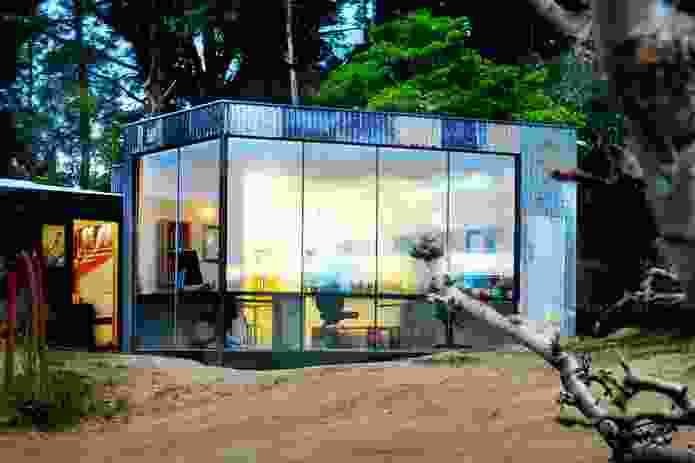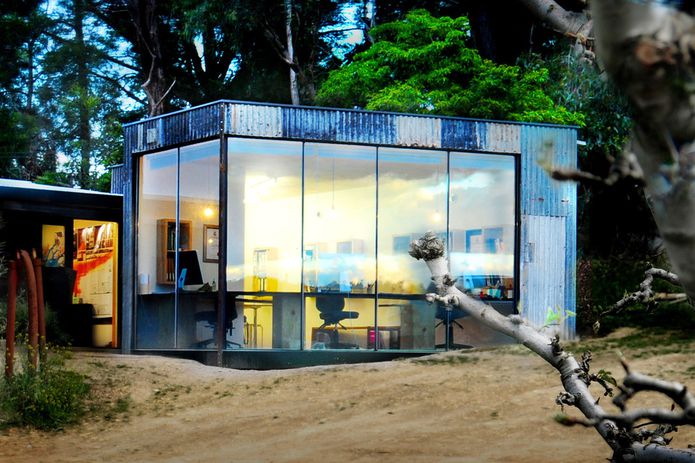 I'm quite interested with the idea of a "found object or artefact" – something that is discovered and collected during the design process. Whether this be directly from or around the site or the local context, that then is celebrated in a meaningful way to give it new life and a new narrative. We came to the realization that the corrugated iron would prove to be a far more contextual and dynamic option given its weathered rich textural patina of rust and colour formed over years of exposure to the elements.
We were quite happy about recycling a material found on site. In fact, as work progressed, our studio became a container of other layered memories built on that relationship between raw and refined materials and details. The white walls and plywood joinery, floors and ceilings are soft in comparison to the robust outer skin of iron, and I like to think of the interior as a more organic and 'carved out' space with a fluid connection to both the internal spaces and the orchard.
It's a good fit on a few levels. Physically we wanted a working environment that was open, flexible and light-filled, and a space that felt embedded within the orchard. Conceptually, we wanted to be based on a series of explored ideas, and in that way, reflect our own ideas about practice, so it is meaningful beyond its purpose as an built object.
Sitting at our desks, we often find ourselves distracted and staring out into the orchard, watching the odd storm roll in, or a mob of kangaroos bound past. I feel pretty lucky to live in the city and commute (so to speak) to "the country" for work. It's a strange reversal of the norm – but I like it, and I'm pretty charged with ideas from the drive by the time I hit "the office" in the morning.
Branch Studio Architects was part of the Ghost Town exhibition of emerging Melbourne architecture practices, at Platform Gallery in early 2013.