Breathe Architecture's Queen Vic Market pavilion to be halved in size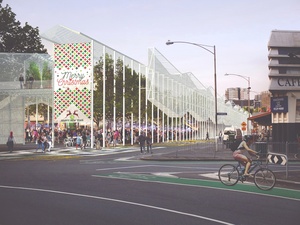 Revised plans for the redevelopment of Melbourne's Queen Victoria Market has seen a two-storey "Market Garden" pavilion by Breathe Architecture significantly reduced in size.
The pavilion will temporarily accomodate traders during the $250 million redevelopment of the market, which originally opened in 1878. 
The plans were amended following stakeholder feedback that led to the council revising its plans to excavate and build underneath the existing market sheds.
The redevelopment of the market, designed by Grimshaw Architects, will see four of the market's Victorian sheds disassembled, repaired and rebuilt atop a newly excavated three-level basement structure that will provide back-of-house facilities for traders and car parking. Original designs for the redevelopment included shallower excavation over a wider area, forcing more traders out of the sheds and necessitating the larger footprint of the original pavilion design.
The amendment application proposed that the pavilion be reduced in length from 254 metres to 111 metres, and slightly reduced in width from 19 metres to 17.7 metres. Certain features, like bleacher seating and the location of the northern stairwell, have been flipped from the west to the east side of the building.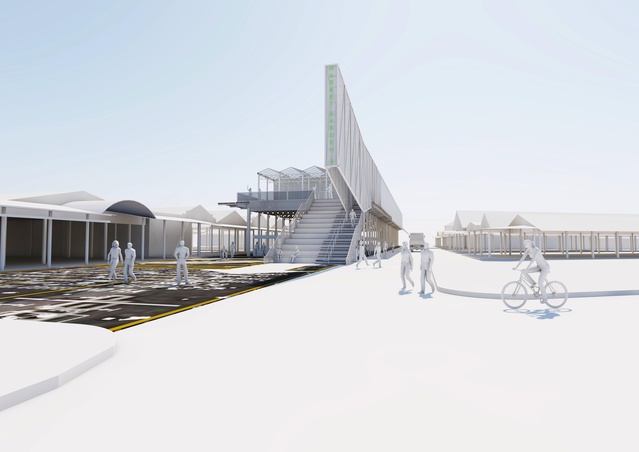 The cost of the pavilion's construction has also increased, from $5.5 million to $7.4 million.
The amendment proposal, prepared for the City of Melbourne by Contour Town Planners, argues that despite the changes, "the overall integrity of the architecture is not compromised, and the various innovations associated with the 'sustainability' of the project are maintained."
Among the sustainability features of the original proposal was an elevated greenhouse made from highly reflected galvanized steel intended to prevent heat absorption. The greenhouse itself will also act as a thermal buffer for the market area below using a computerized roofing system that will cool the space through evaporative cooling. 
Designs for the redevelopment of the market by Grimshaw were revealed in October 2017.
Breathe won a design competition for the pavilion in 2016, beating three other submissions from Croxon Ramsay, Jackson Clements Burrows Architects and Kerstin Thompson Architects.