Breathe to design new market pavilion for Queen Vic Market
The City of Melbourne has announced Breathe Architecture will design a new market pavilion with an elevated greenhouse to accommodate for traders during the redevelopment of the Queen Victoria Market (QVM) in Melbourne's CBD.
The structure, which will be built on the corner of Queen and Franklin streets, will temporarily accommodate traders while the market is undergoing its $250-million redevelopment.
Breathe Architecture's concept was the winning proposal in a competition for the new market pavilion, beating three other submissions from Croxon Ramsay, Jackson Clements Burrows Architects and Kerstin Thompson Architects.
The structure will be 260 metres long and 16 metres wide and will comprise an open air trading floor with a $3.6-million commercial greenhouse on top.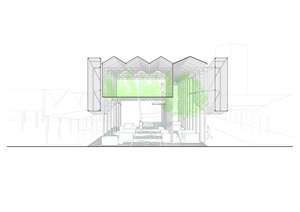 Bonnie Herring, an associate at Breathe Architecture, said the winning element of Breathe's proposal was its replicable modular structure, which can be prefabricated and allows for quick construction.
The lower level will see a field of columns run along its length, encompassing the street trees. Two "flanks" clad in white bird netting will run along each side of the upper storey, which will allow the trees to breathe. The greenhouse will be elevated nine metres above the trading floor.
The greenhouse will be constructed from galvanized steel to make the structure as reflective as possible to prevent heat absorption.
"At the moment, it can be pretty hot in [the market] and there's a lot of thermal load on the market sheds. So the intention is to create a solution that really enhances the existing qualities of the market," Herring said.
The greenhouse system itself will also create a thermal buffer for the lower area using a computerized roofing system that will cool the space through evaporative cooling.
The greenhouse space will also be an opportunity to educate the public and demonstrate the farming process.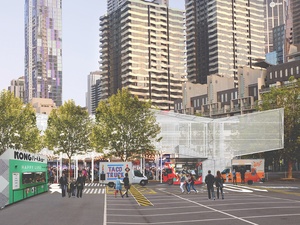 Sustainability initiatives in the proposal also include a biodigester, which recycles and reduces organic waste from the market.
Breathe consulted with Openwork's Mark Jacques, formerly of Oculus, and Joost Bakker from By Joost to develop potential ideas for their proposal.
The redevelopment of the QVM precinct will see the market divided into four quarters, with changes including underground operational areas, facilities for traders such as showers, a market square for public events, and housing and hospitality facilities.
Once the market renewal is complete, the City of Melbourne will investigate other options for the pavilion. The pavilion may be sold or remain as is. The site will not be sold as it is part of the QVM.
The pavilion is due to open in late 2017.