An all-white extension is not the first thing one imagines finding on a corner block in a leafy Lower North Shore suburb of Sydney with huge street trees, wide grassed verges and lowset red brick houses. The fences are generally knee-height, the front gardens mossy and unused, and the rear gardens hidden. Even on this site, a high paling fence and solid garage door at the back of the side boundary mean there are few clues to what anything that may have occurred behind, in the sanctum of the rear garden.
The existing house, built in the 1950s, is solid, discreet and well crafted, with red brick arranged in careful patterns. A meandering garden path leads to a new front door, and only then can one see signs of a gentle but dramatic transformation by Architect Prineas. The entry opens into a white hall with glimpses in every direction – left to a living space, then beyond to a kitchen/eating area, then to a garden or straight ahead to a hall connecting bedrooms and bathrooms.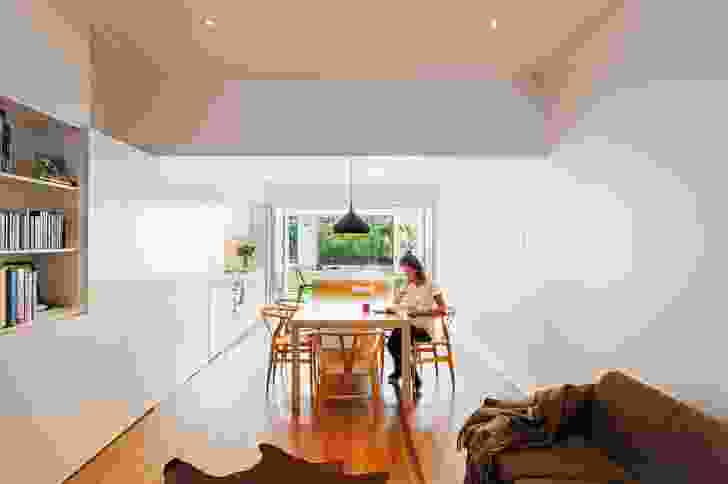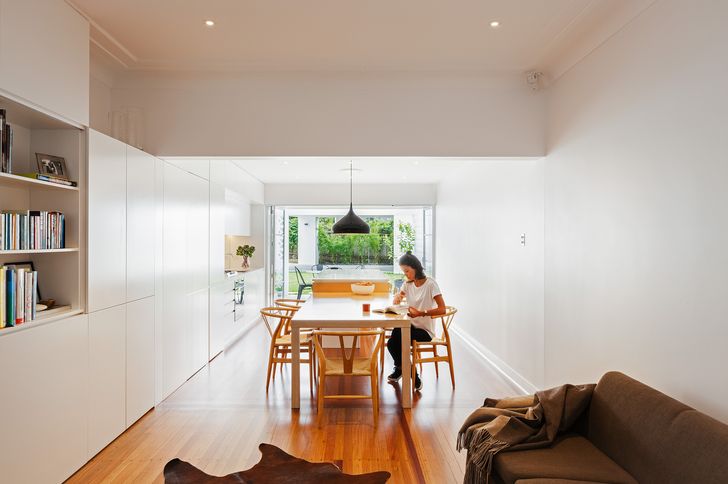 Everywhe re, the darkness and formality of the original house have been challenged and, while not eradicated, carefully tweaked. A series of rooms along the "back side" of the dwelling now have windows that look out onto plants. The original cornices, architraves, sills and trims around the rooms have been painted white. Sheer, light curtains replace old-fashioned lace net curtains. Bathrooms are a modern play on the traditional marble/white tile palette. An old ensuite becomes a generous new walk-in robe. A narrow study keeps household administration out of the living/kitchen areas. A new floor that runs right through the house helps to unify the various spaces. These careful adjustments all contribute to the design strategy in the more dramatic rooms at the back of the house, facing the rear garden.
The existing main bedroom had faced the back garden and its location was not changed. But the bedroom now has a wall of seamless white cabinetry with a generous recess for books. The room opens onto a decked space and a planted area, cleverly bounded by white breezeblock walls. An outdoor bench suggests a private spot to sit in the sun and read.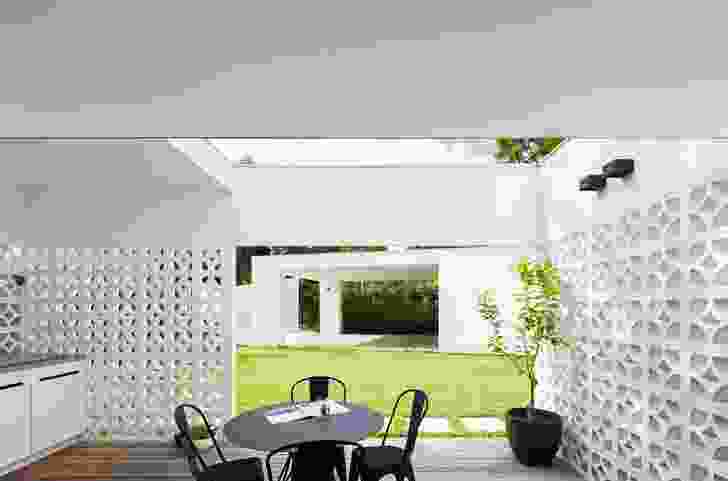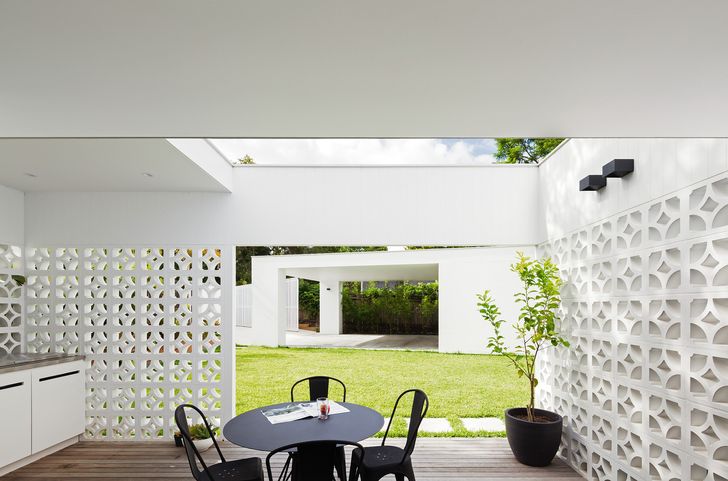 A similar, much longer wall of white cabinetry starts in the living room (where there is a fireplace with an angled black steel surround) and then morphs to bookshelves and beyond to the kitchen, concealing fridges and a door to a large laundry. The island bench is all birch ply and has two distinct parts – a lower table and a higher conjoined benchtop.
Beyond this airy space, the house seems to break into a whimsical garden pocket of California's Palm Springs. More simple white breezeblock walls define the edges of a deck beyond the kitchen. These walls make separate outdoor rooms for various interior uses. A lush lawn is bifurcated by big concrete stepping stones. A high white timber fence defines the edge of the garden, and a discreet gate in it gives access to the garden's "back of house" – a tap, a drying rack, water tanks, garden tools, all hidden from the garden idyll. A wide double carport is pared back to complete simplicity, with a high gate to the street and another white timber screen wall at the back end of it concealing a store area. One can imagine this space, when emptied of cars, being the scene of an epic summer ping-pong championship, while family and friends look on and heckle from their coloured canvas sun loungers.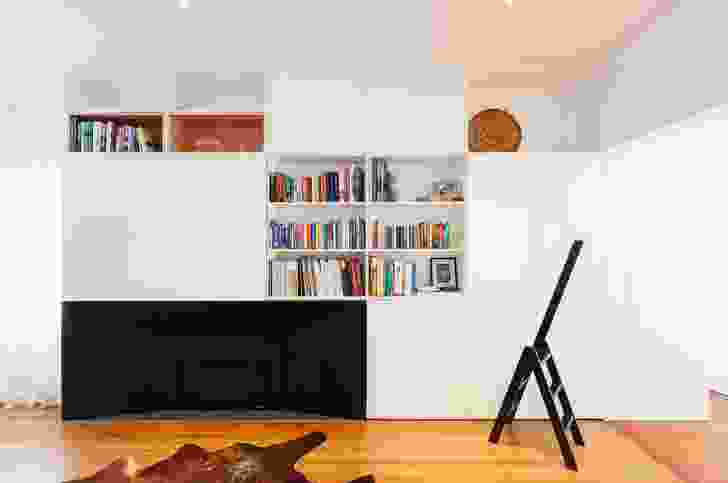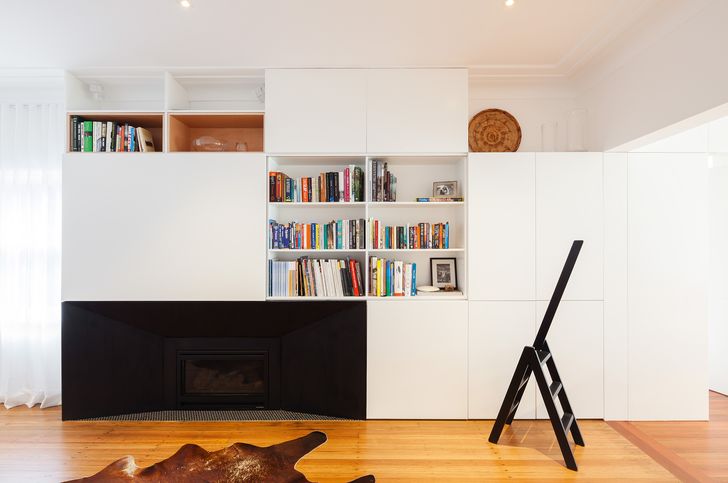 This project is clever because it takes very ordinary suburban housing stock, celebrates the good in it and adds so much more. Principal architect Eva-Marie Prineas has a rich training in working with heritage buildings and this is evident in the way she has approached this project. From inside, the house feels like one project, not two distinct parts, and the care and restraint in the original rooms inform the freshness of the more modern parts. All done within what was clearly a sensible budget.
While it is situated in "the serious suburbs," this project is fun – it feels young and groovy. It celebrates the idyll of the rear garden. The neighbouring (predominantly single-storey) houses in this area are generally tired, a bit dark and bleak, or have been knocked down and replaced with oversized rendered two-storey kit homes. This solution is none of these.
This project shows a fine level of craft and a celebration of the sometimes-ordinary. It shows that those buying into such suburbs don't have to keep the dowdiness of the house they have acquired, and that to achieve a happy modern outcome a new owner does not need to discard all that came before them. Somehow, by bringing 1950s California to 1950s suburban Sydney, Architect Prineas has found a fantastic synergy for contemporary life.
Products and materials
Roofing

Lysaght Custom Orb in Colorbond 'Surfmist'.
External walls

Besser Blocks Starlight Screen Wall Blocks painted Dulux 'Vivid White'; hardwood boards.
Internal walls

Plasterboard painted Dulux 'Vivid White'.
Doors

Skyrange steel doors painted Dulux 'Vivid White'.
Flooring

Recycled boards.
Lighting

Benjamin Hubert Spinning light in black; Artemide Rastaf recessed downlights; Gamma Illumination Wet downlights; Superlight LED strip lighting.
Kitchen

Fisher & Paykel fridge; Smeg oven, cooktop, rangehood and dishwasher; Clark sink; Tonic kitchen mixer.
Bathroom

Classic Ceramic Ghiaccio wall tiles in Gloss hexagon floor tiles from Academy Tiles Villeroy & Boch wall basin; Argent bottle P-trap; Isola mixer; Grohe Tempesta Cosmopolitan II shower; Madinoz shower tray.
Heating and cooling

Jetmaster fireplace.
External elements

Blackbutt decking; concrete pavers.
Other

Trappestigen Stepladder; Hans Wegner Plank chairs and Wishbone chairs; Tolix chairs; Noguchi coffee table.
Credits
Architect

Architect Prineas
Sydney, NSW, Australia
Project Team

Eva-Marie Prineas, Luisa Campos
Consultants

Builder Focusbuild
Engineer N. Koloff and Associates
Landscaping Custom Creations Landscapes

Site Details

Location Sydney, NSW, Australia
Site type Suburban
Site area 699 m2
Building area 204 m2

Project Details

Status Built
Design, documentation 6 months
Construction 8 months
Category Residential
Type Alts and adds, New houses

Source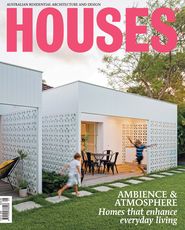 Issue
Houses, October 2015