Since establishing the boutique property group Bresic Whitney, founders and directors Shannan Whitney and Ivan Bresic have consistently challenged conventions inherent in the real estate industry.
When their business had outgrown its original offices in a converted Victorian terrace in Sydney, it gave Whitney a chance to consider the spatial requirements of their staff and clients in light of his interest in workplace trends that encourage collaboration and cultural engagement. Accommodating an evolving art collection and embracing technological and strategic shifts in the industry were also paramount in planning for the new premises.
Having admired the residential projects by Chenchow Little Architects, Whitney invited the architects to design their Darlinghurst headquarters. "I wanted to forget what we know about the industry and focus on the opportunities we have to create an ideal working environment," explains Whitney. As well as needing more floor area, Bresic Whitney had ambitions for adaptable spaces that allow flexible modes of working. "In many ways, it is our people that set us apart. We are asking people to commit to us, to come and work in our offices and to contribute to the agency's success. The focus for us becomes how are we going to attract and keep good people? I think in return, we have a responsibility to make the workspace as pleasurable and enjoyable as we can," he explains.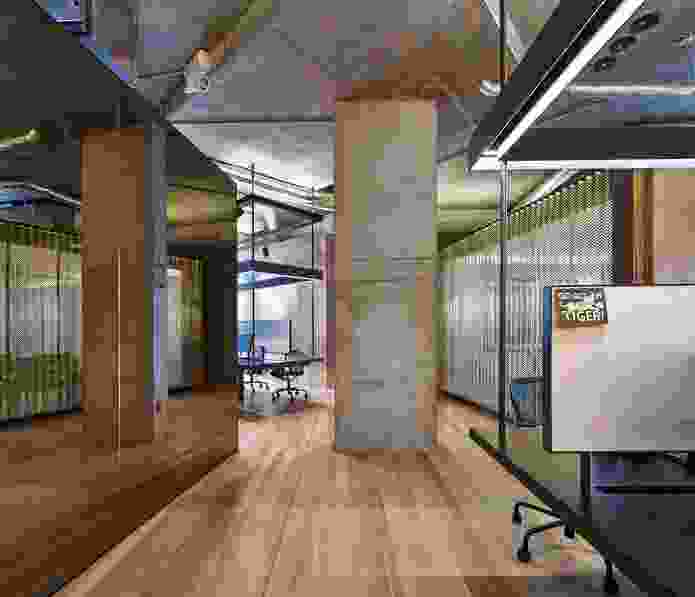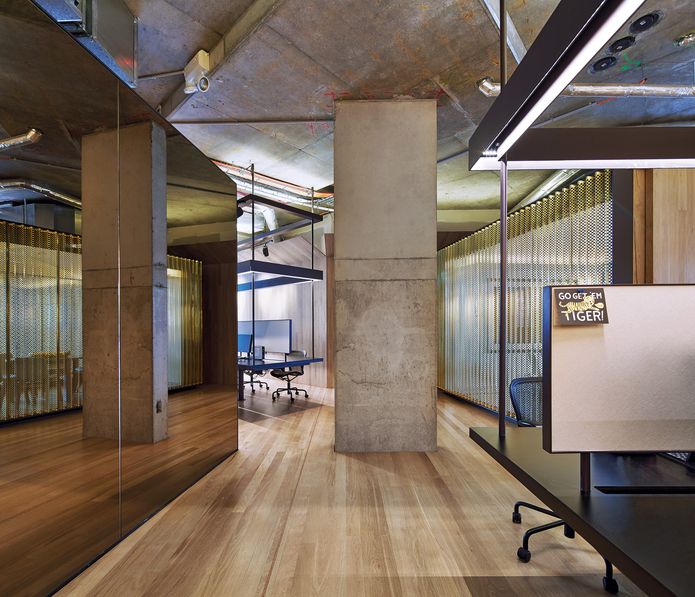 The project marked a new step for Chenchow Little. "When Shannan first approached us, we were very up-front, saying we'd be happy to take on the project as long as he knew we hadn't done any commercial work before," recalls Tony Chenchow, director of Chenchow Little. "Shannan's response was that he didn't want a generic office fitout. He wanted fresh eyes. We were engaged from that point of view." In Darlinghurst, Chenchow and his team delivered a light-filled, open and airy warehouse conversion that marked their first commercial commission. The layered and sophisticated office combines the aesthetics of a contemporary gallery with a greenhouse.
The success of this initial project seeded another. With Bresic Whitney expanding its territory beyond inner-city Sydney, Whitney asked Chenchow to design their new premises in the suburban shopping strip of Hunters Hill. Chenchow admits that, at first, the prospect seemed somewhat daunting.
"It's actually much harder for me to design something in a suburban context, because I'm not used to it. Hunters Hill is quite conservative, however, we knew we didn't want to create a conventional suburban interior. On the same street there is another real estate company, with a perfectly polite suburban office. We wanted to depart from that," says Chenchow.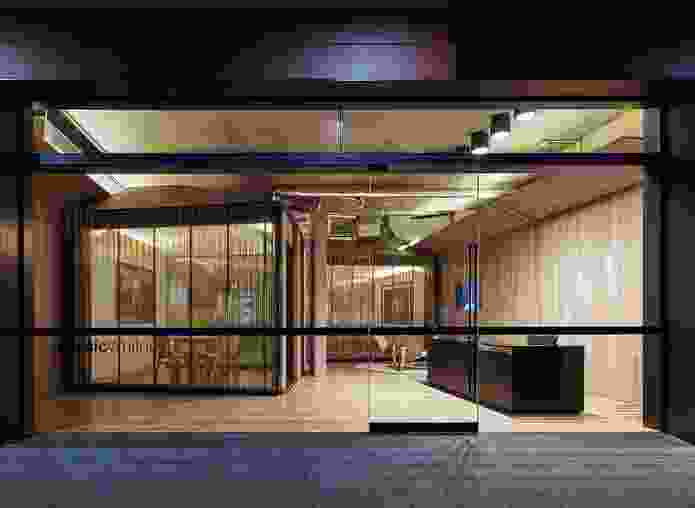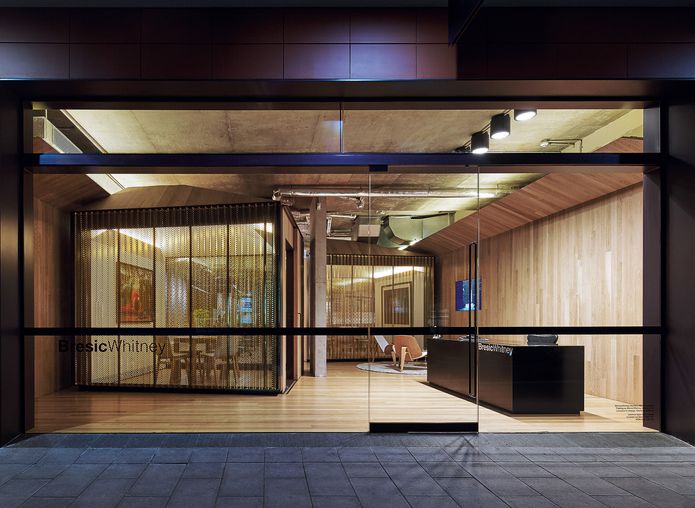 As with the earlier commission, Chenchow Little approached the fitout as an urban design project rather than an office interior. "Darlinghurst is quite modernist in that it's all axial and grid based, whereas this is less rigidly orthogonal and more about intersecting angles. It's more of a medieval or even baroque townscape than a modern city grid," explains Chenchow. Rather than a rectangular box, the south-eastern street frontage on Gladesville Road extends back some twelve metres and then kinks to the north, culminating at a glazed wall facing Ryde Road. These dual street views draw constant natural light into the 250-square-metre space. An irregular footprint provided a starting point for the plan and enough cues to generate a series of seemingly random objects that accentuate the angles and perspectives in the space.
Workstations and task lighting rims are inspired by Italian architect and designer Franco Albini. These are almost completely suspended from the ceilings and give the impression that they are hovering in the space. Meeting room pods are inserted toward the front section of the office and, in the middle section, a freestanding element houses bathrooms and a kitchenette. Because there are no dead ends, the play of light and circulation through the space are enhanced.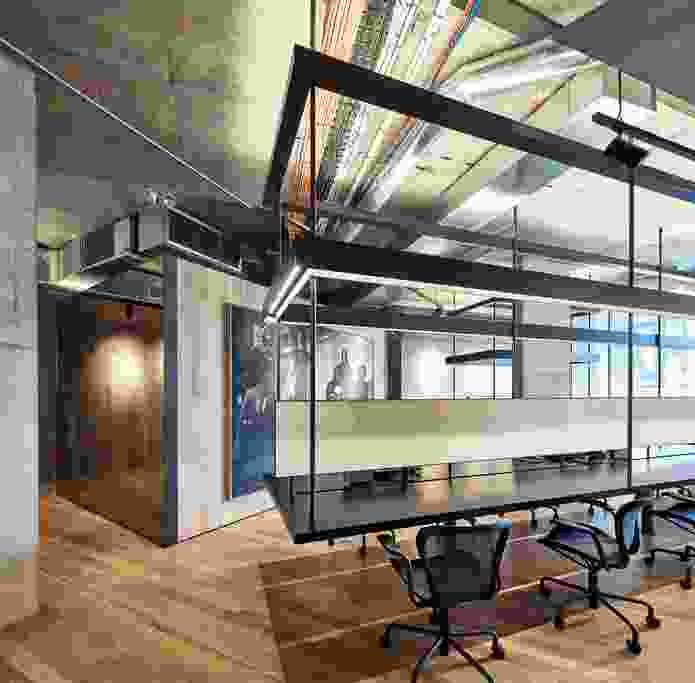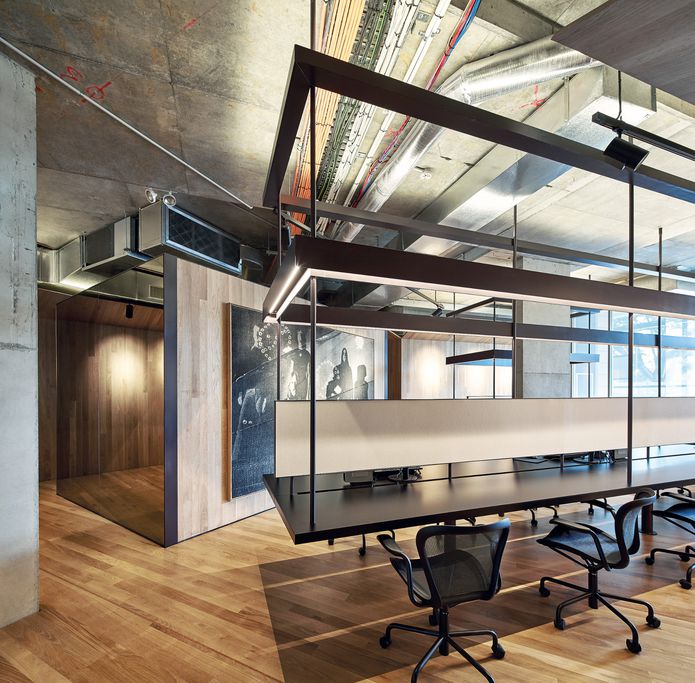 "We wanted to offset all elements from the walls instead of working in parallel with them so that people are encouraged to meander rather than walk through straight-line corridors. That way they discover different viewpoints and vignettes," says Chenchow.
The original space was very much a shell with concrete ceilings, pillars and exposed ducting. Chenchow decided to keep that raw aesthetic as a connection to the inner-city origins of Bresic Whitney and overlay it with a richer, warmer material palette featuring American oak to line the walls and floors. The contrast accentuates the inherent beauty of both surfaces. Work zones such as desks, a photocopy bay and a kitchen are defined in matt black. In an elegant gesture, Chenchow has employed perforated brass screens to curtain the meeting room pods. These are rigid compared to the sheer white scrims used to line the pods at the Darlinghurst office, yet they still act as a softening device. It was important to Chenchow to retain the ability to see all the way from the front to the back of the space. He was conscious that freestanding objects tend to block vistas, so the perforated screens preserve the lines of sight while offering a layer o f privacy for contract signings and meetings. The space has a dynamic quality, resulting from the rhythms established by the timber panelling and the tensions where modules almost touch the ceilings.
Adding to the rich palette are large, contemporary artworks, including pieces by Bill Henson, David Noonan and Tracey Moffatt. Over time, these will be rotated with artworks from the Darlinghurst and Glebe offices, creating a regularly changing exhibition of major works. In the Hunters Hill office as with Darlinghurst, Chenchow Little has delivered spaces that make art and architecture synonymous with the brand experience at Bresic Whitney.
"What Tony has created at Hunters Hill is quite sculptural. It is very much an art piece in itself. There are no conventional retail devices from traditional real estate offices being used. We've arrived at a very inviting space that complements everything we are doing as a brand," says Whitney.
Products and materials
Walls and ceilings

American oak timber walls. Folded and perforated brass screens to meeting rooms. Virdian bronze mirror. White plasterboard within meeting rooms. Existing exposed ceiling. White- or black- painted plasterboard within meeting rooms and bathroom.
Windows

Black steel frames.
Doors

American oak sliding doors to meeting rooms. Dorma pivot entry door.
Flooring

American oak tongue and groove timber flooring.
Lighting

Zumtobel ceiling surface mounted LED downlight with black finish in reception and entry. Zumtobel LED spotlight with black finish used for artwork. KKDC continuous linear LED in meeting rooms. KKDC LED strip, MOMO HCRI to workstations. Artek Alvar Aalto Pendant in polished brass finish in kitchen.
Furniture

Hans Wegner Shell Chair from Corporate Culture and E15 Habibi Tray Table in polished brass from Living Edge in waiting room. Tilda table and Navy chairs from Jardan in meeting room. Magis Annett task chairs from Corporate Culture, custom-made workstations with fabricated steel frames, and Echopanel 27 workstation dividers from Woven Image at workstations. Bandy table and chairs from Jardan in kitchen.
Other

Coral Shag Natural rug from Designer Rugs. Artworks include Untitled #35 by Bill Henson, Something More #8 by Tracey Moffatt, Untitled (2010) by David Noonan, Staging Silence (2013) by Haps Op de Beeck.
Credits
Design practice

Chenchow Little
Sydney, NSW, Australia
Project Team

Tony Chenchow, Stephanie Little, Joshua Mulford, Paige Lee
Consultants

Builder and project manager Sherington Project Management
Engineer SDA Structures
Lighting Haron Robson

Site details

Location Sydney, NSW, Australia
Site type Urban
Category Interiors
Type Workplace

Project Details

Status Built
Completion date 2014
Design, documentation 5 months
Construction 6 months

Source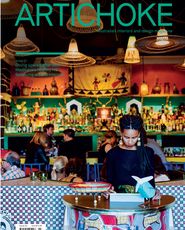 Issue
Artichoke, September 2015
Related topics