The view of the transformed pub from Bridge Road is like looking into a movie set. It is a highly orchestrated image: illuminated signs indicate the presence of different businesses, all fake. In fact, they refer to different zones within the new Bridge Hotel, in the Melbourne suburb of Richmond. The old hotel presented an unbroken facade to the street. By demolishing a section of the ground floor, Techne Architects has turned what was little more than a back-of-house service area into what looks like a laneway. If you were taken there in a blindfold and told you were in a lane in Melbourne's CBD, it would be entirely convincing.
The new lane is a dead end, terminated by a double-height concrete wall – a wall that was mandated by the local council to mitigate sound transfer to the suburban houses next door. In the manner of a theatrical backdrop, Techne has mediated this potentially abrupt termination with the addition of a billboard, set at an arbitrary angle off square, and complete with real access gantry. It even has an advertisement for Corona on it, except the image was reversed (with the company's permission) downplaying the logo and emphasizing the tropical-island-at-sunset image.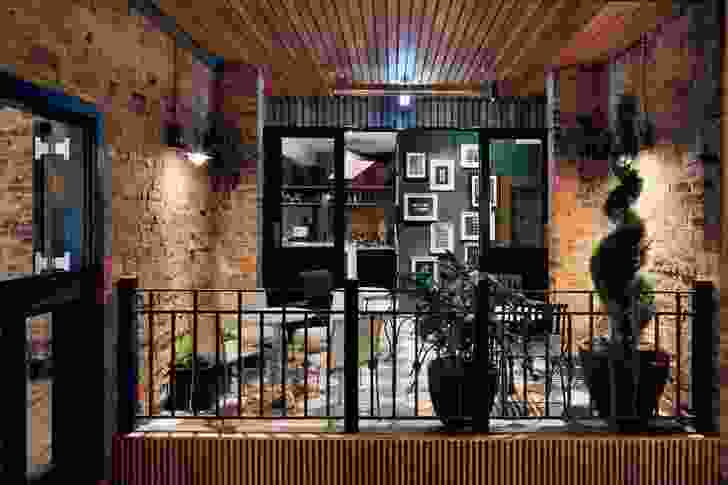 The original hotel was a U-shape in plan. The first floor remains in this shape but has been trimmed by the width of a corridor, creating a larger outdoor area that is open to the sky. The architects had a hard time convincing the demolition contractors not to remove the now-redundant external pipework. Techne also had to insist that the old, weather-beaten eaves lining be left intact. "At least let me paint it!" implored the builder. Instead, the narrow utility area is occupied as many grungy urban spaces are in Melbourne, complete with graffiti, though in this case the street art was commissioned by the client.
The client/architect team developed a fictional narrative for the interiors. The upper level of the building is imagined as a former apartment block – each space has been given a different identity according to the previous occupant, their profession or lifestyle. One room has an old bath in it, ready for ice and beers. Another looks like a converted kitchen. One section, obviously where a photographer used to live, has uplights made from converted camera lenses and hanging lampshades made from light-reflecting umbrellas. Hundreds of pieces of old paraphernalia and furniture were gathered by the client from junk shops or eBay auctions and transported in a van purchased for the purpose. The result is a highly detailed interior – everywhere you look there is another quirk, another unexpected second-hand object or another piece of graffiti. A whole second-hand bay window, complete with weatherboards, double-hung windows and leadlighting was installed in the laneway.
Among the authentic/inauthentic assemblage, there were only two features I spotted where the designing hand of Techne comes through in an orthodox manner. A slickly designed brick chimney is slotted in next to the bay window – just another element in this complex and layered space – yet a visual reminder that this is new architecture. The bar on the main corner has clusters of circular in-built booth seating, slightly space age (Barbarella?), this time performing the function of eye-candy to the street: in good weather when the facade of this corner can open right out, it makes the bar highly visible and enticing to passers-by.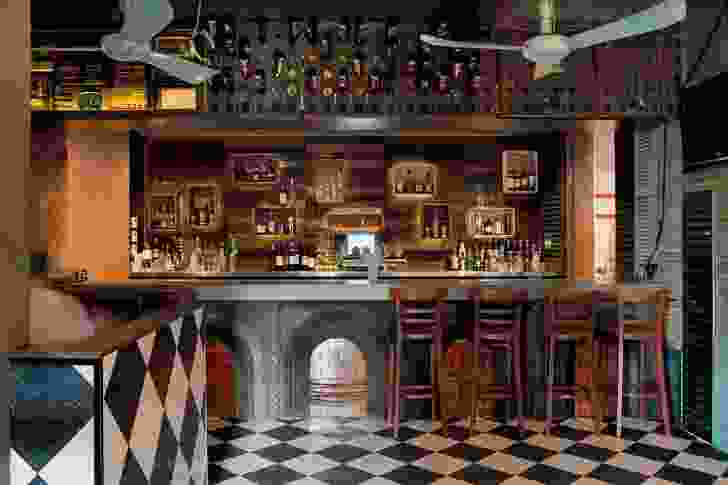 To create such an earnest simulacrum of reality is unusual in Melbourne's design culture. It isn't a parody, or really a fantasy. It is a part of contemporary Melbourne, displaced geographically. So where did this come from? Lead design architect Justin Northrop recently spent two years in New York, on a kind of sabbatical, while his wife was placed in a great job there.
"In America there is a whole different approach to reproduction of eras in interiors, whereas we've always been very 'cringey' about it," he explains. "That approach had a really negative connotation, at least it did for me. But there's a very different attitude to it in America. Places at the very top end of hospitality would open in the prewar style for example, unashamedly trying to recreate a whole different era. It's not cheapskate, either; it's not just dark-stained pine or MDF, they do it properly, and it's kind of charming, if it's done right."
The Bridge Hotel brings a touch of the USA to Australia, thankfully not in its look, but in its thinking. Visit this pub if you can. You will be effectively, and delightfully, transported.
Products and materials
Walls

Bricks from Daniel Robertson Bricks. Easylap from James Hardie.
Flooring

Carpet from Edwardstown Carpets, Interface Floor, Feltex. Vinyl from Forbo. Tiles from Perini Tiles.
Lighting

Lighting from Momu and Radium.
Bathroom

Tapware basins and toilet from Caroma.
Artworks

Romy Paltoglou coordinated various artists on the installation art, "paste-ups" and graffiti found throughout the venue.
Credits
Design practice

Techné Architects
Melbourne, Vic, Australia
Project Team

Justin Northrop, Nicholas Travers, Eng Law, Virginie Lhermet, Melita Kei,
Consultants

Alex Lake
Acoustic consultant Burton Acoustic Group
Builder Visual Builders
Building surveyor Retrospective Building Solutions
Engineer Maurice Farrugia and Associates
Planning consultant Urbis
Project manager Sand Hill Road
Street artist liaison Romy Paltoglou

Site Details

Location 642 Bridge Road, Richmond, Melbourne, Vic, Australia

Project Details

Status Built
Design, documentation 6 months
Construction 6 months
Category Hospitality, Interiors
Type Restaurants

Source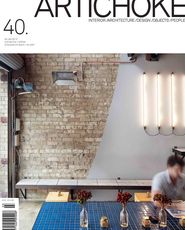 Issue
Artichoke, September 2012
Related topics