Delia Teschendorff Architecture's Bridge House 2 is one tough character. A melange of light industrial building forms and hard-wearing, mottled red brick, it seems more defensive redoubt than domestic retreat when viewed from the street. Delia Teschendorff describes Bridge House 2 as "honest." She might be referring to the fact that the building's architectural expression is "true to its materials" – its structural brick skeleton is legible inside and out and its interior is dressed simply, with naturally finished timber floors and joinery. The building's honesty, though, is more refreshing than this well-worn trope would do justice to.
Located in Melbourne's Brunswick West, the house sits between a lurid pink corner shop to its south and a one-storey hipped-roof suburban bungalow in red brick to its north. To the east, a busy road rumbles with a steady flow of trams and traffic. When Delia originally submitted the design for planning approval, it was rejected. It's not hard to see why. Quite apart from the house's hard-faced exterior, on the south-eastern corner of its boundary a wedge-shaped volume of white polycarbonate and grey masonry jostles right up to the street. Delia describes this structure as a studio; separated from the main house by a covered entry deck, it reads as a kind of "front yard shed." Its industrial appearance and lack of setback from the street seemed to be a bridge too far for the local planners, though, and it took a trip to the Victorian Civil and Administrative Tribunal to get the design approved.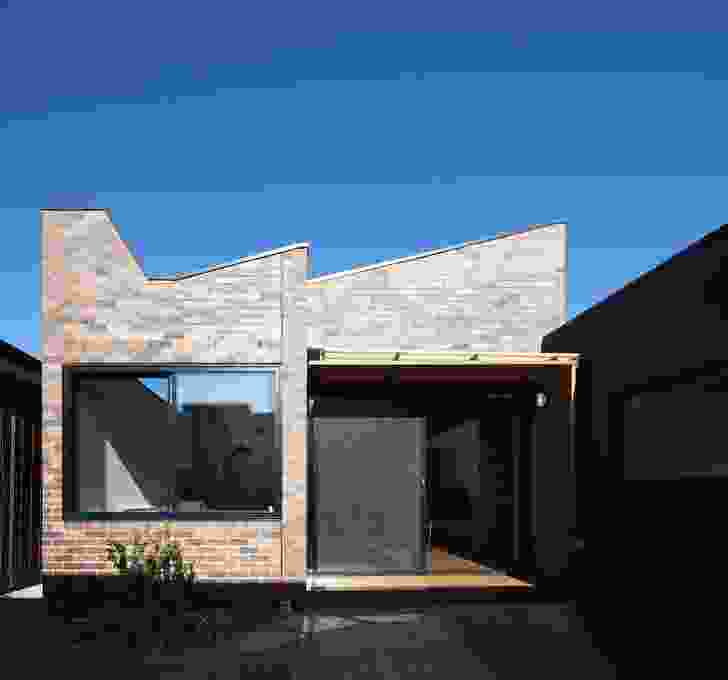 It would have been a shame if Delia hadn't managed to realize the project according to her original plans. The initial rejection of the design is symptomatic of the box-checking afflicting the development of Melbourne's inner suburbs, where design is too often constrained by the narrow parameters of what planners believe is "appropriate" residential character. As built, the studio's volume works to broker the transition from the adjacent shopfront to the suburban setback of the house, chamfering in plan to the little garden that sits at the front of the main building. It's a sensitive nod to the surrounding streetscape, which, despite the local council's apparent belief to the contrary, is a hybrid jumble of commercial and residential buildings, setbacks and scales, periods and styles. The house's materials and massing, too, reflect this concern. Fortunately for the building's occupant, this sensitivity isn't limited to context, but extends to the demands of inhabitation.
The house is owned and occupied by Grace, a teacher, who commissioned the building to replace an old timber cottage on the site. The cottage had once been Grace's family home, until her parents sold it to move into the brick bungalow next door. The family had been close to the bungalow's previous occupant, an immigrant from England. As Grace recalls, when he passed away he left behind two very specific instructions: his pink Holden was to go to Grace's parents and they were to get first option on purchasing the house. When the timber cottage came back on the market years later, Grace jumped at the opportunity to buy it and move back with her daughter, to be close to her parents.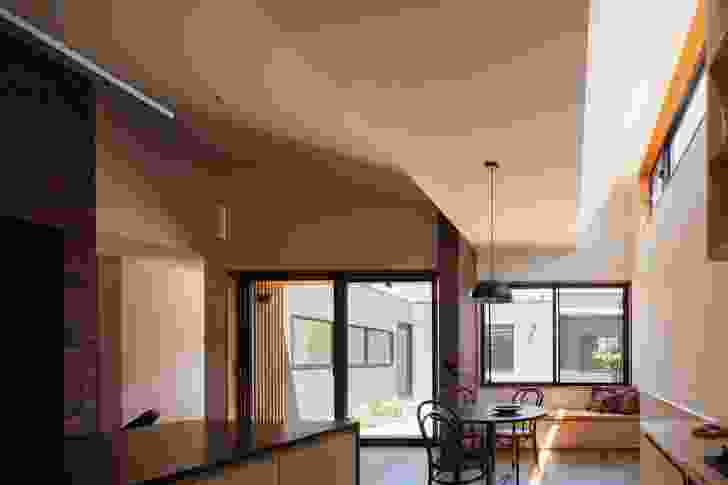 In the design of the house, Delia cites the architecture of Graeme Gunn as one of her inspirations. Bridge House 2 certainly shares the robust material quality that Gunn's buildings are known for. Step under the chain-link awning that shelters the front door and through the threshold, and it's clear that Delia has also learned from his planning. Like many of Gunn's houses, the tough exterior of Bridge House 2 shelters a soft centre: a lush courtyard garden. The garden forms the backdrop to the open-plan kitchen and living area on entry, and is visible from most of the rooms in the house.
Once inside, it's apparent that the utilitarian building forms are more than just a play on the neighbourhood's urban fabric. The roof profile is vaguely reminiscent of industrial sawtooth roofs, but on this tightly bounded site, it allows for highlight windows oriented north that fill the interior with natural light. The studio at the front of the property also helps dampen the sound of the trams rumbling past. The narrow, slightly elevated corridor that spans the courtyard to its north and a pocket garden to the south (lending the building its "bridge" moniker) also helps to acoustically isolate the bedrooms from street noise. Combined with the light and the warm tones of the naturally finished timber in the living area, this gives the impression of a comfortingly cloistered idyll. As Grace tells it, her neighbourhood friends think of it as a beach house.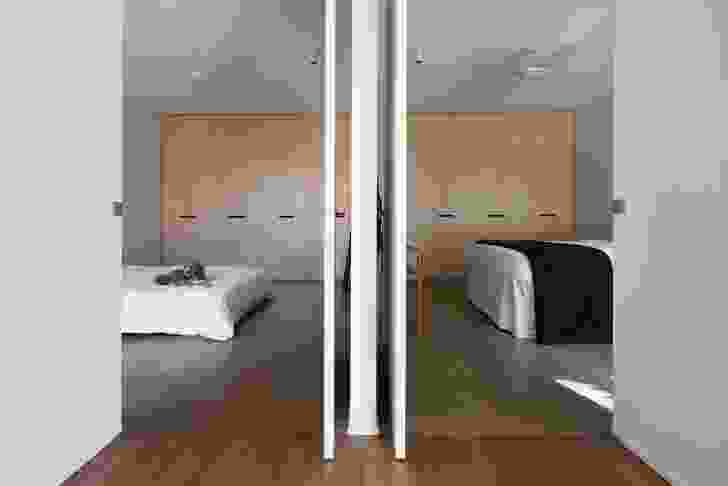 More so than in many of Melbourne's inner-suburban areas, the built fabric of Brunswick can seem ad hoc. As provisional as this landscape might seem at first, it is actually defined by decades of occupation. Its simple houses, typically brick but often timber, are reefed in by sheds and trellises, the infrastructure of productive gardens host to mature fruit trees, self-built concrete terraces and outdoor furniture that but for the rust would be back in fashion. In Bridge House 2, Delia has considered this tumult with a frank gaze. Unflinching, she's found a kind of beauty – not a fantasy of heterogeneous, prim and proper Victorian suburbia, but a building of genuine character, designed above all to be lived in.
Products and materials
Roofing

Lysaght Klip-Lok in Colorbond 'Monument'; Ampelite 5-Rib Trimdek fibreglass sheeting in opal/white; Knauf Insulation Earthwool insulation.
External walls

Krause Bricks face brickwork in pressed Grampian Blue; Austral Masonry concrete masonry blocks in 'Nickel' with smooth finish; Shadowclad plywood cladding in pre-primed rough-sawn finish; Bluescope corrugated wall cladding in Zincalume.
Internal walls

Krause Bricks face brickwork in pressed Grampian Blue bricks; Gyprock plasterboard; Austral Plywoods birch plywood.
Windows

Rylock Architectural Series custom windows in timber and black aluminium; Viridian double glazing; Breezway louvre windows in black aluminium; Aneeta sashless slider.
Doors

Rylock Architectural Series custom doors in black aluminium; Pickering Joinery solid timber doors in oil finish; Architrend door hardware in satin chrome.
Flooring

Victorian ash strip flooring in Livos Smoked Oak oil finish; burnished concrete in Livos oil finish; Artedomus Anthracite tiles.
Lighting

Studio Italia Moby wall and ceiling lights, Hugo wall lights, Barro pendant and Cronus pendant.
Kitchen

Artedomus black granite benchtop in honed finish; custom stainless steel benchtop; custom joinery in birch ply; Franke sink and sink mixer; Ariston rangehood, oven and dishwasher; Blum hardware.
Bathroom

Logic tapware, Kaldewei Pura bath, Catalano Zero basin all from Rogerseller; Ideal Standard toilet from Reece; Inax tiles from Artedomus.
Heating and cooling

Hydrotherm Greenheat hydronic heating and floor coil hydronic heating.
External elements

Deck in red mahogany from Radial Timber Sales; slate from Castlemaine Slate and Stone; Dromana toppings.
Credits
Architect

Delia Teschendorff Architecture
Melbourne, Vic, Australia
Project Team

Delia Teschendorff, Jang Yun Kim, Grant Dixon
Consultants

Builder Keon Constructions
Engineer Tim Gibney and Associates
Landscape Mcnuttndorf Landscapes

Site Details

Location Melbourne, Vic, Australia
Site type Suburban
Site area 305 m2
Building area 197 m2
Category Residential
Type New houses

Project Details

Status Built
Completion date 2014
Design, documentation 8 months
Construction 9 months

Source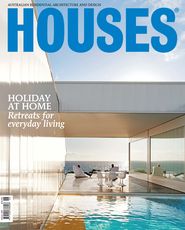 Issue
Houses, December 2015