Scheme by Peter McGregor and David Haertsch.
Swiss engineer Dr. Christian Menn, who pioneered advances in the analysis of long-span bridges during the 1960s, is credited with the now-conventional insight that bridges should be designed first for safety, followed by cost, construction, environment and (perhaps) aesthetics. These imperatives find expression in answers to at least three questions. Should the bridge aspire to reach landmark quality? Should the bridge be an extension of one or other bank and what would that infer about piers and abutments? And should the bridge frame a passage for the person on it or the motorist beneath it? The NSW Roads and Traffic Authority, along with the NSW Department of Public Works and Services and the RAIA, invited architects from 'emerging practices' to ponder exactly these questions in a recent competition for pedestrian bridges to span RTA roads. The three winners reach creative positions about what pedestrian bridges should be.

Tony Caro's proposal, illustrated by John Aspinall, with allusions to his King Street Footbridge staircase and the crate atop DCM's Governor Phillip Tower.
Both Ed Lippmann and David Haertsch with Peter McGregor propose a landmark that would enhance the experiences of both pedestrians on the deck and motorists beneath. According to Haertsch and McGregor, "the bridge is an opportunity to reintegrate the experience of the pedestrian in an urban setting … defining the metropolitan experience of travelling by motor vehicle in the greater Sydney area bymaking landmarks." Their claim to landmark status is only outstripped by Lippmann, who says of his bridge: "From the car, this glowing white tube will resemble a spacecraft perched across the roadway." Like Haertsch and McGregor, he seeks to stimulate the optics of bored drivers. Tony Caro's bridge is the product of restraint more than exuberance. While Haertsch and McGregor use advertising as a structural prop from which to hang the bridge (so producing a slender deck), Caro sees the billboard as removable once the cost of the bridge is met. He proposes a "simple, generic, primary-spanning structure"; a three-metre module readily adaptable to other spans. Where the bridge meets the ground, it integrates "seamlessly into its immediate context."
All three schemes are counterblasts to bridges of merely pragmatic purpose, standing as mundane and forgettable elements in the landscape. Already, two municipalities are pursuing the Lippmann design for their city. More of the winning concepts are likely to spring to life.
It is a credit to the RTA that they have matched the tilt of VicRoads by putting architects on the frontline of transport infrastructure design.

Ed Lippmann's proposition.
Source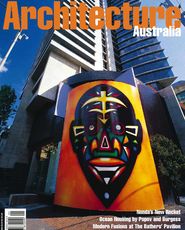 Issue
Architecture Australia, January 2000
Related topics