One of the special charms of living by Port Phillip Bay is inhabiting the calm, wind-protected spaces behind the tea- trees. Living near the water is not always about possession of the panorama. Joy can be found in the walk down the cliff to the beach, where on some, like Half Moon Bay at Black Rock, there is no evidence of cars or the road, no intrusive views of over-glazed, view-obsessed modernist palazzi. On the beach, one might be in the world of plein-air painters like Arthur Streeton, Frederick McCubbin or Penleigh Boyd, whose early-twentieth-century paintings of nearby Beaumaris and Mentone captured effortlessly the coastline's unassuming beauty. Coming home is to scramble back up the cliff, walk through scrub and find retreat and some sun, away from Melbourne's chilly afternoon southwesterlies. In 1953, Boyd's famous architect son Robin designed an architectural version of that clearing in the landscape.
The Bridgford House hunkers down across the full width of its site, single-storey behind high soft orange/pink brick walls, away from the wind and the car noise of Beach Road. Inside, all is open, airy and splashed with sunshine. This is a classic 1950s house built for a client committed to Good Life Modernism. That it survives in mint condition is testament not just to its lean and necessary bones arranged with especial skill, but also to its suitability as a house and garden that could be easily loved and cared for. It has had only two owners in sixty-five years.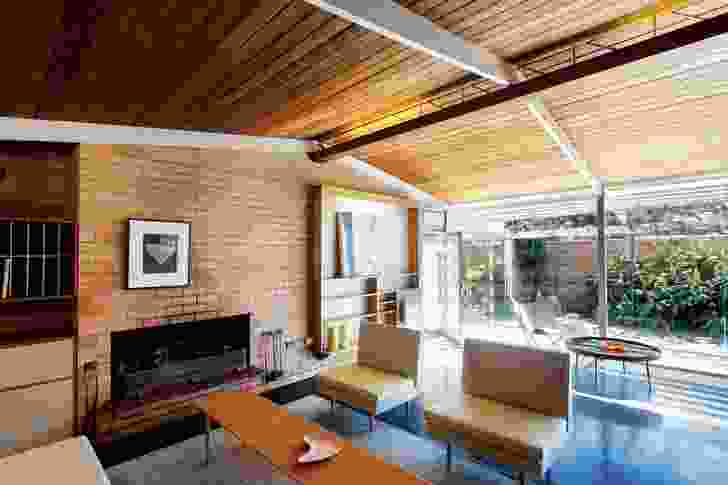 Robin Boyd's client, Charles "Bill" Bridgford, was a mad keen sailor and an equally keen alpine skier (pioneering with others the development of Falls Creek ski resort). He and his wife Phyllis had lived nearby in Arkaringa Crescent, but Bridgford wanted to be even closer to Black Rock Yacht Club across the road at Half Moon Bay. Part of their brief to Boyd was that there be not just a carport at one end of the house, but also a "boat port" at the other, which could double as a playroom for their daughter Judy. Bridgford's yacht was housed beneath the all-encompassing low-pitched gable roof and instead of garage doors, there were sliding screens of ribbed glass. Bridgford was so keen on his sailing that sails were often dried in the living room, hung from the open web steel girder that ran east–west along the whole length of the house. At one stage, he planted a ten-metre-high mast against the house's west front, while inside the living room he mounted on the fireplace wall an electronic wind gauge that operated at all times.
The house still reflects this relaxed holiday mood and it's utterly beguiling. You enter from the south, walking along the blank back wall, and arrive at a dove grey front door flanked by glazed panels. Inside is a gallery-like space – a breezeway hall – with a view north to a fishpond directly ahead outside. A generous courtyard garden stretches out to either side; it's a secret oasis, a complete surprise. This entry hall divides the house into living and sleeping zones, the pivot point of the classic binuclear plan that characterized so many houses of the 1950s. Boyd had just designed another binuclear-planned house for Frank Fenner in Red Hill in Canberra (1953), but there he had split the house into two discrete blocks. Here at Black Rock, the house, despite its clear functional zoning, sits beneath a single long, low-pitched gable. A remarkable quality of the house is, as Architecture and Arts reported in August 1954, that "living room and garden are virtually one," a fact emphasized by the dining table (terracotta tiles on a fifty-millimetre concrete slab supported on a single steel pipe), which is reflected in length and width in the garden terrace outside, with a giant sheet of plate glass as a divider. Peter Lyell in Woman's Day in April 1955 was to ask:
"Is it possible to intertie indoor and outdoor dining more closely than this? And with a tile table you never need a table cloth and never worry about heat stains."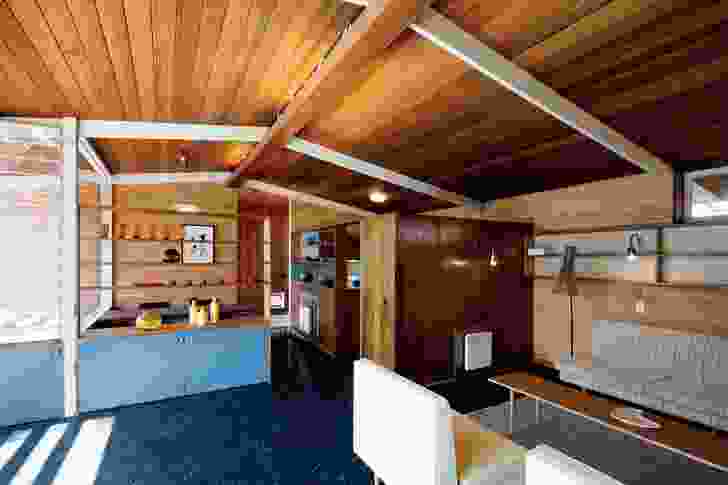 Inside, exposed structural timber rafters painted white extend out into the garden as pergola beams and rest on slim pipe columns just shy of the north perimeter brick garden wall. Inset into these beams are timber louvres specially angled to admit winter but block summer sun. Clear varnished Victorian ash boards line the ceilings and all internal walls are either exposed brick or jarrah-lined, while the kitchen and dining room joinery are in Californian redwood. There is virtually no painted surface in sight, a characteristic of the house that Lyell believed was proof of Boyd's lifelong rule: "Don't paint if you can exploit the natural beauty of building materials."
Despite the house's perfect functional fit, the Bridgfords didn't stay in it long. Bill Bridgford, ever restless, became a member of the Victorian Parliament in 1955 and the house was sold in 1957 – but not to boating enthusiasts. Surprisingly, it was acquired by urbane Austrian émigré turned clothing manufacturer Leo Suchestow and his Australian-born fashion designer wife Linda. Yet the house suited its new and very different owners like a glove. The "boat port" was converted into a playroom/rumpus room and then a studio for their daughter Margaret, when she became an architecture student. In her second year at university (1965), she carefully replaced the sliding glazed doors with fixed plate glass on a raised plinth to stop water coming in and extended the black vinyl tiles from the living room into the newly enclosed space, while her mother planted bamboo and landscaped the driveway as a Japanese garden. The spare bedroom at the house's eastern end became Linda's studio. The changes were seamless. Wisteria was planted at the pergola's west end and grapevines at the east. The Suchestows revelled in the courtyard garden, which quickly became the green focus of the house, only changing in the last decade when a great eucalypt that threatened to topple the north boundary wall was replaced.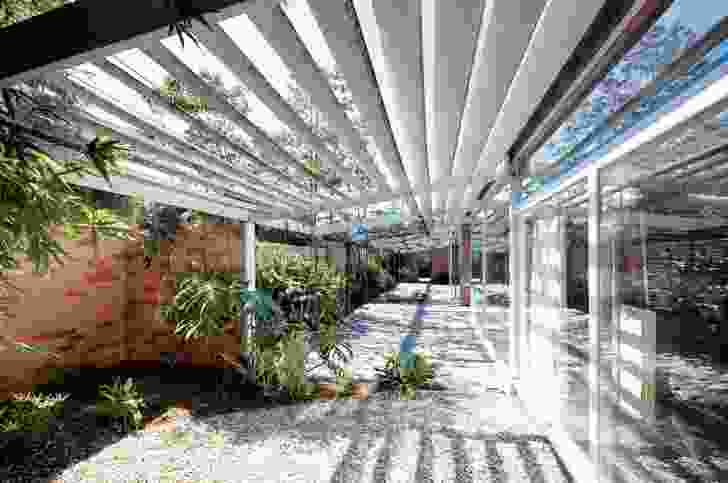 It is a truism to say that this Boyd design has proved timeless but it has to be stated. This linear, passive solar design, with its solid east and west walls, has lessons for today. So too has its garden, scaled beautifully for outdoor living. Its design blends elements from other houses Boyd had designed or was designing at the time, like his own linear house in Camberwell (1946, extended 1951) or the stepped plan of the Troedel House, Wheelers Hill (1953, demolished) with its huge sheets of plate glass, return walls of doors and louvres and a double-height "solar" pergola – elements all seen at the Bridgford House. Internationally, the design echoed Ralph Rapson's unbuilt Greenbelt House (1945) for John Entenza's Los Angeles Case Study House program and significantly, in form and plan, it paralleled Anshen and Allen's innovative designs for project house builder Joseph Eichler, which created numerous estates in San Francisco and the Bay Area from the early 1950s until the mid-1960s. At the same time, the Bridgford House prefigured Boyd's own venture into project houses, namely the Peninsula House for Contemporary Homes (1955), as well as the now well-known "solar" house designs produced by Graeme Gunn for Merchant Builders from 1965 and by Cocks and Carmichael for Civic Homes and later Landmark Builders in the mid-1960s and 1970s.
That this house survives intact is due to the exemplary stewardship of the Suchestows' daughter – now best known as celebrated architect Maggie Edmond. Her touch has been exquisitely light, which is so rarely seen in contemporary refurbishments of mid-century modern houses. Sympathy and minimal change rather than invasive intervention have been the model strategies here – deference rather than overbearing "upgrading" and the all too easy excuse of introducing contemporary creature comforts. This is a lesson for would-be devotees of the modern: don't destroy what you love. Edmond recently sold the Beach Road house, which she inherited in 2003. She found it wrenching. This house, which had informed her own architectural sensitivities, was also a place she and her parents had loved dearly for more than sixty years.
Credits
Architect

Robin Boyd
Melbourne, Vic, Australia
Consultants

Builder Norman Little
Furniture Boyd Collection produced by KFive and Kinnarps

Site Details

Location Black Rock, Melbourne, Vic, Australia
Site type Suburban

Project Details

Status Built
Category Residential
Type Revisited / first house

Source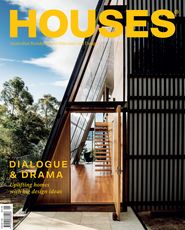 Issue
Houses, February 2019
Related topics