Stars are the common language for sustainability these days, but don't be fooled; a five-star house is not the same as a five-star movie. The current five-star standard in house energy rating is intended to bring the worst performers up to a minimum benchmark and, in this case, that actually means five out of ten. Minimum requirements are likely to increase in the near future to six stars.
This house employs the key principles of passive solar design such as orientation and zoning. Habitable rooms are oriented to the north for maximum passive solar gain and include openable windows to the south to facilitate cross-ventilation, both of which are particularly important in Melbourne's variable climate. External shading blocks unwanted summer sun while allowing winter sun penetration. Infrequently occupied wet areas are located on the south and grouped together to minimize pipework. Living spaces can be closed off from the hall and bedrooms to zone heating only where it is needed.
We use energy rating early in the design process, when there are more opportunities for cost-effective improvements. The initial design was tested with standard lightweight construction and modest insulation levels. It performed reasonably well, validating the design decisions we had made thus far. We then tested a range of upgrades, to compare the relative benefits of different construction and higher insulation. First, we tested concrete floors, for the stabilizing effects of thermal mass on internal temperatures. We looked at various wall constructions, such as brick veneer, reverse brick veneer (for internal thermal mass), and rendered polystyrene cladding (with added insulating properties). We then explored increasing insulation levels in floors, walls and ceiling/roof, including batts and reflective cellular insulation.
Our testing covered glazing upgrades, such as double glazing, low-e coatings and thermally efficient timber window frames. We fine-tuned the overall amount of glass. The optimal ratio of glazing-to-floor-area can vary depending on the orientation and design features like thermal mass.
If money were no object, we would use the best available specifications to achieve an exceptional energy rating. But these results need to be tempered with real-world considerations such as budget and site. After testing the various upgrades, we performed a cost–benefit analysis by comparing thermal benefit to cost and buildability.
Including an insulated concrete floor slab would achieve an extra star, but the sloping site meant this was difficult and cost prohibitive, so we opted for an insulated timber-framed floor. We did, however, use a small concrete slab in the sunken lounge to provide some exposed thermal mass in the main living space. For the external walls, the speed, efficiency, cost and thermal benefits of rendered polystyrene cladding made it an attractive option compared to brick. Window sizes were refined and double glazing selected for all windows except louvres, which cannot be double glazed but provide excellent ventilation, particularly for high-level heat exhaust.
Rating software rewards further glazing reductions, but we balanced this with other considerations, such as a visual and physical connection to the external environment. While cross-ventilation is acknowledged in the rating software, other elements such as daylight, amenity, views and architectural delight are not. When taken to the extreme, an Esky design (that is, a thermally efficient box) may achieve a high star rating, but does not make for very appealing housing!
These findings and decisions will not ring true in all cases – climate, block orientation, surrounding context, and the size and shape of the proposed design all affect the energy rating results. Additionally, a star rating can mean very little if the building is not used properly by occupants, or filled with high-energy appliances.
The Brighton Compact Green House includes many sustainable elements not addressed by energy ratings, including energy-efficient appliances and lighting, rain-water harvesting, grey water recycling, and environmentally friendly materials. The final cost-effective design achieved 6.3 stars, even without concrete floors or heavyweight walls.
Source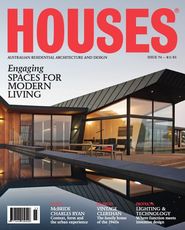 Related topics