Brisbane City Hall was designed by the architects of firm Hall and Prentice in 1919, and opened in 1930, after a decade of construction. It was a proud time for Brisbane's citizens, when this elegant sandstone building, inspired by the architects' passion for New York's art deco stock combined with "interwar academic classical" references, suddenly rose well above all surrounding structures. It remained the city's tallest landmark until the 1960s.
Towards the end of Brisbane City Hall's construction period, the effects of the Great Depression were being felt. While the straitened times may have impinged on compromised structural elements such as load-bearing beams and slabs, great pride was taken in the decorative detailing that called for fine craftsmanship, and in the sourcing of a variety of marbles, granites and sandstones. Covering two acres (0.9 hectares), the new City Hall was deemed one of the country's most important structures of the time, alongside the Sydney Harbour Bridge. The copper dome crowning its grand auditorium, with a 37.5-metre internal diameter, was the country's largest.
In 1924, under the City of Brisbane Act, Brisbane incorporated its disparate councils into one unified City Council. This added significance to the City Hall, which stood as a functioning and well-used citizens' hub for nearly eighty years before serious renovation was contemplated in 2009. During that time, incursions took place. Internal courtyards were clogged with split-system airconditioning units, ad hoc additions to interiors were many, and general decay took its toll, including concrete cancer. For a prolonged period during the 1970s and 80s, councillors' administrative offices were deserted in favour of a neighbouring high-rise tower, although the council chamber has remained in continuous use.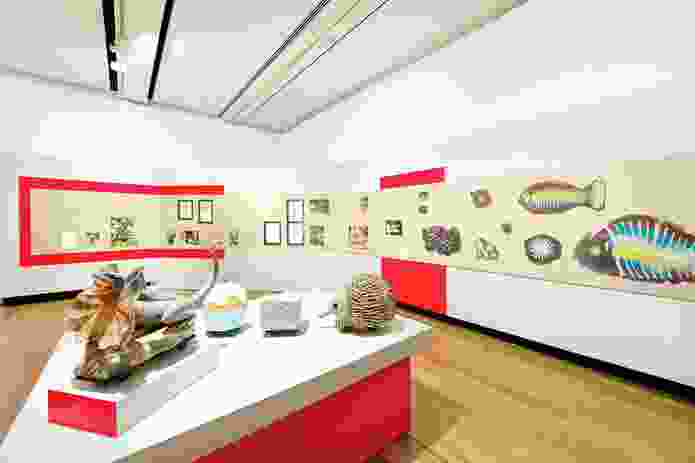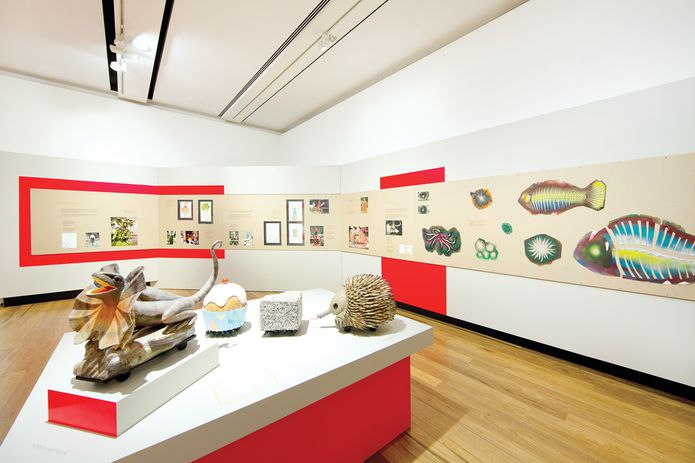 In 2009, Tanner Kibble Denton Architects and GHD came together as Tanner GHD – Architects in Association, which was commissioned as the heritage architect for the $215 million Brisbane City Hall restoration project, including the design of new premises for the Museum of Brisbane. Tanner GHD and HBO+EMTB in association with Tonkin Zulaikha Greer Architects completed the concept design in 2010. Tanner GHD, as principal consultant, completed the design development, documentation and construction phases of the project to finalization in April 2013. Tanner Kibble Denton Architects led the design team in all aspects of the project, with GHD providing project management as well as making a significant contribution to the completion of the interiors.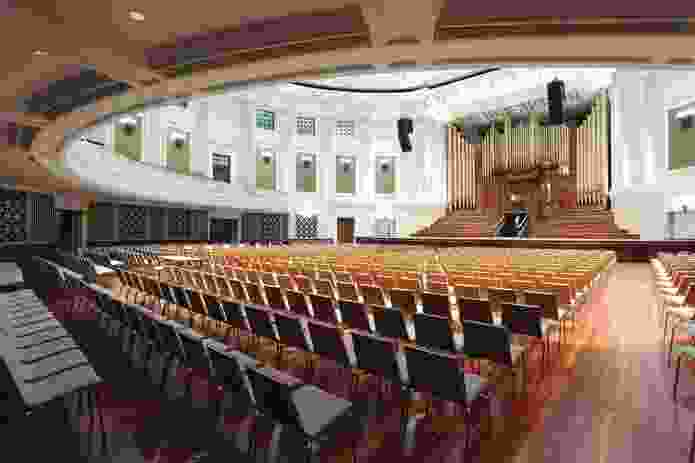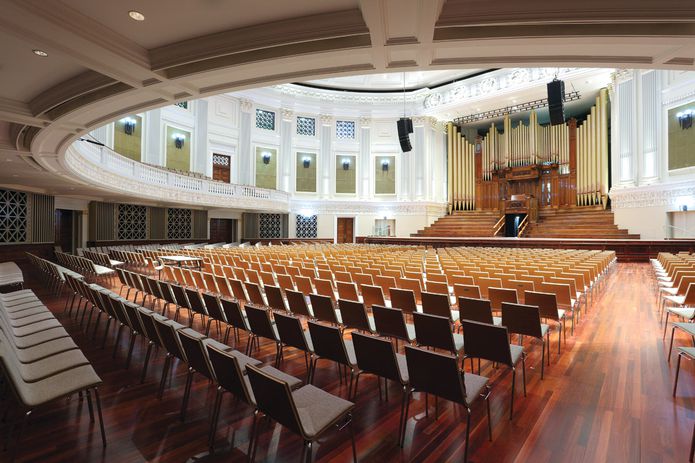 The overriding design principle is a return to the original design intent, as opposed to a new stamp or architectural language. All services including lighting, airconditioning, plumbing and fire-rating systems have been renewed. The strengthening of the superstructure and the auditorium floor to allow for increased stability and rigidity involved Tanner GHD removing the floor and excavating seven metres below it. Here, a new commercial kitchen and air-system infrastructure have been installed. This allows the open spaces of a series of internal courtyards to breathe again. These spill-out zones act as light wells, and their glass roofs have also been reinstated. One of the archaeological finds during excavation, a porphyry-lined drain dating to 1880 and attesting to the building's site over a swamp, has been reinstated in the Enoggera Courtyard.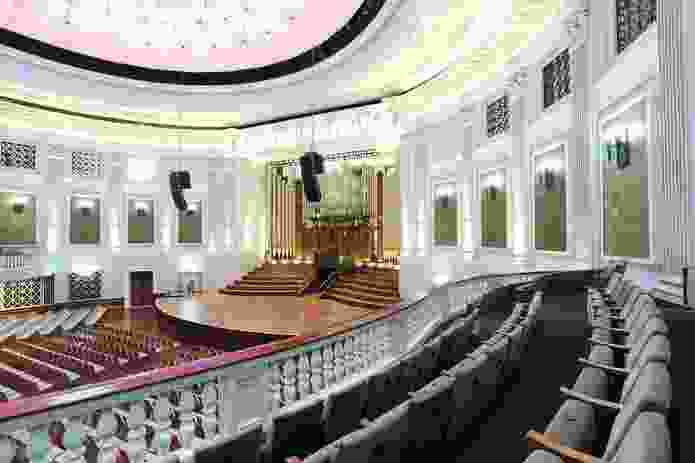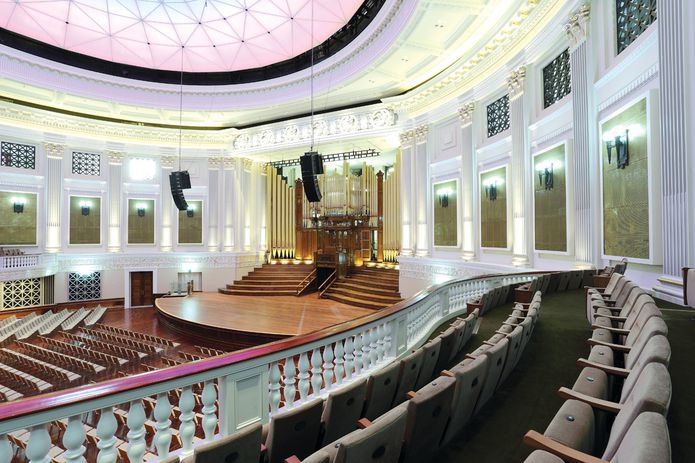 The grand central circle of the domed auditorium has been refurbished with acoustic panelling discreetly hidden behind brass mesh screens, and a complex tensile fabric ceiling with LED back lighting. The plaster frieze by local artist Daphne Mayo was cleaned, and the "Father" Henry Willis and Sons organ was restored and reinstated.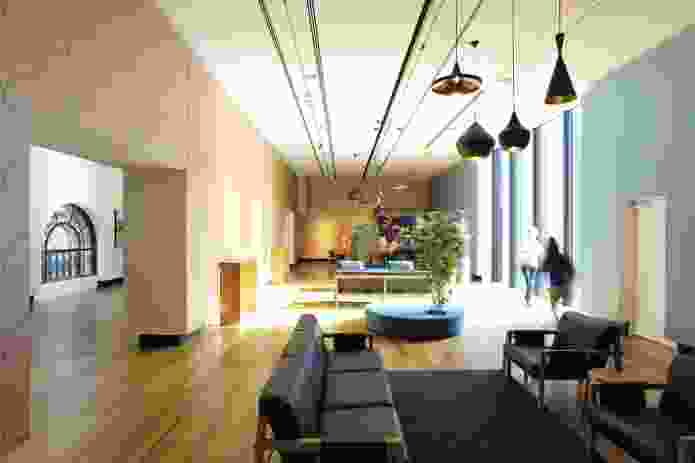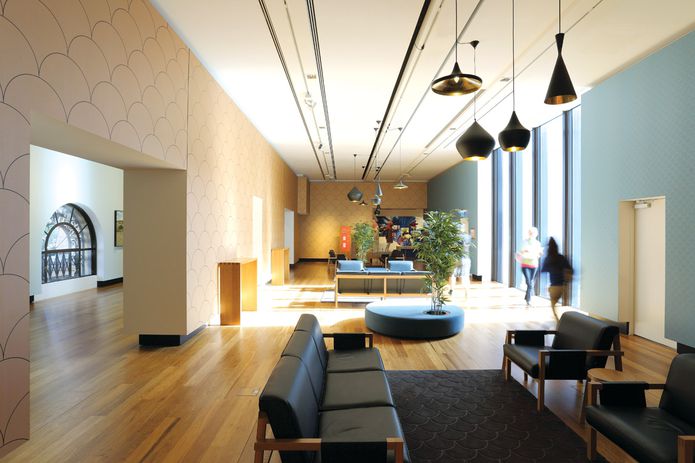 Original Ruboleum floors in surrounding corridors, which had been replaced with parquetry in the interim, are now covered in its cousin, Marmoleum, while new carpets have been custom-designed to revive old patterns and colour palettes. Doors, windows and stained glass have been retained and restored, and brass banisters restored, with black steel rails supplementing them in service passages to meet compliance standards. Elaborate plasterwork is highlighted through the restoration of a restrained, neutral palette of cool colours, their gilded segments becoming more glorious as a result. Myriad joinery items were commissioned to house the emblems and gifts that relate to the business of citizenship and mayoralty.
The Museum of Brisbane has been relocated from its bipartite galleries flanking the entry foyer to a rooftop position around the edge of the dome, and at the entry to the clock tower. It is a suitable pivotal position for an institution that adopts the role of narrator, collector and observer of the city's stories, both past and present. The Museum of Brisbane is a thoughtful hybrid of art gallery and social history museum that is both democratically welcoming and intellectually stimulating. Nostalgia for ye olden days is not on the agenda, and the clean, modern lines of the new spaces underline this message.
The new gallery and meeting spaces were designed around the potentially awkward areas between three rooftop pavilions, and tucked in behind the City Hall's parapets. The exterior view of the top of the dome is used as a reference point and a connection with the outside world. An elegant lounge forms a breakout zone between the dome and a long gallery that runs down the eastern edge of the space (appropriately, this spinal zone is currently host to a show documenting the Brisbane River, taking visitors metaphorically along its course). The lounge is furnished at a domestic scale with clusters of leather-upholstered sofas around floor rugs that are coloured charcoal to reference the use of black steel throughout the building. Visitors can pause for views to the street from the arched windows along the way, and enjoy a close-up view of the intricate ironwork patterns of their grilles. Wallpapers have been custom-designed to echo both the Roman cross patterns of the ironwork and the scalloped fish scale patterns of the leadlight windows found throughout the building. The scallops change scale according to which room they line and are coloured in feminine, pastel shades of the art deco era like eau de Nil and copper.
Encouragingly, public rooms not in use remain open for citizens to freely wander through, and there is a tangible sense of pride in the people re-claiming their civic centre.
Products and materials
Walls and ceiling

New facade and eave/soffit cladding in Rheinzink Zinc H25 and V25 with standing seam joints on plywood substrate in Pre-weathered Pro finish. New external walls in masonry and concrete with cement render. Internal walls use existing and new masonry and concrete walls with set plaster and rendered finishes. Existing and new plastered concrete slab soffits (ceilings) with fibrous plaster and solid plaster cornices and trims, and existing pressed metal, fibrous plaster and fibreglass ceilings, all repaired and painted with intumescent paint. Existing silky oak panelling repaired. New internal glazed partitions. Narrowline glazing suite in Universal Anodisers Hardcoat Satin Medium Bronze. New steel stud-framed plasterboard-lined partitions. New acoustic Armstrong Optra Capz suspended panels system. New ceiling to auditorium uses Barrisol standard unperforated sheet for upper membrane and Barrisol Mezzoperf for lower membrane. Brass mesh for auditorium panels by Sefar.
Windows

Existing steel-framed windows repaired and repainted internally. New external fixed glazing with aluminium frames from Capral. Steelwork painted in Dulux 'Mali.' Frameless glass to Clock Tower. Secondary acoustic glazing from Magnetite. Vertilux Euroscreen blackout and glare-control blinds.
Doors

Existing and new silky oak panelled and glazed doors repaired and refinished clear; toughened glass panels, smoke seals and drenching added. Existing and new timber panelled and glazed doors repaired and repainted. New aluminium-framed glass doors in partitions by Capral. Pyropanel glazed metal and timber-framed fire doors.
Flooring

Sydney blue gum salvaged/refinished floorboards to auditorium and heritage rooms, and tallowwood flooring in Museum of Brisbane, both by Northern Lifestyle Sports Floors. Peerless JAL Dual Coat Satin timber floor polish. Webforge steel grating. Tilecorp granite stair treads in Misty Cloud with flamed finish. Polyurethane cementitious topping to basement production kitchen and serveries. Marmoleum Real Top Shield flooring by Forbo. Plain Axminster and custom-designed Axminster carpet from Brintons.
Lighting

Existing heritage luminaires.Optec spotlight and optec lens wall washer by Erco. Prismatic fluorescent luminaire by Clevertronics. Wireguard fluorescent luminaire and downlight by Pierlite. Decorateive pendant luminaire by Willowlamp. Drum pendant luminaire by ECC. Tom Dixon wall lamp from Dedece.
Furniture

Existing furniture restored by Bywater Design. Reception desks built by Finecraft Joinery and Bywater Design.
Roofing

Lysaght Longline 305 metal work roof, finished in 'Windspray' from Bluescope. Supatherm 80 roof insulation.
Paving

Granite pavers from Pavers Masonry.
Credits
Principal architect

TKD Architects Brisbane
Qld, Australia
Project Team

Megan Jones, Scott MacArthur, David Earp, Ian Leung, Rosemary Lucas, Asta Chow, Branko Rilkovski, Emma Wingad, Vanessa Holtham, Howard Tanner, Victoria Tabur, Gavan Ranger, Louisa Carter, Lyndon Clem, Brittany Geils, Bowen Lahdensuo, Clay Hickling, Jacques Browne, Douglas Straker, Michael Barnes, Jared Kilby
Principal architect

GHD Brisbane
Brisbane, Qld, Australia
Consultants

Access consultant John Deshon
Acoustic consultant AECOM
BCA consultant Certis Group
Building contractor Kane Constructions, Abigroup Limited
Catering kitchen designer Food Design Services Australia
Civil and structural engineer Aurecon Brisbane
Concept architect Tonkin Zulaikha Greer Architects, TKD Architects Brisbane, GHD Brisbane, HBO+EMTB Brisbane
ESD EMF Griffiths
Electrical and mechanical engineer EMF Griffiths
Fire engineering Norman Disney Young
Historian and archaeologist Uniquest (University of Queensland)
Hydraulic and fire services engineer Norman Disney Young
Hydraulic engineer Dennis Cairns and Asociates
Kitchen and bar installation Stoddart Group
Project manager Thinc Projects, Brisbane City Council
Quantity surveyor Davis Langdon
Statutory planners Urbis
Theatre lighting and audiovisual systems designer Design Stage

Site details

Location Brisbane, Qld, Australia
Category Commercial / public buildings
Type Alts and adds, Conservation, Heritage, Museums, Public / civic

Project Details

Status Built

Source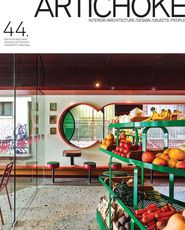 Project
Published online: 29 Jan 2014
Words: Margie Fraser
Images: Atmosphere Photography, Bowen Lahdensuo, Lachan Rowe, Lachlan Rowe, Lachlan rowe
Issue
Artichoke, September 2013
Related topics