Koichi Takada Architects has designed a 30-storey tower for South Brisbane that is being touted as the "world's greenest residential building."
With landscape architecture by Lat 27, the Urban Forest tower will be home to 1,003 trees – more than five times the number of trees in nearby Musgrave Park – with 260 plant species covering an area around three times greater than the site area.
The architects state in planning documents currently before Brisbane council that the concept of creating a green building stemmed from its location on a future green spine that could connect the Southbank Parklands with Musgrave Park.
"The design provides a site-responsive built form taking into account the location, proximity to the parks and open space, building from a strong connection to the landscaping and green space," the design report states. "In designing the world's greenest residential building we have the opportunity, and the obligation, to deliver homes imbued with a strong sense of integrated ecology across the seasons."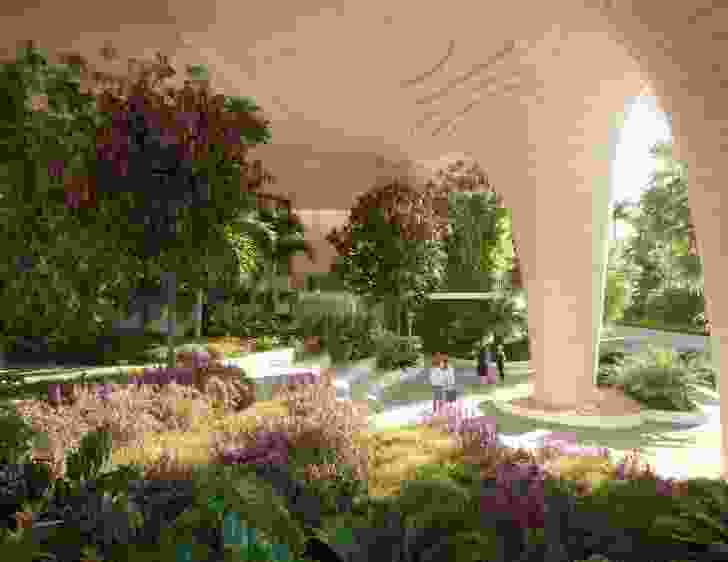 The tower will feature two levels of landscaped rooftop recreation space and amenities, with the entire façade to be heavily vegetated. The organically articulate façade will be layered with planters and screened with hanging plants, offering protection from the western sun.
Operable glazing, balconies and greenery will capture breezes from the north-east, reducing reliance on mechanical cooling.
At the base of the tower, a series of sculptural "tree trunks" support the building above, giving life to the concept of the building as a "forest growing out of the ground plane."
More than half of the ground floor is to be given over to communal open space with seating, water features and lighting, open to the public night and day.
The planting selection will aim to limit maintenance costs while maximising environmental benfiets.
"Utilizing the environments found at Mt Coot-tha, this project will seek to provide environmental benefits, health benefits and mimic the mountain," the design report states. "A focus on plant selection, species that could find habitat and retelling the story of Mt Coot-tha will be a guiding principle on this project."
A project of developer Aria, the tower will house 382 apartments, broken down into 208 two-bedroom and 174 three-bedroom apartments. The development application also seeks approval for bar and hotel usage.
Related topics