A proposed apartment tower in Brisbane will use self-cleaning "smart glass" that blocks heat and restricts around 99 percent of UV rays, according to the project's developer.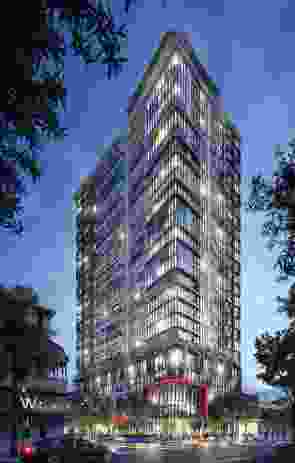 The $180 million Utopia apartment project in Fortitude Valley has been designed by Kris Kowalski Architects and developed by Sandt Developments.
Professor Huai Yong Zhu, a specialist in nano-glass technology from the Queensland University of Technology, said the use of the "smart glass" in a residential project represented a positive step considering Brisbane's hot climate and the high rates of skin cancer in Australia.
"Titanium dioxide is the main component of nano-glass and it essentially acts as a coating which absorbs UV light and breaks down the organic compounds," he said.
"Normal glass only cuts UV rays by about 10 percent – so nano-glass will offer significantly greater protection from harsh Australian UV light."
He said the glass has gained popularity in other countries, and the project could help to set a precedent for more use of the technology in Australia.
"We haven't embraced it to the extent of the rest of the world – in Asia, for example, people are very astute when it comes to sun protection."
According to the project's development manager Bill Wang, under test conditions nano-glass kept rooms cooler by up to 8.3 degrees Celcius when compared to regular glass. The nano-glass blocks up to 23 percent of infrared heat while providing light transparency of 84 percent.
"This effectively keeps the internal room temperature cool, therefore reducing the need for air conditioning," he said.
"We anticipate power bills could be cut by at least 20 percent."
The tower is 24 levels high and will contain 300 one-, two- and three-bedroom apartments. Each apartment will feature an enclosed balcony design that allows residents to adapt the space depending on weather conditions.
Related topics