In a visit to Perth in 2007, ex-Victorian Premier Jeff Kennett joyously described Perth as being "… so open and pristine it is almost antiseptic."1 While Kennett no doubt viewed Perth through the eyes of a suave Melburnian, it is interesting to note how much Perth's centre has come to life in the intervening seven years. This is in part due to the efforts of the City of Perth, led by its energized mayor Lisa Scaffidi, and the Metropolitan Redevelopment Authority. Small bars are proliferating, there's a rooftop cinema, innovative buildings such as the Heath Ledger Theatre and the Perth Arena have opened, and earth is now being turned for Perth's new waterfront. These projects have been accompanied by renewed attention to the public domain, which has seen the upgrading of streetscapes and the construction of new plazas.
One such plaza (and tower) project is Hassell's Brookfield Place development, located on St Georges Terrace, the city's major corporate address. The epicentre of Perth's "Dullsville" moniker, the Terrace, is overshadowed by tall poker-faced buildings and is a funnel for Perth's blustery sea breezes. Historically it has had a well-deserved reputation for being lifeless: lunching office workers typically voting with their feet and heading to the sunnier, and less corporate, Hay Street Mall. However, St Georges Terrace, in line with Perth's centre generally, has experienced resurgence in recent years. This has been precipitated by a smart streetscape upgrade and a successful "alternative" restaurant, Greenhouse Perth, which has challenged the dominant corporate culture of St Georges Terrace.
It is in this context that this review asks how Brookfield Place contributes to the increasing diversity and vitality of St Georges Terrace and, more broadly, Perth's CBD. A guide for this is William Whyte's seminal book The Social Life of Small Urban Spaces (1980), which set out, through exhaustive analysis and time-lapse photography, the criteria that influenced the vibrancy of social life in plazas in New York City. 2 These included access to sun and shade, generous provision of surfaces that can be sat on, a seamless relationship with adjacent streets, access to food and "triangulation" (whereby public art, a dramatic view or performers spark interactions between strangers). Notwithstanding the differences between Whyte's 1970s New York and Perth in 2013, these criteria remain relevant and can be used to gauge Brookfield Place's ability to incubate urban vitality.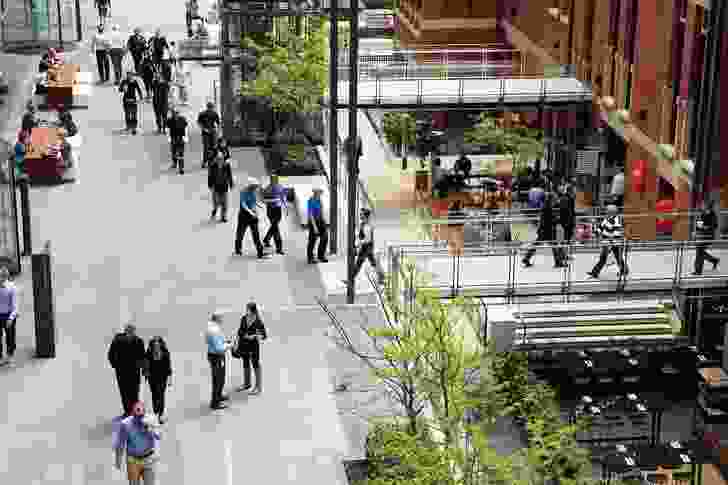 In formal terms Brookfield Place consists of a new, slab-sided, forty-five-storey office tower set back from a series of heritage buildings fronting St Georges Terrace.3 This composition results in a long and comparatively thin plaza framed to the north by the heritage buildings and to the south by the Brookfield Place tower. While the plaza is the principal public space, its constrained proportions do not quite allow it to become an identifiable "place." This said, Whyte found that the shape of a plaza, whether long and thin or square, tended not to directly correlate with its ability to foster urban vitality. The Brookfield Place public domain also consists of a series of connecting urban lanes, intricate and varied, a welcome relief from Perth's often impermeable and regimented city grid. As Whyte advocated, the plaza and urban lanes seamlessly integrate with the surrounding streetscapes, allowing pedestrian traffic to flow between the spaces effortlessly.
With respect to microclimate Whyte noted a direct correlation between the use of a space and access to sun. In relation to New York's Seagram Building plaza he noted, "Where there was sun, (people) sat; where there was none, they didn't" (p. 40). While this, of course, varies in relation to the season, he concluded that "if there is a northern exposure it should be made the most of" (p. 42)4. This maxim has certainly been followed at Brookfield Place. One of the greatest attributes of the Brookfield Place plaza is that it receives winter sun when the majority of St Georges Terrace is plunged into shadow. Also being tucked behind the line of heritage buildings, it provides respite from the infamous wind tunnel of the Terrace.
One of Whyte's most pertinent, if now seemingly self-evident, observations was that the most popular plazas tended to have considerably more sitting space than the less well-used ones. In line with such thinking the Brookfield Place plaza provides flexible, custom-designed sitting options that allow for both singles and groups of different sizes – if not the amount of seating Whyte specified, a generous one linear metre of seating surface per nine square metres of plaza.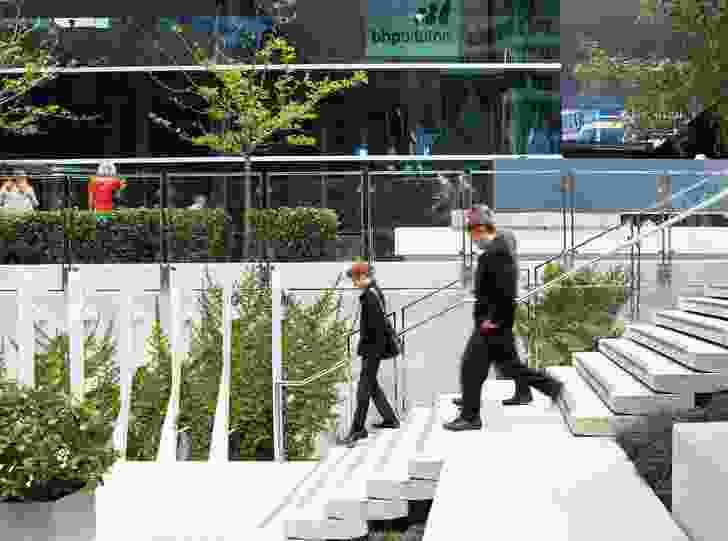 Despite what designers may like to think, Whyte noted that the activation of plazas does not tend to correlate with the plaza's aesthetics, with other, more pragmatic, criteria like microclimate and seating being dominant. Nonetheless, Hassell's Perth landscape architecture studio has successfully created a sleek and stylish, if somewhat generic, aesthetic for the public domain of Brookfield Place. With respect to Whyte's notion of triangulation, there is no public art, or typically musicians or performers, who could spark exchanges between strangers. But this reveals a difference of contexts; Whyte's 1970s hipsters, exchanging comments on the human comedy of New York City, are not the BHP Billiton corporate executives who have descended to Brookfield plaza for lunch.
One of Whyte's conclusions is that the richness of the social life of small plazas is very much tied to the provision of food outlets. As he attests, "food attracts people who attract more people" (p. 52). In this respect Brookfield Place ticks all the boxes. It is a generous place with a real diversity of food offerings, from successful high-end restaurants in the refitted heritage buildings to a food court tucked into the rear of the building.
While Whyte does not have much to say about foyers, the foyer of the main Brookfield Place tower is worth a mention. It is a bold and generous space, well fitted out, and quite un-Perth-like in its level of finish. Perhaps the only downside of the foyer is the mirrored glass wall, which separates it from the plaza and contributes little to its activation.
Ultimately the success of Brookfield Place is defined by the positive contribution it makes to the social life of the city. On a sunny but cold winter afternoon the plaza is well occupied by workers having late, or perhaps long, lunches, people tapping on iPhones, talking in small groups and drifting through to the food court and bus station behind. While in itself this is not earth-shattering, it is the cumulative effect of Brookfield Place and its contemporary projects that are incubating a social life in Perth's once "antiseptic" CBD. Not a mean feat in the world's most sprawled city.
1 Jeff Kennett, quoted in Pam Casellas, "Antiseptic Perth is devoid of life: Kennett," The West Australian newspaper, 8 March 2007.
2 William Whyte, The Social Life of Small Urban Spaces (Washington, DC: The Conservation Foundation, 1980).
3 It should be noted that Brookfield Place is unfinished. A second tower is to be added to the south of the existing main tower.
4 The original quote referred to southern exposure; however, this has been changed to reflect the different hemispheres of New York and Perth.
Source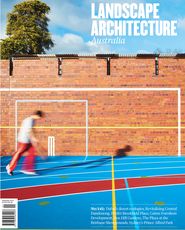 Issue
Landscape Architecture Australia, February 2014
Related topics