Bruce Mackenzie is something of a "living treasure" to the profession these days, and at eighty years old is as sharp as ever. In his recently published opus on fifty years of practice in Australia, Design with Landscape (2011), Mackenzie reflects on the time in the 1970s when he was an influential consultant to the National Capital Development Commission (NCDC). Among many of his Canberra projects, it was Tuggeranong, a new town for one hundred thousand people, where he was able to show the potential of the profession on a "greenfield" site. Forty years on, his son Stuart Mackenzie, also a landscape architect, has an influential role in the planning of Molonglo, the latest of Canberra's satellite towns, planned for 55,000 people.
Ella Doney: Do you discuss planning and landscape architecture over the dinner table? And do you tend to agree with each other's points of view?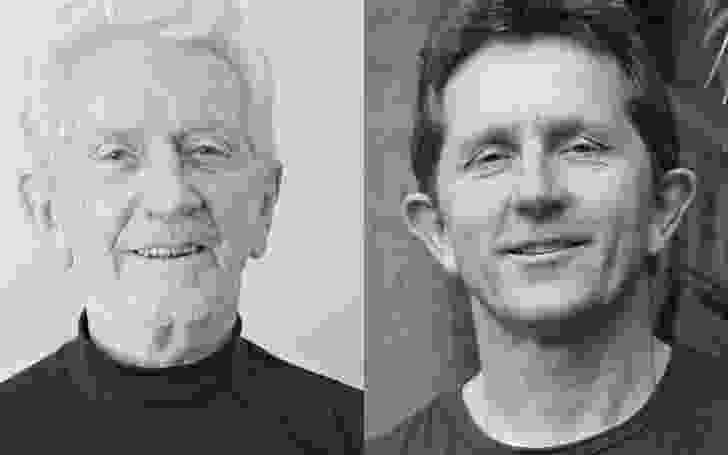 Bruce Mackenzie: We discuss landscape and planning all the time – whether it's the city or the bush, solving the traffic problem, better parks and housing, heritage and conservation, art, photography, bushwalking – we discuss landscape and design from every possible viewpoint … The only point that could be seen as a "conflict," is my passionate interest in a "pure path" …
Stuart Mackenzie: At times I think that Dad is just an unreconstructed modernist, but I have to admit if everyone in landscape architecture possessed his passion and conviction, and philosophical rigour on environment matters, the world could be a better place. Even large sections of the community, not just landscape professionals, advocate Bruce's "pure path" these days.
ED: You've both had significant roles in decisions about the development direction of Canberra, including Tuggeranong and Molonglo. On reflection, what are the common issues in the design and planning of these town centres, or are your experiences markedly different?
BM: In my case I have to reflect back to 1969, aged thirty-seven and with only ten years of limited practice, working with architect Bruce Rickard. We produced [the publication] Tuggeranong Outline Planning as consultant landscape architects in association … At that point Tuggeranong was to be developed on both sides of the Murrumbidgee River. It was later reduced to the eastern margins only, in part with our help. In those days we worked for the National Capital Development Commission (NCDC), an almost autonomous body responsible for the planning and development of Canberra. The great advantage of this system for the design disciplines was that it brought together and encouraged a multidisciplinary form of planning and design – the directors and heads of planning, architecture, engineering and landscape architecture, with outside consultants, all working together. In theory, it was a common aim with a common purpose.
SM: At Molonglo, the current greenfield planning front, the role for landscape architects is as important as ever. For an urban environment, the setting is unique in Australia. It is a steep, expansive and dramatic site along the Molonglo River Corridor. It is imperative that the urban design, let alone the massive urban infrastructure that comes with building a new town, be sensitively related to its landscape … It is imperative to be able to work in a multidisciplinary planning field.
These days, it's not just an NCDC-like public planning authority pushing for better landscape standards in development; the private sector knows [it is important] too, and invests heavily early in the development cycle in open space and recreation assets to market new estates.

ED: What sorts of challenges did you encounter in the planning and design of Tuggeranong and Kambah when bringing a landscape architect's perspective to the table?
BM: I was involved in many reports prepared throughout the area of Tuggeranong and elsewhere in Canberra over a period of more than twenty years … We set many new standards, mainly for the suburb of Kambah, within Tuggeranong, which we hoped would set a benchmark for application to Tuggeranong generally.
In Kambah we achieved the building of a central parkland which deleted entirely the commonplace concrete-lined channel which would otherwise have divided the park into two opposing margins. Our alternative created a soft floodway interspersed with playing fields, retention basins, picnic areas and pedestrian ways, and rich planting. School fields and public facilities joined with the parkland without barriers or fences.
We established a landscape theme of indigenous species for the public lands, which changed Kambah from its original sheep pastures to an "olive green" area. No constraints were applied to residential spaces, where a mix of indigenous and exotic species could live happily among those of the local environment. Few of these standards flowed on to enhance the balance of Tuggeranong. Concrete drains reappeared and the olive-green public image was overlooked. Where were the landscape architects?
ED: Do these challenges remain in the design and planning of Molonglo?
SM: The challenge for landscape architects to be involved in decision-making is as it ever was. Usually, it is the professions operating with the biggest budgets that have the greatest influence on the three-dimensional outcome of contemporary planning … Then there is a range of generic national codes and design standards … As a result innovation often doesn't survive the design and approval process.
ED: What key changes have you witnessed over your professional careers in government/politics, community aspirations and societal change with regard to impacts on Canberra's design and development?
BM: The first would relate to the crippling impact of the car population, which expanded from around two million motor vehicles throughout Australia in the 1960s to eight million in the early 1990s and eventually sixteen million in 2010 (Australian Bureau of Statistics).
The outcome in Kambah alone is a grand central parkland divided by a fast and broad motorway where safe crossings are up to three hundred metres apart.
We got on well within our planning system, but after the planning was resolved the engineers became the main design input and up to that time Canberra and the world had been wedded to the delights of motoring. This mood was beginning to change elsewhere, but not in Canberra.
ED: Canberra has more nature parks within, and adjoining, its urban area per capita than many other cities in Australia. Is this not an indication of enlightened landscape planning?
SM: Canberra is a world leader in urban nature conservation. It is great that today we recognize native grasslands as part of the conservation estate, which was not the case in Walter Burley Griffin's time, and was only just beginning to be understood in the era of the NCDC's Y Plan. Nevertheless, in both cases, it was an act of far-sighted landscape policy to set aside a reserve system early in the metropolitan planning process, and ensure that development and open space were balanced.
However, there is a paradox in that the space given away for conservation is having environmental ramifications for the sustainability of Canberra's urban structure … Many large "paddocks" previously earmarked for development are now nature reserves. This has the unintended outcome of forcing urban growth further outward, reducing development densities near the centre and adding to the ever-lengthening journeys for commuters. This has significant impacts on servicing costs, road construction and housing affordability, and further weakens Canberra's sustainability credentials.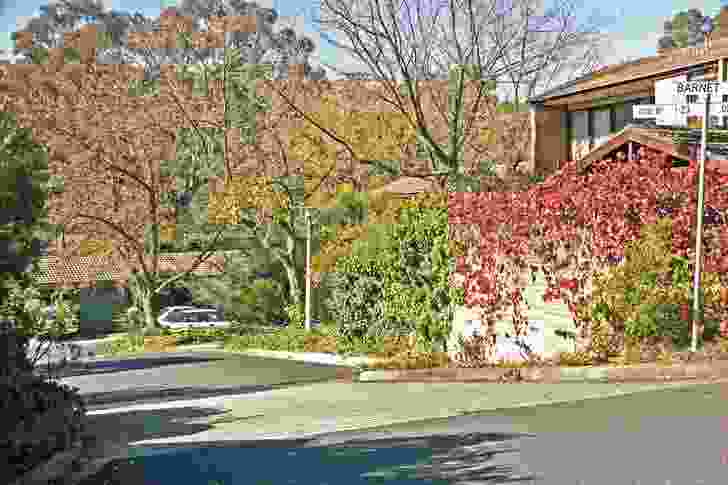 ED: What do you consider successful in relation to your influence on outcomes realized in Canberra's urban landscapes?
BM: Again, during the 1970s I worked with architects Ian McKay and Partners and helped to design Swinger Hill, a medium-density tract in Woden Valley. With the architects, we designed the road layout. The layout worked with the medium-density format and succeeded in separation of traffic and pedestrians throughout the site.
ED: The planning of Canberra has been significantly influenced by landscape principles. How do you feel about the decision to infill in Canberra's inner suburbs and town centres and move away from the Y-Plan?
SM: The Y-Plan is not a bad structure of itself; a "Y" form of transport corridors connecting employment centres. It lends itself to a public transit structure that is reasonably future-proof in a post-peak-oil society. It is the low-density development that poses the challenge. Canberra today spreads fifty kilometres north to south, the distance equivalent to Palm Beach to Cronulla in Sydney, with a fraction of the population density. It adds up to the great malaise of contemporary urban living – sprawl.
In older cities, where most land is under private ownership, there is more compunction to use land profitably, to account for every square metre. Land is devalued by under-utilization – a sort of tragedy of the commons in reverse.
BM: The Y-Plan, I imagine, will largely be retained due to its urban layout in combination with the generous landscape margins and hill reserves. However, infilling the existing structure, I believe, is an essential step, as I had previously contemplated back in the 1970s. It would invite a mix of housing with always a fair proportion of low-density development in combination with medium- and high-density infill. The increased intensity of housing would add to the ultimate pleasure of and convenience for the community, and encourage and support a rapid transport system for the benefit of all people.
ED: What sort of collaboration do you think necessary to have a good outcome for Canberra in the future? Is integrated planning practised as well as it should be?
SM: Landscape architects are, or at least should be, good at integrated development. In a world of specialization, where professions are increasingly looking at life through a single window, it is valuable to have someone who is generalist. The professional "generalist" is potentially a team leader and vision shaper.
BM: Where landscape architects are engaged in planning, it is their responsibility to work closely with the engineers and help to coax a better outcome. Engineers are skilled people so the landscape architect's efforts should assist them to achieve that quality-of-life outcome. My dealings with engineers in Canberra and with the Department of Main Roads and the Roads and Traffic Authority in NSW have always been productive and genial. An improved outcome for the engineer is always very beneficial and without such help (the landscape architect's comprehensive vision) engineering will follow its usual engineering course.
ED: How would you like to see Canberra mature? Which ideas and design philosophies do you believe are worth pursuing?
BM: A denser population. Increased work opportunities closer to home. A rapid transit and bus system combined. A mostly indigenous landscape policy (a climate change adjustment). And the planned droughts of future climate change will leave the world, not just Australia, with no other choice but indigenous landscape, aesthetics aside.
ED: What challenges do you see lying ahead for Canberra's development and growth in the next fifty years?
BM: I reiterate some statements I made in a piece titled "Critical Matters" in the May 2006 edition of Landscape Architecture Australia:
If then we see landscape as the repository – beginning with the fundamental ecological condition made complex with things man-made – structure and infrastructure, plus human society itself – challenging and beguiling, we see also the task of landscape architecture. A heroic task indeed, but let us also acknowledge that all design disciplines that affect, change, add to or take away from the environment, share responsibilities that essentially equate with those of landscape architectural practice. Obviously this encompasses the work of architects and architecture, planners and planning, engineers and engineering and the agencies that employ them. Here is the body of activities and action that can together produce the dream, one that can as well nurture investment. Landscape architecture is not simply applied design; it is the very beginning, the invention, and a philosophic process of interaction. It is also one of selling hard the idea, of motivating the whole team – provided first that the landscape architect, he or she, will know well the vision, and believe in it totally. Superficial landscape embellishments richly devised, will not match the challenge whereas broadly based grand schemes modestly wrought with compassion and humility can change the world.
SM: The Canberra plan, one hundred years on, is still fundamentally a landscape proposition that is unique in the world. These days we understand more clearly the urbanism, public transport and sustainability principles that were inherent in the original Griffin Plan, and although much has been lost, much is recoverable. The city is still young, and the leasehold system where the government owns the land still allows plenty of creative space for innovation and showcase planning. It may be turning slowly to follow a more sustainable course, but the flagship role of Canberra to Australian landscape architecture is as relevant as ever. There is huge scope to keep the national capital world class. Landscape architects are well placed to seize the design agenda, be custodians of the vision, and shape the city in a way that few cities in the world can.
Source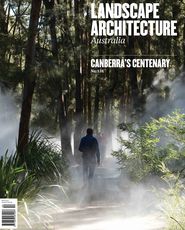 People
Published online: 8 Oct 2013
Words: Ella Doney
Images: Courtesy Bruce Mackenzie, Courtesy Bruce Mackenzie and Ian Mckay and Partners., Courtesy Bruce Mackenzie, with photograph by AAM.
Issue
Landscape Architecture Australia, May 2013
Related topics