Imagine a lush meadow, populated by not much more than trees and wildflowers. To the north, a steep hillside huddles protectively; to the south, the meadow falls gently away to reveal the boundless blue of the Pacific Ocean. No wonder Charles and Ray Eames fell in love with this site, an empty lot in the Los Angeles neighbourhood of Pacific Palisades. What they built there in 1949, Case Study House #8, has served as inspiration for generations of architects and home builders. Constructed from off-the-shelf components, it reads as two cubes clad in rectangular panels of glass and colourful Cemesto sheet: a framework for capturing the unfurling details of domestic life and the passage of time in the tiny paradise outside.
The East Brunswick House by Multiplicity is an improbable relative of Case Study House #8 – improbable because East Brunswick, an inner-ring suburb in Melbourne's north, is a long way from the Eameses' Californian paradise, literally and figuratively. There isn't much of a view – instead of a serene Pacific Ocean, picture a tabletop-flat outlook of terracotta tiles, red brick and corrugated iron. And with the house built within a total site area of around three hundred square metres, there's barely enough extra room for a vegie patch, let alone a meadow. Much like Case Study House #8, though, East Brunswick House is a deceptively simple framework for living, albeit in this instance calibrated by the architects to transform even these quotidian surroundings into something a little bit special.
The project began with Multiplicity being hired by a couple to turn a dilapidated timber bungalow into a calm, flexible space that could accommodate them and their young child. The clients, one of whom is a planner, bought the site with the express purpose of demolishing parts and rebuilding – the street it sits on is free of heritage overlays and because of its compact size, no planning permit was required. The designers, though, weren't entirely free of constraints. The budget was tight and the nature of the site dictated strict setbacks. With neighbours jostling in on all sides, preventing overshadowing and overlooking was also a challenge.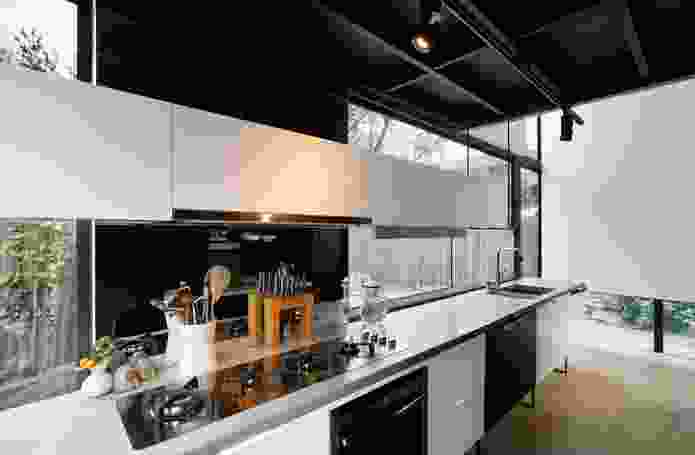 To keep costs down as much as possible, Multiplicity initially proposed what director Sioux Clark described as a "shelter shed." The plan was to retain most of the original building, while replacing some shonky lean-to additions at the rear with an off-the-rack shed, which the architects would reconfigure, Eames-style. Then they made the surprising discovery that a bespoke steel frame was price competitive with a prefabricated building, so they decided to build the skeleton for the house from steel instead, while retaining the principle of designing a simple protective shell.
The addition is essentially a south-facing, two-storey, steel-framed box with volumes hanging from it internally. Viewed from the rear of the property, this box is broken down into a composition of rectangles. These are comprised alternately of panels of glazing and fibre cement sheet, with cross bracing holding it all together. This leanness of construction, not to mention the building's form and composition, strongly recalls the Eameses' house.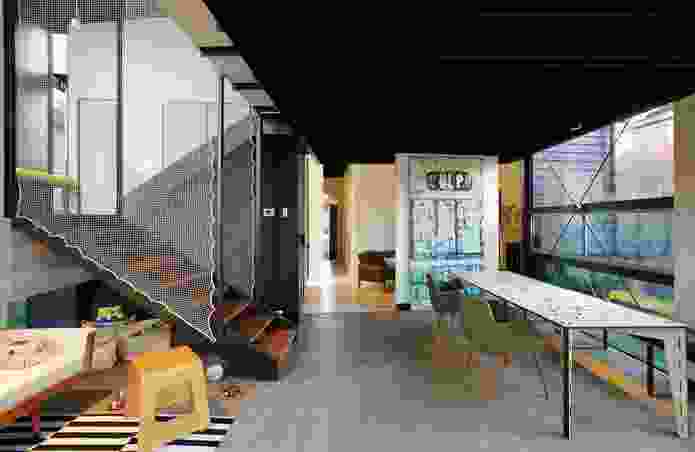 More important than these aesthetic and tectonic similarities, though, is the houses' shared sensitivity to the quiet pleasures of inhabitation. The architects have skewed the boxy form of the addition to preserve nooks and crannies of precious garden space around the building. In turn, the glazed panels frame and edit views out to the surroundings. A single silver birch tree outside the open-plan kitchen and living area takes centre stage here, but there are also links to more distant features – a neighbour's pretty terracotta chimney, for example, or even a church spire a few blocks over.
Despite its southern orientation, light defines the interior of the addition, which floods into the main living area through the double-glazed panels, bouncing up off the hydronically heated, polished concrete slab. But while there is an emphasis on transparency on the southern elevation, which faces onto the tiny garden, the architects have handled the porosity of the east and west elevations much more carefully, as these face neighbouring properties. The bulk of the walls here are in a blue-black cladding made from a corrugated composite of cardboard and bitumen. What glazing there is on these elevations, critical to capture rare sun, sits above or below eye level, or is sensitively positioned to block sight lines to the neighbours' private spaces.
As one of Multiplicity's clients put it to me, a sense of openness, rather than constriction, defines the experience of living in the East Brunswick House, as well as a feeling of connection to the seasons and the natural world. Considering its gritty, compact inner-suburban setting, this is a remarkable achievement. As Sioux's associate Cimone McIntosh says of the project, "The strict framework of the architecture allows the space to be lived in." A fair precis that, like the project itself, is an elegant reduction disguising a great deal of complexity.
Products and materials
External walls

Reclaimed and new weatherboards in Baltic pine to existing dwelling; Onduline cladding to upper walls of new dwelling.
Internal walls

Painted plasterboard.
Windows and doors

Custom-designed double-glazed window/door systems by Multiplicity with Penetrol finish to raw black steel fabricated on site by builder; Aneeta sahsless double-glazed, double-hung and sliding windows; Graeme Bergman blinds and curtains; Lockwood Tangent lever handles; Belleview Imports recessed pulls; door pulls made from remnant timber offcuts salvaged from stair.
Flooring

Salvaged Baltic pine flooring; insulated slab with hydronic heating; Tretford goats hair carpet; Signorino Kerlite porcelain sheet to bathroom.
Lighting

Sunny spotlights with LED fittings from Euroluce; Toss-B Spin pendants and Sphere wall lights from Hub; Haiku fan from Big Ass Fans; large compact fluorescent globes fitted to existing ceiling batten.
Kitchen

Neff oven; Barazza integrated hotplates from Abey; Fisher and Paykel integrated rangehood; Westinghouse fridge (existing); Abey sink and tapware; Smeg dishwasher; matt black and gloss white on-board laminate from Colonial Cabinets; Elegant Hardware cupboard lip pulls from Belleview Imports.
Bathrooms

Lefroy Brooks tapware and mixers; Abey shower roses; Caroma Cube basin (ground-level bathroom), Omvivo Neo basin (upstairs ensuite) and Caroma in-wall cisterns from Bathroom Life; Rogerseller Catalano toilets; Signorino Kerlite porcelain sheets; Artedomus Yuki Japanese finger tiles; custom-designed vanities and door furniture by Multiplicity; Colonial Cabinets shaving vanities.
Heating and cooling

Evaporative cooling; hydronic heating.
Other

Plywood flat-packed dining table by Tim Made; custom-designed bench seats to dining room and stair landing; steel joinery units throughout designed by Multiplicity, fabricated by builder.
Credits
Architect

Multiplicity
Brunswick, Vic, Australia
Project Team

Sioux Clark, Tim O'Sullivan, Cimone McIntosh
Consultants

Builder Caedman Construction
Building surveyor ASA Building Consultants
Engineer Trevor Huggard and Associates
Landscaping Mel Ogden Landscapes, Multiplicity

Site details

Location Brunswick East, Melbourne, Vic, Australia
Site type Suburban
Site area 307 m2
Building area 165 m2
Category Residential buildings
Type Houses, Residential

Project Details

Status Built
Design, documentation 30 months
Construction 9 months

Source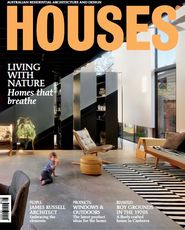 Issue
Houses, October 2013
Related topics