Sydney's first high-rise, build-to-rent project, housed in one of two 39-storey towers, will be built above a proposed metro station on Pitt Street in the central city
The NSW Government has awarded contracts to a consortium comprising Oxford Properties, CPB Contractors and Grocon to deliver the station the integrated development above. The state will pocket $369 million for the air rights to develop the two buildings above the station.
The over-station development comprises a commercial tower and a rental residential building containing roughly 230 apartments.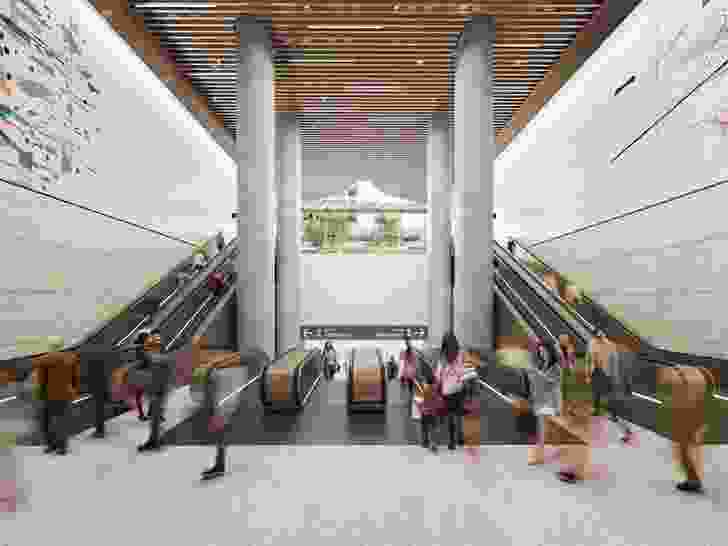 The commercial building will be designed by Foster and Partners with Cox Architecture, while the rental building will be designed by Bates Smart.
The two towers will sit above the new station, which will run along 250 metres of Pitt Street, connecting Park Street to Bathurst Street and Putt Streel to Castlereagh Street.
The first section of the broader Metro project, in the city's Northwest, opened in June with stations and plazas designed by Hassell.
The second stage of the program includes the construction and operation of a new metro rail line from Chatswood, under Sydney Harbour through Sydney's CBD to Sydenham and on to Bankstown through the conversion of the existing railway line. Tunnel constructions for the Metro is taking place from 2018 to 2020 and construction of the stations is due to begin in 2021. The second stage of the metro is due to open in 2024.
Pitt Street is one of five planned or proposed integrated developments, with others planned for Crows Nest, to be designed by Woods Bagot and Oculus, Victoria Cross, to be designed by Bates Smart, Cox Architecture and Aspect Studios, Martin Place, by Johnson Pilton Walker and Tzannes, and Waterloo (indicative designs prepared by Turner and Turf Design).
Related topics