I missed the exhibition Glenn Murcutt: Architecture of Faith. However, Paul Walker's review (Architecture Australia, May/June 2017) amply succeeded in conveying its intent and scope, even the atmosphere. The exhibition avoided a question that architects cannot sidestep when working across cultures – how to authentically stamp designs for communities and governments that till recently were foreign, even alien. How may an architect build architectural bridges between the West and Islam? Plausible bridges. What are the chances of success?
Architects venturing outside their culture face many challenges, irrespective of whether they are aware of them. Everyone carries unconscious assumptions, implicit values of their parent culture, and risks imposing them inadvertently as they move across into a new culture. In a robustly multicultural country such as Australia a demand for mosques is inevitable. It is something new and in some communities it may be bitterly opposed. How, then, can the architect lower the temperature and help encourage a tolerant acceptance of cultural and religious difference?
It is all too easy to trivialize Islamic architecture by reducing it to arabesque, through pastiche versions that replay trivial stylistic elements. In Australia, as distinct from in the Middle East, there are no prior traditions for the new architecture to form a connection with. I examine three instances that have involved architects in just such a difficult immersion: Ieoh Ming ("I. M.") Pei's Museum of Islamic Art in Doha, Qatar; Glenn Murcutt's recent Australian Islamic Centre in Newport, Melbourne (designed in collaboration with Hakan Elevli of Elevli Plus Architects); and Angelo Candalepas's unfinished Punchbowl Mosque in Sydney.
All three architects were working outside their customary comfort zones, Pei perhaps less so. Pei is famed for his ability to fit his architecture into a local indigenous tradition; indeed, so adept has he been at culture jumping, his designs illuminate the traditional in new, often surprising ways. With its unlimited budget, the Doha museum might well have been his undoing. Murcutt rarely works outside his accustomed milieu; in the past he refused commissions that took him into unfamiliar territory. As a Greek-Australian, Candalepas has, in a sense, been forced to work between cultures.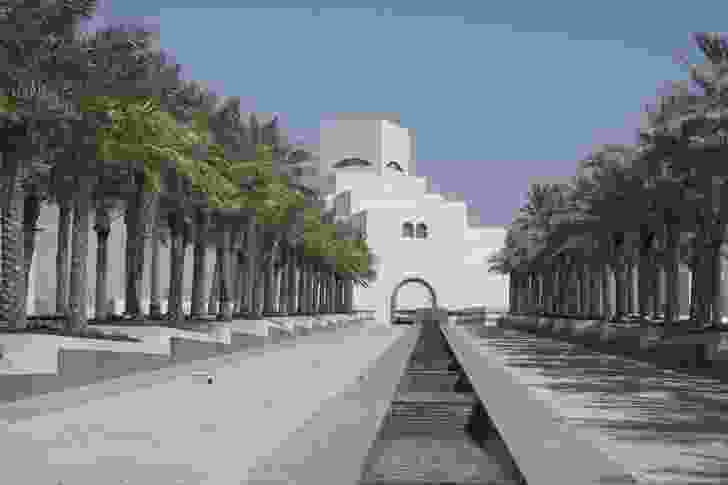 I visited Pei's Museum of Islamic Art in Doha last year. Murcutt and Elevli's approach is, of necessity, very different from Pei's. Pei's museum looks out across the sea. It is an isolated white pearl, a centrepiece for the city and a national statement. A splendid dome is the museum's central formal climax. Candalepas also introduced a dome. Domes stand as grand symbols of the celestial realm and the harmony of the universe.
Pei's works its way heavenwards in steps of decreasing triangles that explode through its oculus. Much as he did in the East Wing of the National Gallery of Art in Washington, D.C., the Museum of Islamic Art's exhibition galleries are stacked surrounding a central orientation space. Pei emphasized the vertical by accelerating the interior space upwards in an exhilarating surge that subsides and drifts outwards through the soaring window opposite the entry.
Murcutt's Australian Islamic Centre in Newport is deliberately horizontal and grounded; it extends outwards, not upwards. Pei plays with the forms of the Museum of Islamic Art. The overall form is pyramidal, each succeeding level contrived to rotate about a central axis until it climaxes in a cube with inverted slit scimitar-shaped lenses that illuminate the hidden dome. One of Islam's most distinctive intricate splendours is its glorious tile decoration. Elaborate tile decoration is absent from all three projects. The lack of colour is disappointing. Murcutt's vibrant glass roof lanterns exploit colour wonderfully, yet distance it from Islamic tradition.
Pei used sumptuous if restrained stone, wood and metal finishes – light coloured limestone for floor areas, dark grey porphyry for all the exhibition galleries – as a replacement for the rich textural effect of traditional tile ornamentation. This is less distracting than tiling might have been and shifts the focus onto the art.
The contrast between Pei's museum and Murcutt's mosque could not be greater. Built with a seemingly unlimited budget, the museum is an extravagant indulgence, whereas the Newport mosque struggled for over a decade to find money. Architecture is not all about money, though money is an advantage. A grand, palm-lined ramp leads to the Museum of Islamic Art, reminiscent of the Mortuary Temple of Hatshepsut at Deir el-Bahari.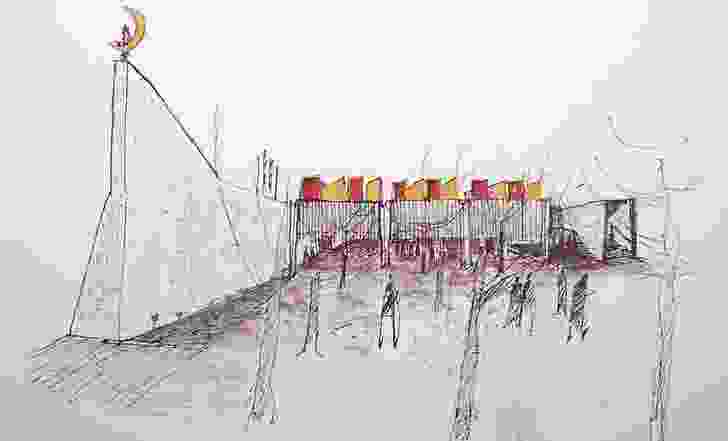 The Australian Islamic Centre is so obviously a continuation of all Murcutt has done previously in creating building forms that identify with their place, that arise from it and are poetically inspired by the surrounding landscape. Invested in it. The outcome is undeniably Australian, a mosque that looks outwards, not inwards, that does not isolate itself from the outside, as is often the case in the traditional walled mosque.
There are many religious crossovers between the three great monotheistic religious traditions – Judaism, Christianity and Islam. In his abbey church the Basilica of Saint-Denis, northern Paris, c. 1135, Abbot Sugar invested Gothic architecture with a symbolism of light. The abbey's jewel-like stained-glass walls envelop the space in a curtain of radiant light, one of the greatest, most memorable uses of light for sacred purposes. Murcutt's ninety-six lanterns inadvertently affirm what is in effect a Christian symbolic mode. The lanterns' wonderful play of coloured light inside pulls the eye upwards, away from the mihrab niche in the qibla wall. It is both an embellishment and a distraction. Whether it is appropriate may be debated.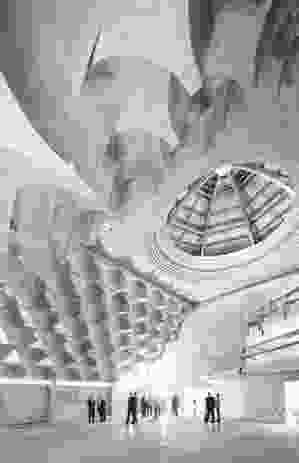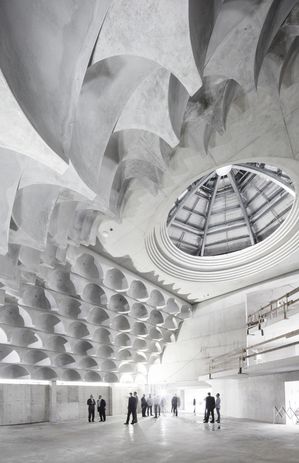 Candalepas's Punchbowl Mosque is some way off completion. As with the Australian Islamic Centre, progress since 2007 has been painfully slow. Unlike the mosque in Newport, sited on its large open plot, the Punchbowl Mosque is surrounded and hedged in by suburban bungalows.
Candalepas contrived a dignified approach along the west boundary, leading to the imposing wedge form in which an upper-level window supplies a glimpse of the interior. On the outside, vertical louvres break up the face, while double-tiered highlights cap a dome and slide down the metal roof above. Murcutt's Australian Islamic Centre spreads itself out across the landscape, its long concrete arm stretching and appealing to the surrounding community. The Punchbowl Mosque is concentrated and introverted – inwardly focused.
Religions discover and adapt existing architectural typologies. In Christianity it was the Roman basilica; in Ottoman Turkey, it was the magnificent Byzantine Hagia Sophia dome. At the outset they lack an identifiable iconography. How well architects inhabit and get under the skin of another civilization is questionable, especially considering that social and religious structures are highly localized in space and time. Sacred rituals develop over time and the accompanying symbols resist change. Architects are tasked with expressing the condition, aspirations and hopes of the communities they serve. To go further, to express a greater universal validity, is a lot to ask.
Pei aimed high. Murcutt and Candalepas, I suggest, seek to inspire and reach out to a wider Australian community in ways that foster tolerance of religious differences. In 1996, Samuel P. Huntington, in The Clash of Civilizations and the Remaking of World Order, predicted that cultural and religious identities would be the primary source of conflict in the post-Cold War world. He thought wars fought between cultures and Islamic extremism would become the greatest threats to world peace. Huntington's thesis has been confirmed by recent events that continue to widen the gulf of mistrust.
Architecture cannot change history. It is no panacea. The world is a manifest place, its dangers reviewed nightly on the news. No architect can possibly compete. What can architecture say, express, in such tumult? It does what it has always done, follow orders and deliver what the powerful demand of it. In between, the architect may design buildings of hope that reconcile the irreconcilable, that press the advantages of peace and amity.
The Museum of Islamic Art in Doha, the Australian Islamic Centre and the yet-to-be-completed Punchbowl Mosque cannot change the course of history. They can, however, point in a positive direction and appeal to our sense of order in a disordered world. Their very gorgeousness is irresistible.
Related topics