Early on in Building No. 2's development, a freedom of information request yielded a hefty file of hand-typed correspondence, annotated documents and architectural drawings that traced the building's history as the home of CSIRO's printing and publications division. Under the purview of one Betty Doubleday OBE – CSIRO's pioneering chief librarian from 1954 to 1973 – Building No. 2 was constructed in the 1960s and housed an array of publications and typesetting, letterpress and lithographic printing equipment.
After thirty years in CSIRO's service, the Collingwood site was sold off to a private buyer in 1990 and entered a new life as a commercial property. The freestanding building was sectioned up into individual lots, though – fortunately – the original built form remains largely intact.
While this sort of building is no longer common, and the professions that once worked within it have mostly been replaced by digital technology, Jerry Wolveridge of Wolveridge Architects saw incredible potential in its solid walls. "We really wanted to let the original architecture speak," he explains. "The bones were already here – and they were good bones."
The project has been reimagined as an elegant coworking space, "intimate in scale but thoughtfully resolved," as Wolveridge describes it. Individuals and small businesses can secure a working space – a mix of private offices and open-plan areas – on long- or short-term arrangements. "We don't do a huge amount of commercial work, so it's a different type of project for us," Wolveridge adds.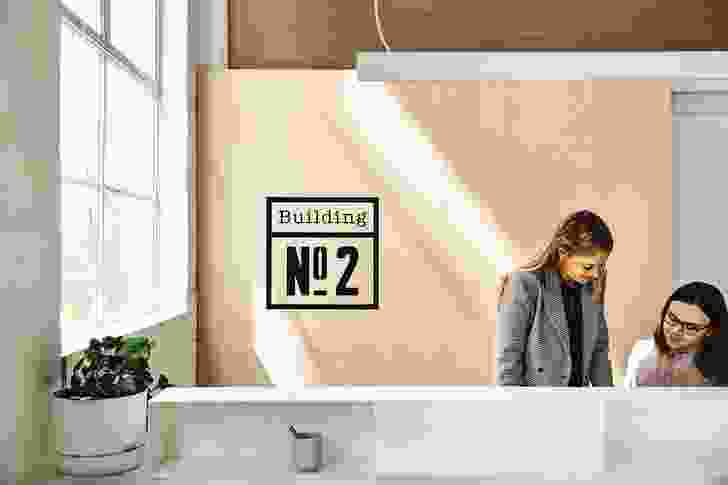 Externally, the building was in good shape. The architects tidied it up, repainted the window frames and refreshed the door with a bold blue – a playful nod to CSIRO's former ownership. The team also added some of its own branding – a spray-painted logotype on the front wall, inspired by the ink stamps and typography of the historical documents.
Within, the private offices vary in proportion and character. The two ground-floor tenancies are compact but flexible. In one, a ladder steps up to a neat loft that takes advantage of the 4.5-metre ceilings. It would work well as an additional work area or storage. Alongside, a communal working zone for daily visitors is backed by a high bookshelf traced with greenery and finished with a sliding ladder. A central kitchen connects this zone to the other ground-floor office, a bathroom and the foyer.
There are fascinating artefacts from the building's past at every turn. A heavy-set fire door encloses the ground floor, its intricate pulley mechanism still operational. In the two-storey foyer, the original balustrade still wraps up the staircase, though it has been updated with floating aluminium panels. "We've tried not to meddle with the building – the new panels are very much secondary; it was really just to make it compliant," Wolveridge says.
Upstairs, full-height windows splash sunlight across the open-plan volume. Two banks of birch desks are arrayed in the space, along with two further private offices in the north-east and south-west corners. The glass-partitioned meeting room and breakout space occupy the southern edge, while large skylights with distinctive concentric-circle glass blockwork bring in a smattering of light from above. To soften the space, Wolveridge worked with The Plant Society to install lush plants and creepers.
There is real craft in every piece of construction – it's clear that the architects relish not just the designing, but also the making. The new elements act as insertions, deliberately offset from the existing building.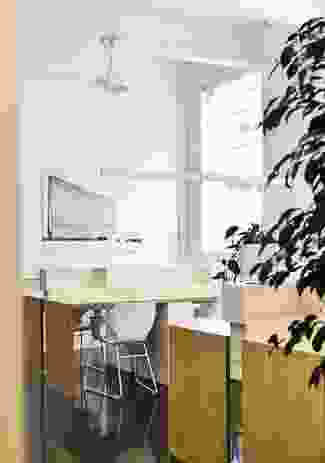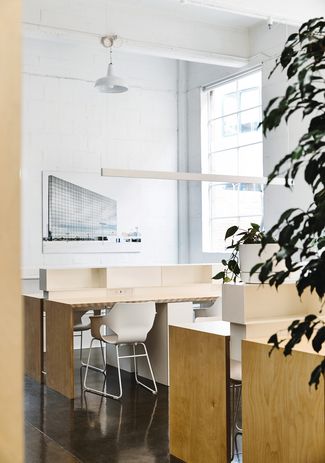 The workstations reveal the same deft hand. The desks have been personalized with storage cupboards and slide-out drawers. On top, a boxy storage element in powdercoated aluminium runs the length of the desks, separating each half. "We wanted to break down the workstations by expressing the skeletal nature of this connecting spine, which also conceals all the cabling," Wolveridge says.
It's a peaceful space, light-filled and elegantly designed. The birch surfaces give it a slightly Scandinavian aesthetic, though it's more mid-century industrial than mid-century modern.
"We've always really emphasized the need to create quality working spaces for our own team," Wolveridge says, "and that has carried through into any of the commercial projects we've worked on. We aim to make smart offices – good spots to get things done."
Products and materials
Walls and ceilings

Existing concrete masonry unit painted in Dulux 'Vivid White' or natural. Birch ply on stud frame. Existing ceiling with side concrete slab painted in Dulux 'Vivid White.'
Windows and doors

Existing windows and doors.
Flooring

Sealed concrete slab.
Joinery

New birch cupboard doors in kitchen.
Lighting

Wall track lights from Masson for Light. Pendant desk lights from Light Project.
Furniture

Desks are custom-designed by Wolveridge Architects, made from birch ply, powdercoated aluminium and laminate.
Other

Building No. 2 signage design and logo by Grin Creative. Custom powdercoat aluminium folded balustrade by builder.
Credits
Design practice

Wolveridge Architects
Collingwood, Melbourne, Vic, Australia
Project Team

Jerry Wolveridge, Christina Theodorou, Eliza Holcombe, Tara Woodroffe
Consultants

Builder McKerlie Builders
Cabinetry Thyme for Kitchens and Cabinets
Landscaping The Plant Society
Lighting Masson for Light, Light Project

Site Details

Location Melbourne, Vic, Australia
Site type Urban

Project Details

Status Built
Completion date 2017
Design, documentation 2 months
Construction 4 months
Category Interiors
Type Workplace

Source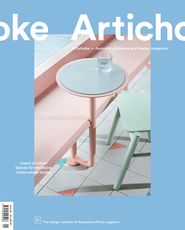 Issue
Artichoke, March 2018