The Built Environment Meets Parliament (BEMP) summit commenced with a formal dinner on 21 June 2011; this was followed on 22 June by a full-day conference at Parliament House, Canberra. BEMP is held to facilitate conversations between parliament and industry leaders, and this year it was supplemented by a presentation by Built Environment Youth Ambassadors representatives. BEMP's main goal is to discuss changing community needs and industry trends and issues critical to meeting the aspirations of Australia, to discuss public policy ideas that can help build sustainable communities, and to showcase leading industry and professional practices operating in the built environment.
Speakers included ministers, members of parliament and key industry leaders from host organizations, including Romilly Madew, chief executive of the Green Building Council of Australia; David Parken, CEO of the Australian Institute of Architects; Kirsty Kelly, CEO of the Planning Institute of Australia; Peter Verwer, CEO of the Property Council of Australia; and Megan Motto, CEO of Consult Australia.
BEMP 2011 focused on achieving liveability and building resilience and a greener economy. The program commenced with a session entitled "A Framework for Building Resilience into Urban Development." In the wake of immensely destructive earthquakes, tsunamis, hurricanes, floods, bushfires and cyclones, the panellists, including architect Caroline Pidcock, addressed the imperative to ask fundamental questions about how planning, industry, insurance and government assistance can facilitate communities' recovery and resilience. This was followed by an address by Anthony Albanese MP, leader of the House of Representatives and minister for infrastructure and transport.
The second session, chaired by Romilly Madew, was the "Opposition and Green Response to Industry Call to Action on Cities and Urban Development." The Australian Sustainable Built Environment Council (ASBEC) asserts that to build the future cities of Australia, bold, collaborative and consistent leadership is required. ASBEC calls for appointment of a federal minister for cities, the establishment of a cities cabinet committee of the federal ministry, a Council of Australian Governments (COAG) cities ministerial and a cities NGO roundtable, all overseen by a cities department. In the context of the national policy, Our Cities, Our Future, can Australia afford to build a nation of silos? Senator Scott Ludlam of the WA Greens emphasized the imperative to embody knowledge of climate change and a carbon-restrained future in the debate over Australian cities, which are some of the most car dependent in the world. Unsurprisingly, Senator Ludlam noted the "hint" of leadership in the current government's policies and actions.
Greg Hunt MP, shadow minister for climate change, climate action, environment and heritage, first noted the Brisbane floods, which "brought out the best" in people. He detailed a vision of a series of connected communities that are economic, well structured (e.g. in terms of transport) and social. To achieve this, he envisaged an extended road map; integrated planning throughout the three tiers of government; long-term community planning that is bipartisan over the three tiers of government; the development of national targets of key indicators for such areas as congestion (environmental health), quality of life, etc.; a sustainability task force; and a considered approach to reclaiming the "dead space" in urban and outer urban areas.
Property Council of Australia CEO Peter Verwer made the next presentation, "Australia's 40-year Forecast – What is it Telling Us?" With Australia's population growing by one person every eighty-seven seconds, he noted that there is a huge amount to be gained by knowing and having a long-term view, as through effective demographic mapping to explore the life cycles of communities. The Property Council has commissioned modelling of population trends in forty-one Australian cities and towns, supported by a "nation-building" app that will eventually offer fine-grained computer programs to assist in the understanding of planning systems and public policies.
Following lively lunch discussions, youth ambassadors Georgina Greenland and Haley Jarick reported on the previous day's forum to consider a 2025 blueprint for the built environment. Greenland proposed development of an independent authority to manage micro banks for small, viable research and development initiatives, where underwriters would benefit from an ongoing royalty from successful ventures. Jarick noted the forum's concern with the need to live sustainably, wherever home may be, and to support the strengthening of regional cities where both physical and virtual links facilitate vibrant communities. Affordable living conditions, where housing, transportation, energy, food, governance, time and productivity might be measured over the life cycle of a community, building or person, were important to the youth forum.
Edward Glaeser, Harvard University economist and author of Triumph of the City: How Our Greatest Invention Makes Us Richer, Smarter, Greener, Healthier and Happier, was invited as BEMP's international speaker. With his journey to Australia halted in Los Angeles by Chilean volcano ash, Glaeser's presence was, after some technical difficulties, a virtual one. His hour-long address was compelling, summarizing nineteenth-century urban developments as a background to his emphasis on "entrepreneurship" of human capital. Also discussed was the crucial role of education and "bringing smart people together" in the successful future development of cities. Education, said Glaeser, explains why Detroit is "failing" and Boston is not; he observed that people become more productive when they have skilled, educated neighbours.
The afternoon session included an experts' response to broad issues of Australia's capital-city strategic planning systems, following the COAG placement of reform on the national agenda in 2009; the subsequent BEMP (2010), Spotlight on Australia's Capital Cities; the State of Australian Cities report; and the discussion paper "Our Cities – building a productive, sustainable and liveable future." Panellists included Rob Valentine, lord mayor of Hobart; Lucy Turnbull, Turnbull & Partners; Sue Holliday, Built Environment Industry Innovation Council; and Megan Motto.
Motto asked the summit to consider how we can make cities "sexy" and in this way get politicians more engaged. Turnbull gave a "tick" to the current government for investments, but noted that problems in many cities result from a continued lack of infrastructure investment. Valentine wryly noted that party politics get in the way of good ideas all too often. Commenting that many people are currently in "survival" rather than "engagement" modes, he emphasized the importance of the media, citing his own example of engaging the Mercury newspaper to promote a "regional vision" in Tasmania.
Throughout the day, a number of politicians attended one or more sessions, and so heard at least part of the discussions. None of the ministers actually answered fundamental questions about how governments might meet the many challenges and aspirations to embody resilience, sustainability and effective stewardship in Australian communities. Nonetheless, the conversation is important, and forums such as BEMP are significant in keeping these issues in the eyes and minds of politicians.
Source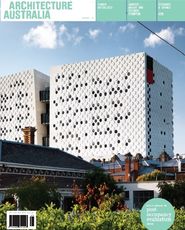 Issue
Architecture Australia, September 2011
Related topics