In early 2000 my practice was invited to enter a competition for the design of the Australian Shearers' Hall of Fame at Hay in western NSW. During the design and subsequent construction we spent a lot of time exploring the region, studying the remarkable architecture of Hay and the western Riverina. Our research gave us many valuable insights into designing for a challenging environment and dealing with limited resources and climatic extremes. It also taught us about the power of landscape and the impact of European settlement on the land and vegetation. Lessons ranged from the technical invention of John Sulman's Bishop's Lodge, with its thick cypress sawdust walls, corrugated iron cladding, great cast-iron water tanks and extensive shady verandahs, to the extraordinary and evocative qualities of the great woolshed interiors. These lessons permeated our design thinking and informed the completed project, Shear Outback, which opened in January 2002.
It is fitting that Shear Outback is the first venue for Built For the Bush: the green architecture of rural Australia, a splendid new travelling exhibition developed by the Historic Houses Trust of NSW (HHT). The exhibition examines traditional rural architecture and the way that many of the energy-efficiency and water management strategies of early settler houses have informed contemporary sustainable architecture.
The content might be familiar territory for many Australian architects, but the exhibition presents much more than clichés – it delivers important messages about tectonic qualities, sustainability and the spirit of place. Although aimed at a general audience, it has more than enough substance to engage building professionals and students. This is quite an achievement, as architecture exhibitions often have a reputation either for missing the mark or for not engaging a broad range of visitors. This success stems from the HHT's uniqueness as a cultural organization. The Trust owns and operates fourteen diverse sites and properties and runs extensive exhibition and public programs. It is deft at dealing with history, heritage and contemporary issues, with properties ranging from the nation's oldest house at Elizabeth Farm and grand piles such as Government House and Elizabeth Bay House to the 1950s classic Rose Seidler House and the cutting-edge Museum of Sydney. An interesting current project, touched on in the exhibition, is the adaptation of a 1940s Nissen Hut into a contemporary residence for display and resale.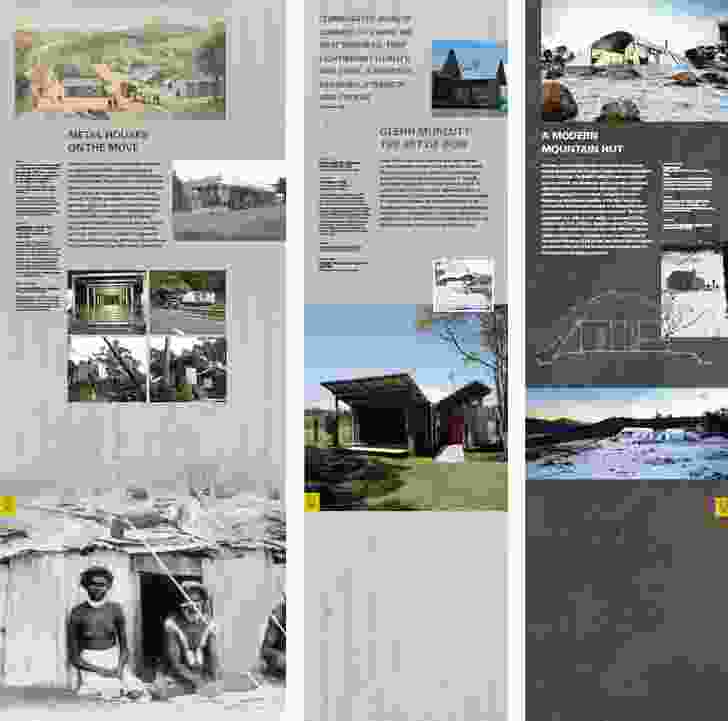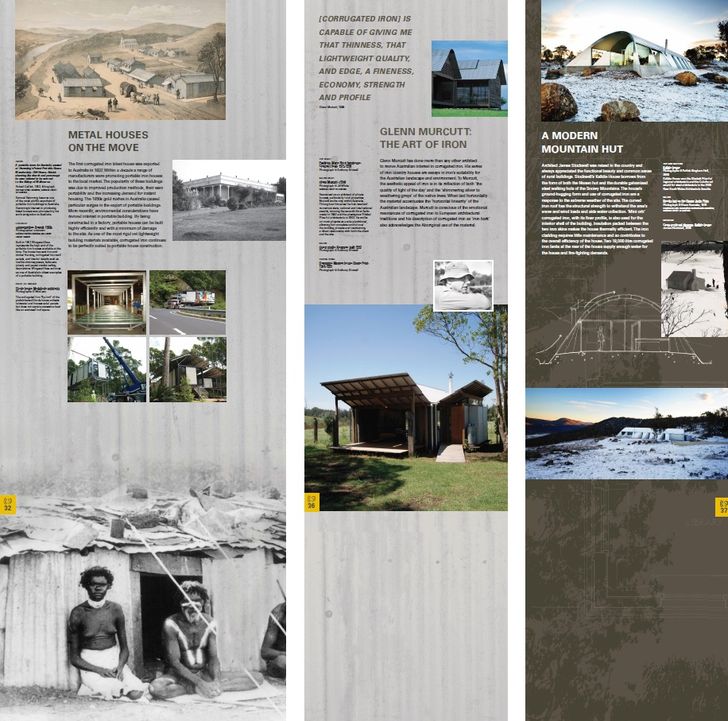 Regional and travelling exhibitions are an important facet of the HHT's program, helping counter the natural tendency for major cultural institutions to be city-centric.Built For the Bush will travel around NSW for at least five years, and will be augmented and refreshed during its journey. The exhibition is informed by sharp historic insights but also has a strong contemporary focus. Like all HHT projects, the exhibition is smart and intelligent, aspirational and good looking. The design is robust but refined, adaptable to a variety of venues, from country houses and bush halls to regional museums and galleries.
The exhibition is structured around five themes iron, timber, earth, water and light and air. The themes are explored in detail, examining their history, tectonics and performance but then extending into their metaphysical qualities and the ways they shape our experience of place. A comprehensive room brochure and a twenty-minute video production augment the graphic displays. The room brochure, with a cover image of Casey Brown's delightful Permanent Camping shack, is just six pages long, but is rich in material and references. It ends with an unambiguous call for change, discussing environmental imperatives and contrasting the buildings studied in the exhibition with contemporary suburbia.
The video examines numerous historic and contemporary buildings and includes often charismatic interviews with a variety of practitioners, including James Stockwell, Peter Stutchbury, Glenn Murcutt and Rick Leplastrier. Importantly, the video does not limit itself to architects, but also includes interviews with building designers and do-it-yourself builders. It avoids being preachy but is serious without being earnest or pretentious.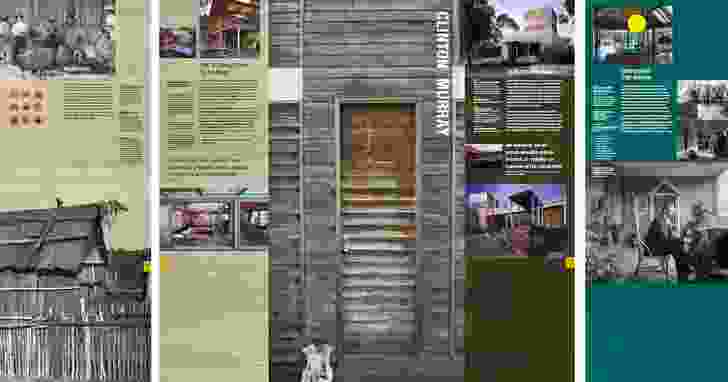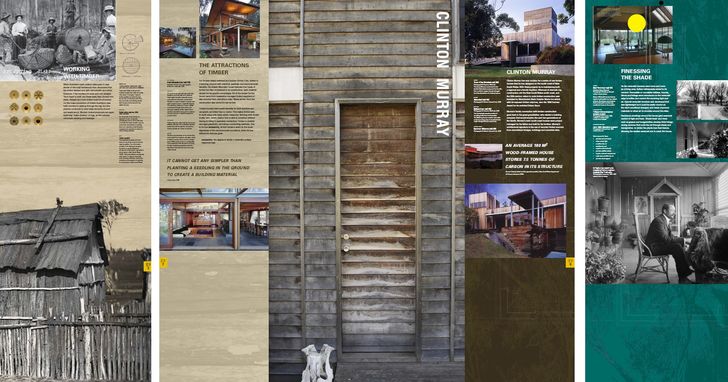 The exhibition weaves together issues of history, design and sustainability. It demonstrates that a sound and appropriate use of materials – which is embedded in the architecture of the Australian bush – gives us a strong basis for dealing with current environmental concerns. Well-researched and informed by broad consultation, the exhibition is replete with references to projects, precedents and publications.
The exhibition is an excellent primer for the general public and building designers, as well as an important refresher to students and practitioners of architecture. It provides many important lessons about history, materials and design and, most importantly, about genuine sustainability. The practice of building badly performing, oversized houses with short life spans is profoundly unsustainable, as is the increasingly common practice of demolishing existing housing stock for replacement with bloated McMansions. These are important lessons at a time when, according to the Australian Bureau of Statistics, one in seven new houses replaces an existing building, and houses keep getting larger and larger while the average number of inhabitants decreases. The exhibition demonstrates that truly sustainable buildings are built for the long term. Old buildings should be valued not just for their historic and aesthetic attributes but also for their passive environmental performance and the embodied energy they contain. These are valuable messages for government and the public alike.
The HHT and the exhibition's principal sponsor, the NSW Architects Registration Board, are to be congratulated. The Trust is encouraged to adapt and develop the exhibition as it tours the state and to further develop educational programs. Perhaps even a book?
Source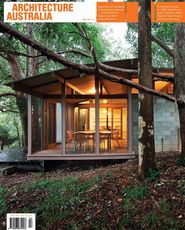 Issue
Architecture Australia, March 2010
Related topics