As I continue to mentally inhabit stage 1 of Bunbury Catholic College (BCC), Mercy Campus by Broderick Architects and CODA Studio (in joint venture), this description, "space, surface and urban structure meticulously hand-sewn," speaks to me of the project's conception and the manner of its execution in the direct present and as a lingering impression. This is a project to which I will gladly return. It's painstaking but not laboured, rather the mature act of mid-career practitioners, restless innovators, architects in clear command of their own spatial and material project.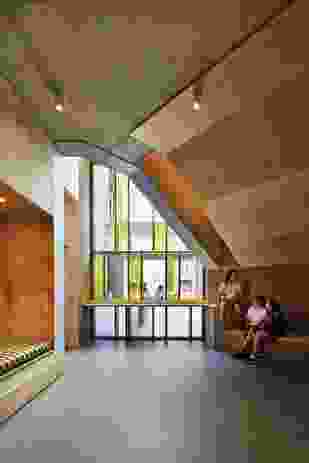 Internally, the grammar of each of the three first-stage buildings is that of a central spine with double-loaded rooms. Patterned and interwoven, each spine employs a rigorously consistent (and restlessly intense) set of material strategies: solid brick floors, concrete ceilings and heavily worked wall surfaces comprising face brick, internal glazing, coarse plywood and patchwork colour. Coupled with this material approach is a spatial scheme of adjunct rooms, upholstered alcoves and display niches as well as a set of top-lit light chimneys finished in orange, blue or reddish-brown ceramic. These towers echo the central light well of Casa Batlló by Antoni Gaudí. As with Gaudí's project, the ceramic tile adds material potency and spatial lustre. Each tower colour is graded from light hues at its peak to deep, rich tones at its base, where students lounge on vibrant upholstery and generous built-in landing seats. The rooms each side of these intense spines are a continuation of this material stratagem – still collage-like but less frenetic, a welcome antidote to the ubiquity of classrooms that so readily crush the human spirit. I am tempted to label them domestic but that would be as inaccurate as it would be overly convenient. Decades of research in design for education undertaken by Broderick Architects has been tempered by the 1:1 scale experimentation by CODA Studio into a kind of cosy frugality, realized at this scale originally in the design of CODA's own studio in Fremantle in 2011. Something significant and joyous has deinstitutionalized these spaces without loss of their seriousness of purpose.
Of the three buildings comprising this first stage, two double-storey buildings address each other across a central civic plaza, while a third, low-scale building sits off to one side. Moving from the peripheral rooms of this principal tensioned pair to their interior spines, past the glow of intense ceramics (and nattering teenagers), with heavy brickwork underfoot, we arrive at the most remarkable of the interior experiments. One is a punctuated, top-lit, inhabitable stair lined in brilliant yellow and orange ceramic tiles, the other the substantially perforated corner of what appears to be one part lecture theatre and one part inclined mega living room. So much comes into being at these two moments – spirals on the incline, threaded space, layered surfaces and saccadic portals (they make me think of Adolf Loos, Herman Hertzberger and Flores Prats Architects). Entirely evident is the making of these spaces through large-scale physical models; this process emphasis on what is directly perceived has been well worth the effort. The architects' deeply developed spatial intelligence tempts the occupants to fully inhabit every corner and niche. The plan, section, elevation and program are treated equally as curated spatial knots. It strikes me as almost inevitable how poorly these spaces translate into the single photographic image. They must be traversed, allowing the fortunate occupant to wind into and out from, to dwell within and between, to steal glimpses and become observer or observed, tapping the force of the unfurling interior. Leaving these complex rooms is difficult, as I wish to linger. However, we must go outside into the blinding Western Australian sun. It's now midday and the shadows cast upon these ruddy buildings are almost black.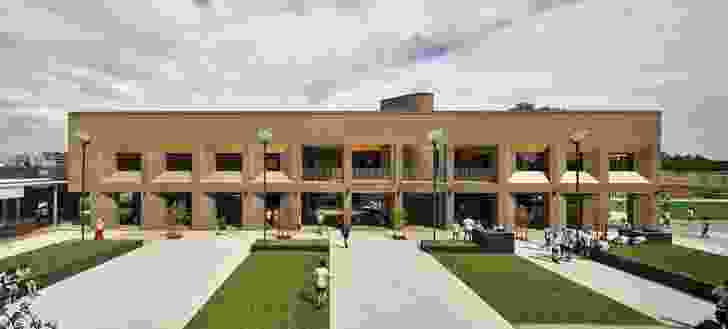 Outside, there is a powerful shift in emphasis from judiciously collaged interiors to taut, almost singular brick exteriors. Western Australian architects have rigorously experimented with the single masonry unit for nearly two hundred years – foremost among our local heroes are Marshall Clifton (1930s to 1970s), Iwan Iwanoff (in his blockwork buildings from the 1960s to mid 1980s) and Brian Klopper (1970s to the present day). However, the BCC Mercy Campus has deeper traditional roots centred on the work of Richard Roach Jewell from the second half of the nineteenth century. Roach Jewell was a master of limited means who routinely experimented with surface, pattern and ornament through tonal shifts of differentially fired and coloured-face brickwork. Roach Jewell's was a coarse, granular, homespun Gothic. Whether consciously referenced or not, the situating of the BCC Mercy Campus within this lineage has an inevitability about it. This new, tough, meticulously accented and embroidered work is quite literally tapestry-like, somehow distorting modern procurement processes towards its own obsessions instead of the other way around. The presence of the hand remains in the work: the hands of those who drew it and modelled it as well as built it. This strange and beguiling quality has been attained by the architects of the BCC Mercy Campus in a time and place that actively conspire against such obsessions. Admittedly Brian Klopper's works have a similar quality – especially his seminal Bannister Street Buildings of 1982 – but these set off in a different aesthetic direction and he also does his own building, which undoubtedly plays a role.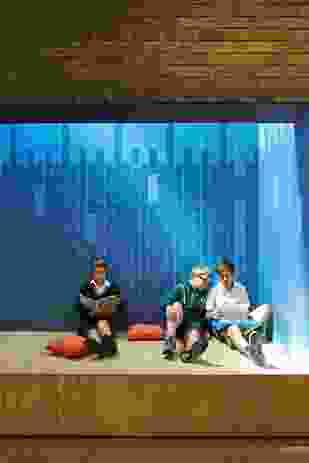 The results are many but three can be mentioned here: (i) that the presence of significant human labour can be broadly felt; this work feels handmade rather than manufactured or "procured"; (ii) it confirms that nostalgia can be used as a projective force rather than devolving into an act of simple mimicry; and, finally, (iii) that there is a fierce and specific localism emerging in this work that connects to its spatial and material roots while establishing new advancements within this tradition. What arises is a generous and gregarious parochialism that stands in the face of banal conversations about the inherent "good" of globalized practice or of things that must be inherently "better" because they are happening in our larger metropolitan centres. A project of this kind should emerge from a manner of working that naturally gravitates towards Kenneth Frampton's (virtually unattainable) "resistance" approach to architectural production. Astonishingly, it does not. Instead these practitioners are working the system, innovating by playing within the set – or perhaps shifting? – rules of the modern game. Long may they continue down this road if these are to be the results.
Credits
Architect

CODA Studio
Fremantle, Perth, WA, Australia
Project Team

Kieran Wong, Eamon Broderick, Emma Williamson, Sarah Besly, Joe Ferrante, Dianna Ingram, David Johnston, Heather MacRae, Jean Delaney, Meiske Hohnen
Architect

Broderick Architects
WA, Australia
Consultants

Educational briefing Jeff Phillips
Electrical engineer Cardno, Norman Disney Young
Hydraulic consultant Gabriels Environmental Design
Mechanical engineer Geoff Hesford Engineering
Quantity surveyor Wilde and Woollard
Structural engineer BG&E
Town planning TME

Site Details

Location Bunbury, WA, Australia

Project Details

Status Built
Category Education
Type Schools

Source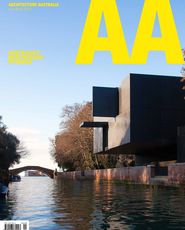 Issue
Architecture Australia, July 2015