Christine Phillips : When Architecture Australia asked me to review Bunjil Place by FJMT, I invited Louis Mokak, a Djugun man from West Kimberley and current architecture student at RMIT University, to co-write with me. A building named Bunjil Place inevitably raises questions about place, Country, the role of Aboriginal and Torres Strait Islander people in contemporary Australia and how this plays out in architecture. I am a female architect and academic with a Greek Cypriot heritage, born in Melbourne, living in Melbourne. I acknowledge the traditional owners of the land on which Bunjil Place stands and respectfully recognize the Elders, both past and present.
Louis Mokak : I am a saltwater man and a proud Djugun man from West Kimberley. Born on Gadigal country, I grew up on Ngunnawal and Ngambri country and am now living on the lands of the Kulin Nation. I acknowledge the sacred lands of the Kulin Nation in which I live and pay my respects to the Elders, past, present and future generations. As I am a visitor to these lands, my voice in this piece is from my perspective alone and does not represent the voices, cultures or traditions of the Kulin Nation.
Both : As non-Indigenous and Indigenous people, we agreed it was important that our voices be differentiated. We write side by side and acknowledge that our values and perspectives are not always shared, but that we respect and give space to our differing views.

FJMT's recently completed Bunjil Place in Melbourne's Narre Warren is a compelling civic building. While programmatically and visually engaging, the building also raises questions about the role contemporary architecture can play in acknowledging and respecting the world's oldest living culture. As we drove toward Bunjil Place, we were struck by the immense scale of its eagle-like roof forms. On approach you immediately encounter the monumentalism and spectacle of the eagle, a representation of Bunjil the Creator. The timber structure erupts out of the ground and spreads its wings, authoritative and commanding in flight, while at the same time conveying a sense of being grounded.
This reference to Bunjil is both a figurative and a metaphorical device for a building that aspires to protect and welcome its people. As Boon Wurrung Elder Arweet Carolyn Briggs explains, "This land will always be protected by the creator, Bunjil, who travels as an eagle, and by Waarn, who protects the waterways and travels as a crow. Bunjil taught the Boon Wurrung to always welcome guests, but he always required the Boon Wurrung to ask all visitors to make two promises: to obey the laws of Bunjil and not to harm the children or the land of Bunjil."
Sited in Narre Warren, thirty-eight kilometres south-east of Melbourne's CBD, the City of Casey is one of the fastest growing regions in the country. The project grew out of the council's identifying a need for the provision of cultural facilities. An invited competition was held and the commission was won by FJMT, a practice well versed in public architecture.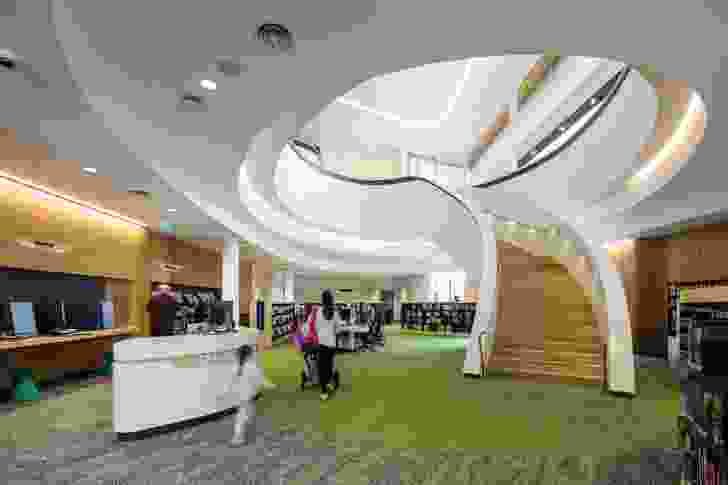 As a hybrid civic type, Bunjil Place brings together a range of facilities, all in the one building. These include an outdoor community plaza, an eight-hundred-seat theatre with a full-sized fly tower, a multipurpose black box studio, a function centre, a community library, a gallery, council chambers, a customer service centre and offices for over four hundred staff.
The building's entry and main frontage smartly turn their backs to the traffic, the winglike roof forms coming together to form a protected, north-facing civic space sheltered from the noise and pollution of the busy roads. An underground carpark frees up the ground space, allowing for public amenities suc h as the community plaza. Adjacent to the existing public swimming pool, a children's playground connects the two buildings. An outdoor children's reading space links to the library, while a memorial grove extends out past the landscaped area. This siting and careful consideration of public outside spaces reflect the sentiment of FJMT's approach.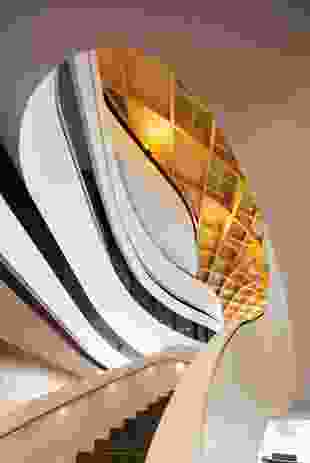 CP : Combining so many programs within the one facility does raise questions. Shouldn't we be dispersing our community facilities around our suburbs in order to encourage intimate, pedestrian-friendly communities? My views on the cultural "megahub" were challenged, however, following our site visit and this is why. Not only can the back-of-house facilities be shared, but the adjacency of different programs enables a fluid approach to how the spaces are used. Artists can make use of both the workshop area and the adjacent gallery space. The information desk doubles as a ticketing booth and theatre bar, while one cafe facilitates all the programs.
There is also a cultural benefit to the hybrid model. A visit to the library might also inspire a visit to the adjacent gallery. Attending your child's school performance in the workshop space on a Thursday afternoon might prompt you to look at the Brook Andrew piece exhibited in the same space the following week. As FJMT design director Richard Francis-Jones explains, "When you go to pay your rates, for example, you experience far more than just the administration of local government – you're experiencing the public aspect of community life." In this way, Bunjil Place is a contemporary take on the nineteenth-century town hall typ e – a counterpoint to nearby Fountain Gate shopping centre as a gathering space for civic and cultural events.
Both : In terms of its formal expression, there is a tension between structural expression and an interest in materiality at Bunjil Place consistent with FJMT's impressive body of public projects. In a confident nod to Shigeru Ban, the underside of the roof forms is supported by a woven structure of laminated natural timber that seems to do the impossible as it pulls down at two points to form a generous civic entry. A singular language visually draws together the different programs. By contrast, the building beneath is deliberately restrained. It addresses the public not through its facade, but in the way its form wraps around to create a public plaza. Like a gymnast's dance, the building reads as ribbons wrapping around the exterior forms and through to the interiors, making their way up and around the various programs.
These expressions are not just frivolous form-making experiments but grew out of FJMT's aspiration to create a meaningful and welcoming gathering place for the community. Francis-Jones felt that Bunjil's welcome message was an apt metaphor for the present and future of the City of Casey. The City of Casey grows by 7,600 people each year and attracts new residents from all over the world. Almost a third of its current residents speak English as a second language. The practice sought to create a building that would welcome all of its community. As former CEO of Casey Mike Tyler says, "Like Bunjil, who taught everyone to always welcome guests, the project will provide an invitation to all."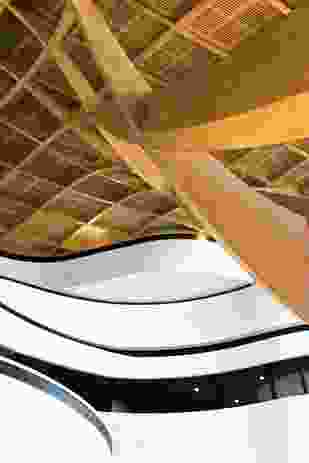 CP : In my view, FJMT's design acted as a catalyst for embedding Indigenous themes beyond the built fabric. It was FJMT's winning entry that prompted the council to hold a public naming competition, with "Bunjil Place" selected as the official name, reaffirming the design intent in a way that sparked further Indigenous engagement. Aboriginal naming and smoking ceremonies have been held on site and the gallery's exhibition program is focused on promoting both local and Indigenous art and culture. Within the foyer, you can listen to stories of Bunjil told by Aunty Carolyn Briggs on an interactive screen. While I question the fact that the building does not facilitate informal spaces that welcome local Aboriginal communities, FJMT's design has certainly inspired an acknowledgement of the world's oldest living culture on a number of levels and is a step in the right direction. I am keen to hear Louis's thoughts on this.
LM : I agree there are elements within the building that can form a reference to Bunjil the Creator. However, with community at its heart, Bunjil at its core and the City of Casey having the largest number of Aboriginal and Torres Strait Islander people in metropolitan Melbourne, a lot more could be done with its programming. It's not just about welcoming ceremonies and having Aboriginal art on display. It should be integral to ensure that there is space and place for Aboriginal and Torres Strait Islander communities to not only feel welcomed, but to feel that it is their place of connection, strength and belonging. For example, an Elders' lounge, yarning circles and informal community spaces with landscape that connects to Country could have been incorporated.
This raises the question of whether or not the building has achieved its aim of holding and honouring the spirit of Bunjil. When we as First Peoples think of our creators, it is not just a moment of historical reflection. Our creators are with us at this moment, as has always been the case. It's a knowing, it's a presence and it's something very deep. As Aunty Carolyn Briggs has told me, "Bunjil is not just an eagle. Bunjil is a god, Bunjil is a demi, Bunjil is the creation. The creator of the Kulin Nation."
In referencing the creator, Bunjil Place must hold high spiritual significance that goes well beyond design aesthetic and symbolic endeavours. It is about virtue, the creation of a spiritual place, not just a civic space. If the building does not properly honour Bunjil, there is a real danger that Aboriginal culture and people are being sentimentalized rather than recognized for the strength of their knowledge and what they offer others. Mere symbolism runs the risk of devaluing our stories and the world's oldest living cultures.
Both : So what can we learn from FJMT's Bunjil Place?
CP : Integrating multiple community facilities within the one building has many programmatic and cultural advantages. An ambiguous architectural expression provides a tangible civic landmark for a community.
LM : Design needs to go beyond physical acknowledgement to connect to the world's oldest living culture. Architecture needs to think more deeply about how to incorporate our knowledge systems, our creation stories and our cultural values and protocol into the built environment. This can then more strongly inform and further the way in which we think, learn, connect and design as built practitioners on these sacred lands.
Credits
Architect

fjmt
Australia
Project Team

Richard Francis-Jones, Jeff Morehen, Geoff Croker, William Pritchard, David Moody, Lina Sjögren, Annie Hensley, Andrew Chung, Fleur Downey, Iain Blampied, Laura Vallentine, Jessica Kairnes, Amanda Beh, Bradley Kerr, Nic Patman, Lance White, Estelle Roman,, Marco Coetzee
Consultants

Access consultant Before Compliance
Acoustic design Acoustic Studio
Building services engineer Murchie Consulting
Building surveyor Certis
Specialist lighting Steensen Varming
Structural and civil engineer Taylor Thomson Whitting
Theatre planner Schuler Shook
Waste management consultant Closed Loop
Wayfinding Buro North

Site Details

Location Narre Warren, Melbourne, Vic, Australia
Site type Suburban

Project Details

Status Built
Completion date 2017
Category Public / cultural
Type Community centres, Culture / arts, Libraries

Source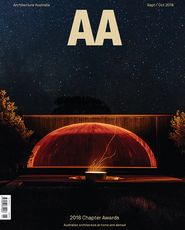 Issue
Architecture Australia, September 2018
Related topics