Bureau Proberts, Architectus design new commercial tower for Brisbane
The Queensland government-owned Queensland Investment Corporation (QIC) has submitted a development application for a new tower at 62 Mary Street in the Brisbane CBD and the refurbishment of three existing towers neighbouring the site.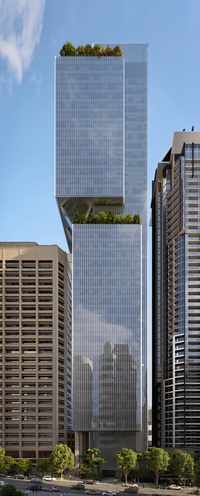 The development proposal, designed by Bureau Proberts and Architectus, will be an integrated, "whole of site" development linked by a pedestrianized street. Aspect Studios will also enhance the public areas around the buildings.
The proposed new tower will be a 39-storey, 42,000 square metre building predominantly for commercial use by government tenants.
A new laneway, with seating and retail spaces, will be created between Mary and Charlotte Streets. The development will also include food and beverage outlets, a supermarket, a childcare centre, a medical centre and small-scale conference facilities.
A naturally ventilated atrium with pop-out office pods and landscape balconies linked by stairs, would connect the new tower and the neighbouring building at 54 Mary Street.
The lower floors of the new tower will match the height of its neighbour and a landscaped terrace will separate the lower floors from the upper floors, which will have larger floor plates by cantilevering over the atrium and the neighbouring building.
"A major design challenge was to provide large floor plates within a restricted envelope," said Ray Brown managing director of Architectus. "We achieved this through an efficient laminated core design that maximizes the net area and by increasing the floor plate once above our neighbour at 54 Mary Street."
The exterior of the building will be made with light-coloured vertical sun shading elements, in direct contrast to the existing, darker-coloured buildings in the Brisbane CBD.
The development will be built in three stages, with the demolition of the existing tower at 62 Mary Street and the construction of the new tower to be completed in stage one.
The proposed tower will be located near to the Queens Wharf Brisbane casino resort development.