Brisbane-based architecture firm Bureau Proberts and its long-time collaborator Urban Art Projects (UAP) have been announced as the designers for the Australian pavilion at Expo 2020 in Dubai.
The Australian pavilion will be one of 190 national pavilions at the event, which will be the first world expo staged in the Middle East.
Bureau Proberts director Liam Proberts said the national pavilion would "bring a taste of Australia to Dubai.
"A visit to this pavilion will feel like a visit to Australia – welcoming and uplifting. That's our goal as architects and as Queenslanders," he said.
"We're well versed in the types of climatic conditions we'll encounter in Dubai. There's a great synergy between our two regions and we look forward to leveraging them to great effect."
Bureau Proberts and UAP previously collaborated with artist Idris Khan on a large scale monument at the United Arab Emirates Memorial Park in Abu Dhabi dubbed Wahat Al Karama. The two firms have also collaborated on projects in Brisbane.
Bureau Proberts will be leading the architectural design of the Australian pavilion while UAP will develop the exhibition "experience" concept.
"We have endeavoured to create a pavilion that transports and connects visitors to the very heart of Australia," said Carolyn Karnovsky, UAP principal.
"It will be an unforgettable experience where ancient narratives are interwoven with futuristic visions of Australian innovation."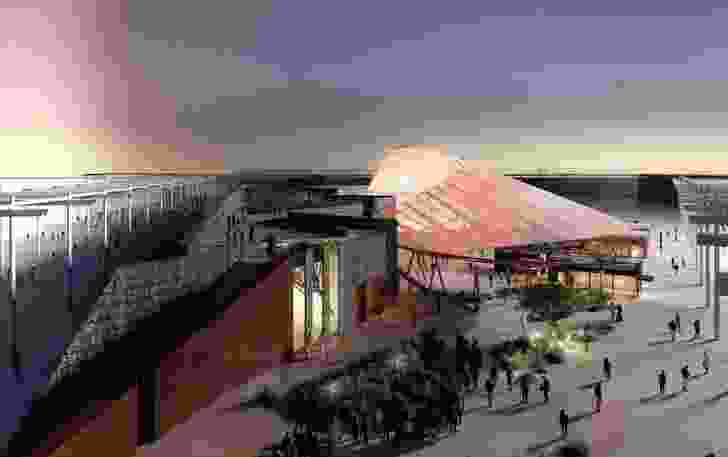 The main site for the 2020 expo will be between the cities of Dubai and Abu Dhabi across a 438-hectare area at the western edge of the Dubai emirate. American practice HOK has led the design of the masterplan, which it says "looks to the future while drawing on traditional Emirati community planning concepts."
At the centre of the expo will be three large pavilions with distinct themes: opportunity, sustainability and mobility.
Australian practice Cox Architecture's design for the Opportunity Pavilion was selected in 2018 after an earlier design by Danish firm Bjarke Ingels Group (BIG) was dropped by the event's organizers.
At 4,500 square metres, Cox Architecture's design is much smaller than BIG's 12,000-square-metre proposal and will be built with organic, recyclable materials.
The Opportunity Pavilion will complement the Mobility Pavilion by Foster and Partners and the Sustainability Pavilion by Grimshaw, which will together seek to articulate the United Arab Emirates' stated themes for the expo, including creativity innovation and collaboration.
The Dubai expo is expected to attract 25 million visitors across 173 days from 20 October 2020.
Related topics