Australia is facing a crisis around what to do with its dead.
That might sound like a problem more likely to afflict a medieval city during the black plague than a modern state, but the scarcity of land within cities and an increasing awareness around the environmental effects of cremation are making it real 21st century problem.
David Neustein, whose practice Other Architects is presenting a radical new burial concept at the 2019 Oslo Architecture Triennial, explains the twin problems.
"Because most of the world's population is expanding and because development has become a key aspect of financial speculation, there's very little land available for cemeteries," he said. "And the cremation industry has done a brilliant job of presenting itself as a sustainable alternative because it doesn't use land – which is an ingenious bit of marketing – but really cremation is hugely energy intensive."
The cremation of one body requires the energy equivalence of 10,000 standard light bulbs, 40 litres of petrol, or a person's average monthly domestic energy, and it emits concentrated pollutants like mercury and dioxin.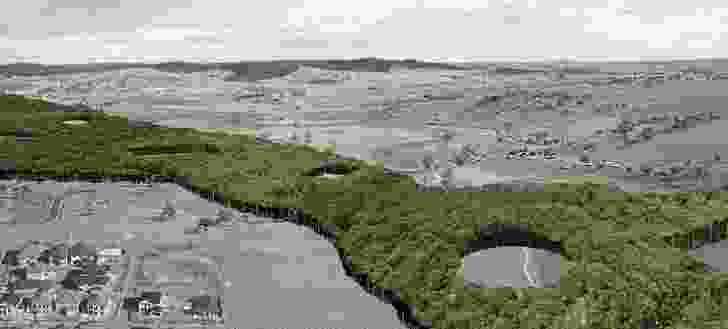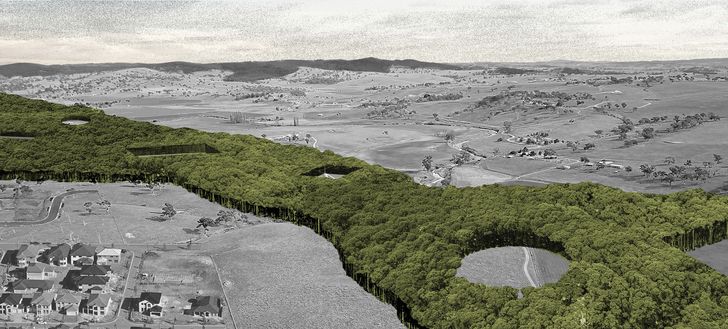 Burial Belt by Other Architects rethinks the logistics, experience and environmental impact of burial to address some of these concerns, while also helping to curb urban sprawl.
The basic concept is that sparse grazing land on the city fringe would be gradually acquired, and transformed into "beautiful green landscapes" for natural burial. Cemetery sites would be managed like natural parkland, complete withlow-impact walkways and facilities and a team of horticulturalists to monitor and maintain the environment.
"It does away with the need for embalming or coffins, or [other things] that frustrate the decomposition and the return of the body to the soil," Neustein said. "So you drastically reduce the footprint, and landscape and vegetation can grow in and around the grave."
While Other Architects sees the Burial Belt as being widely applicable, it has initially envisioned it for south-western Sydney an area "particularly vulnerable to the loss of ecological habitat and agricultural land due to suburban growth." The project's title references the historic Green Belt devised in the 1948 Cumberland Plan, which was meant to, but failed to curtail urban sprawl.
Other Architects contends that by using commemorative spaces to plant permanent forests and deter rapacious development, Burial Belt "could be an ideal strategy for preserving Sydney's fragile environment."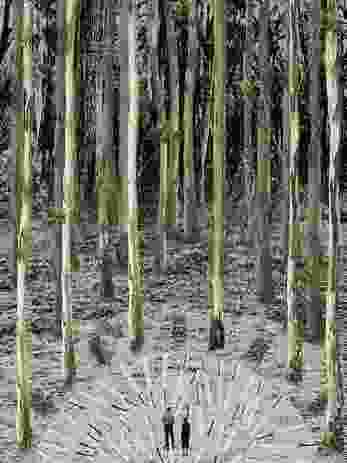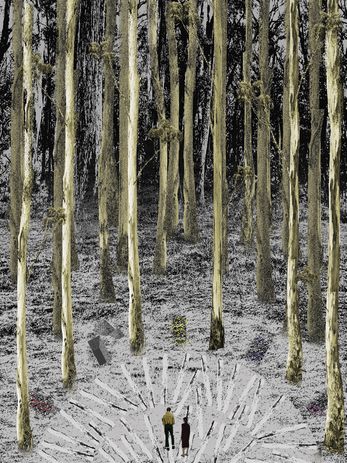 In addition to its environmental and practical goals, Burial Belt would aim to foster rituals around mourning, which Neustein says are lacking today.
"The relative ease of cremation has put the sort of process of death and memorization out of people's minds," he said. "It's made it a very technocratic and boring process. I think fewer and fewer people are having meaningful rituals around death which is just appalling. It should be an incredibly important aspect of our communities and our social life."
Other Architects envisions the Burial Belt process as more akin to organ donation – someone arranging to have their body interred there would know their body would help to fertilize the space, contribute to growth and drive revegetation.
While for family and loved ones, the experience would be very different to visiting a traditional cemetery.
"You might not need to visit as much, and when you do visit, you wouldn't be parking your car walking across tarmac and coming to one in a sea of many …you're in a parklands, you're walking along a boardwalk, you're seeing plants and animals, your mood is light. And every time you go it's different."
Other Architects is the only Australian architectural practice selected to present at the 2019 Architecture Triennale, which runs 26 September to 24 November. The event's theme is Enough: The Architecture of Degrowth.
The curators say the event "responds to an era of climate emergency and social inequality by proposing alternatives to the unsustainable and unfair paradigm of growth."
Related topics