Completed in 1986, Burrnadool was the final project of revered Queensland architect John Dalton (1927–2007). The project concluded a significant number of residential and institutional buildings designed by Dalton during his thirty-six years in solo practice, after immigrating to Australia from England in 1950. Dalton became well known through his domestic work, which included houses he designed for himself, and was internationally recognized for his larger public and award-winning commissions.
The name Burrandool is taken from an Aboriginal word meaning "quail" and refers to the little birds that once ran through the bushy terraces of the two-acre site just a few kilometres from Brisbane's CBD. It was the landscape of tall gum trees, grasses and pines that first led the architect to respond, immediately and almost viscerally, to the site. "My husband and I asked John to come out and look at the land one day when we were considering briefing him," recalls the owner. "I think we had to pass the test too, really, as he was working on only one house at a time by then and could pick and choose his clients."
By early the following morning, Dalton had made a picture board of the colours and foliage of the surrounding vegetation, complete with leaf specimens. He'd also made a sketch of how he envisaged the house. "He came out and nailed the board to a flame tree, then rang us and told us to go and look at it. We loved it, of course. I still have the original sketch." So began an enduring, respectful relationship between architect and client, a collaboration that many practitioners would envy for its fruitfulness.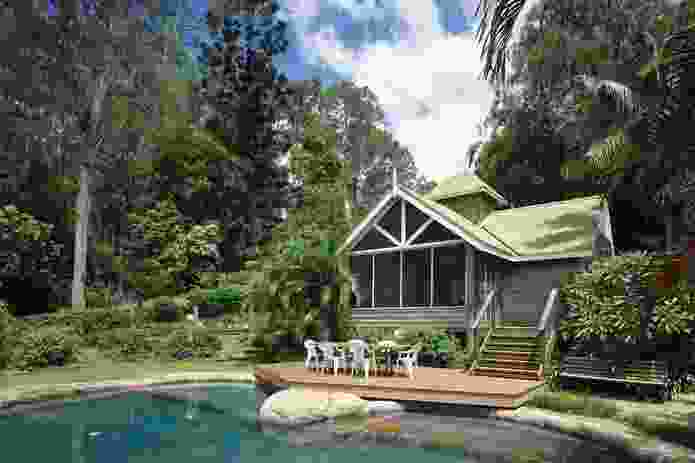 Burrandool sits at the base of Mount Coot-tha, the small mountain on Brisbane's west that is home to the city's television stations and transmitters. Its foothills are still a picture of semirural rusticity, with disused cow pastures, a few remnant horse paddocks and an enchanting chain of forested picnic grounds bordering the City Council's Botanical Gardens. While development has certainly encroached on the area, Burrandool remains oblivious to its incursions, which are out of sight, and still enjoys the countrified status it did twenty-six years ago.
A modest war service house was removed from the site to make way for a larger home for a family of six. Dalton used the older home's footprint as the platform for the new. It perches on a north-facing terrace within the hillside of schist (crystalline rocks).
While the southern half of the property has been left to its own devices, the northern acre is landscaped according to Dalton's original design. A romantic gatehouse and farm gate mark the beginning of a winding driveway, which bridges a creek and curves by a grass tennis court and billabong-like pool with adjacent summerhouse. The country lane then terminates at the base of a broad set of worn sandstone ledges leading up to the home.
"We wanted John to design the whole property," says the owner. "We developed it incrementally over a number of years, but it was all planned from the start." She is a keen gardener herself and the plantings are both artful and restful. It is clear that her whimsical touches, like a dovecot à la Sissinghurst, would have received the architect's wholehearted approval. Dalton was by this time fulfilling his own idyll of rural bliss in "Lambtail Cottage" in Allora, south-west of Brisbane, and was well attuned to the rugged beauty of the native landscape and the allure of a produce garden, as well as to a farmhouse typology of outhouses and sheds.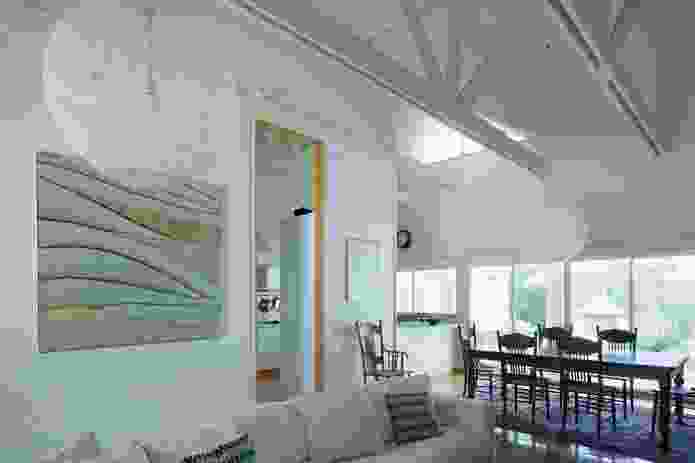 While some of Dalton's earlier houses, dating from the late 1950s, leaned more towards the Modernism enjoying currency among his peers (Hayes and Scott, Geoffrey Pie and Theo Thynne among them), this swan song piece falls, to a degree, under the rubric of the traditional Queenslander.
Dalton, according to various published interviews, averred that consideration of climate should take precedence over any notions of fashion or formal expression. In Burrandool, the steeply pitched roofs afford generous shade. Shaded areas in the perimeter are deeply etched against white-painted masonry, while glazing in the gables brings filtered light into interiors. Expressed beams in the two main living volumes show the rooflines to advantage. Finials mount the termination of the gables, and detailed sketches of them show the extent to which the architect oversaw the project.
Another factor contributing to a return to the purity of early Queensland architecture may well have derived from Dalton's close working relationship with the owner, who grew up on a sheep station near Cunnamulla and in a large colonial homestead in Bundaberg.
While not consciously seeking to emulate the genre, she says the generous, lofty volumes and verandahs are elements she can't imagine living without, as are the banks of louvred windows. Each of Burrandool's rooms opens to a courtyard or verandah space, underlining Dalton's quest for strong natural light and ventilation and their corresponding control through shading and screening devices.
The house stretches across its high ledge with an easy grace. The simple, L-shaped plan has a living wing settling into the lower ground level, and a bedroom wing half a level above. The levels respond to the natural slope and to the positions of significant trees. Two white masonry chimneys anchor it to the earth and give it a recognizable authorship. Both inside and out, the home is a picture of restraint.
Many of the details and fittings also digress from Dalton's earlier palette and are further testimony to his intense collaboration with the clients. The clients were taken on tours of Dalton's earlier houses and gleaned elements from each. Client and architect also hunted and gathered together, locating old doors and light fittings, antique pieces that were new to the Dalton buildings.
A rotunda outhouse (the music room) has a preloved fretwork rosette in the centre of the ceiling. Edwardian light shades are mixed with Dalton's signature balloon shades, and quirky timber doors with panels of stained glass combine with modern aluminium sliders. Skirting boards and architraves are made of hoop pine. The pool cabana of single-skin pine boards and exposed studs is delightfully crowned by a ventilation tower.
Many of Dalton's buildings were, sadly, destroyed during his lifetime, causing a sense of disillusionment in both the architect and the wider professional community. Destruction and disillusionment continue to this day. Burrandool, conversely, was a source of joy. One detects the architect letting loose and revelling in the freedom granted by trusting clients.
This review is part of the Houses magazine Revisited series.
Credits
Architect

John Dalton

Site details

Location Brisbane, Qld, Australia
Site type Suburban
Category Residential buildings
Type Houses, Residential

Project Details

Status Built
Completion date 1986

Source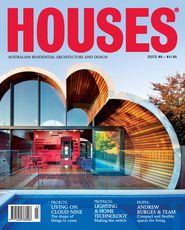 Related topics