BVN has completed five new buildings for the Australian National University campus in Canberra, with a public domain including a tree-lined promenade designed by Aspect Studios and Lahznimmo.
The precinct includes a culture and events building with a 500-seat auditorium, a cinema and a flexible performance space; a student hub; a multidisciplinary teaching building; a healthcare building; and a combined pool and gym building. The buildings are arranged around new outdoor public spaces. Lahznimmo and Aspect collaborated on University Avenue, a new promenade, Kambri Court, upgrades to the edge of Sullivan Creek, a public domain Indigenous overlay and new streetscape works.
"This precinct is innovation rich," said BVN lead architect and co-CEO Ninotschka Titchkosky. "It incorporates two of Australia's largest mass timber construction buildings, the 450-bed student accommodation and the 5-storey collaborative teaching building. Both buildings set a new standard for reduced carbon footprint, construction innovation, and wellness.
"The student accommodation building was also the first building in Australia to use a new prefabricated facade system that enabled 13-metre-long fully complete brick facade sections to be installed within 20 minutes."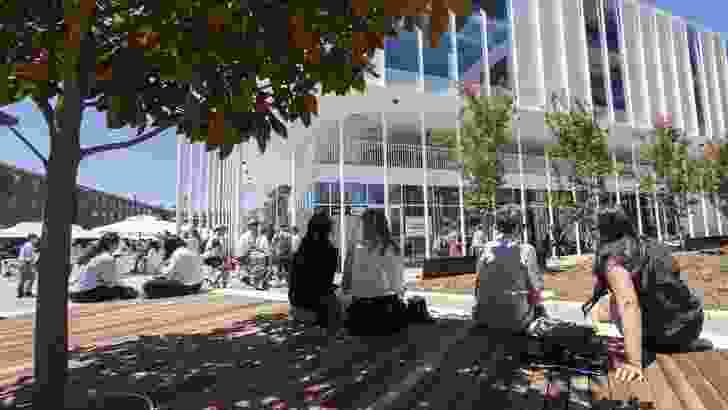 The new precinct was gifted the name Kambri, which means :meeting place," by representatives of the Little Gudgenby River Tribal Council, Buru Ngunawal Aboriginal Corporation, King Brown Tribal Group, and the Ngarigu Currawong Clan also participated in the gift.
The precinct also includes native trees, a bush food garden and an Indigenous heritage walk.
"We wanted to make sure Kambri would reflect the Indigenous history and culture of the area so we have been working closely with the local Indigenous families to incorporate a number of elements into the precinct," said ANU vice-chancellor Brian Schmidt.
"They came together to design and create a magnificent ground map that tells the story of the local indigenous cultural landscape featuring stories, connections and cultural activity around Kambri."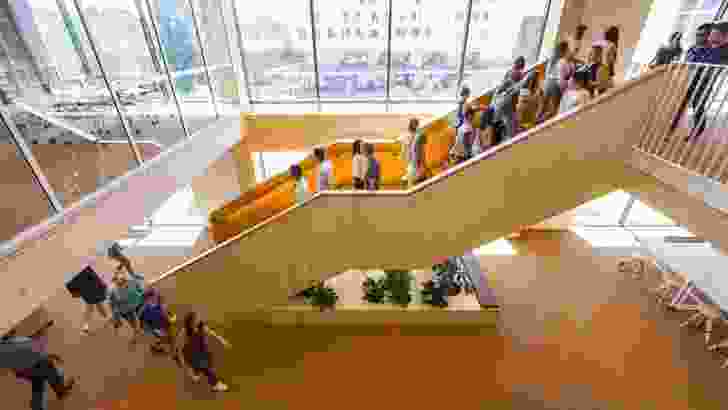 Constructed by developer Lendlease, the precinct is one of the largest building projects in Canberra since the construction of New Parliament House.
"Each building pushes the boundary in its own way," said Titchkosky, "from sustainability, materiality and technology, to the multi-dimensional experience created within each space. An incredible team of visionaries, designers, contractors and placemakers worked with the University to realize the precinct."
The precinct also contains a large retail component, with 37 retailers spread out across the five new buildings, all of which front onto the new public spaces.
"The fact that we could get 37 independent and much-loved retailers into the precinct sitting alongside its academic endeavours is really unprecedented in an Australian university. There is already a year of bookings for fantastic bands, theatre, film and art scheduled for the new culture and events building and precinct venues."
"We're pretty sure Kambri will shape many new stories of great times at ANU, stories that will parallel the excellence of Nirvana playing there in the nineties."
Related topics