Charles Sturt University has announced that construction is under way for a $40 million building designed by BVN at its Port Macquarie campus on the mid-north coast of New South Wales.
The Stage 2A building, which is scheduled for completion in 2020, follows the completion of the campus's first purpose-built building in 2016, which was also designed by BVN.The builder of the new development, Lahey Constructions, is responsible for design documentation.
BVN's design envisions a long, two-storey building with a façade of brick and Australian hardwood. The development will "flow" from the existing campus via a linkway and timber bridge leading across the adjacent reserve.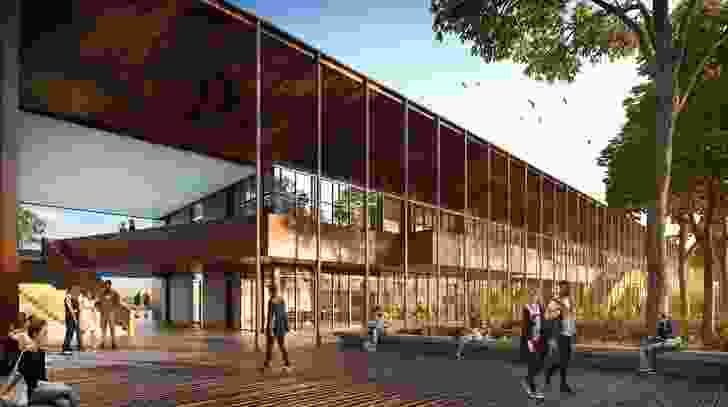 Featuring additional learning and teaching spaces, a laboratory, breakout and meeting spaces, student kitchen and facilities, and space for small events, the new development is aimed at supporting an additional 1,800 students, growing the campus from its current student body of 1,000.
Another building, Stage 2B, will house additional teaching spaces and an innovation hub and is expected to be open in 2021.
Responding to a funding commitment from the NSW government for Stage 2B in March, Charles Sturt vice-chancellor Andrew Vann said, "This phase of development will allow student numbers to almost triple, including more than 400 new international student places."
He also confirmed the expansion would enable the Port Macquarie campus to offer a Bachelor of Nursing from 2020.
"Regional health care needs have grown in recent years and as a University right here on the doorstep of the mid-north coast, it's important for us to serve the professions our region needs," he said.
"The more space we have means the more courses we can offer, the more students we can educate, and the more services and skills we can invest back into the region."
Related topics