The merger of BVN and Donovan Hill in 2012 brought together what is arguably one of Australia's most successful commercial practices, BVN, with one of Brisbane's most accomplished boutique studios, Donovan Hill. Two years on and BVN Donovan Hill is moving into its first, purpose-designed office space since the merger. To mark the occasion, ArchitectureAU took the opportunity to talk with director Brian Donovan about the challenges of change, the culture of the 'new' practice and how this reflects in the design of their dramatically raw, colourful new workplace at 12 Creek Street, Brisbane
AAU: How does the culture of BVN Donovan Hill differ from the cultures of the respective practices prior to the merger? Do you think the two cultures were radically different?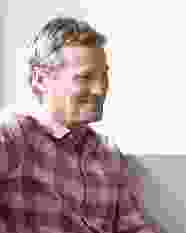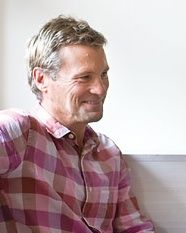 Brian Donovan: As it turns out, no – different of course, but at the time of our merger Donovan Hill was actively thinking about what the future of architectural practice looks like, as was BVN. All of the literature at the time pointed to the fact that it's much more difficult, particularly in Queensland, to be a smaller office. To really participate in the economy, in serious buildings, with the way clients are expecting architects to act and behave now it's much more problematic to be a smaller practice. Donovan Hill did want to get bigger, but the choice was either to try to do it ourselves over a long period and take the risk, or to engage with another firm. We had a number of choices, but BVN's culture matched ours and we knew that because we'd done a number of projects together.
The difference is obviously in the way that a small practice or a large practice conducts its projects. That's the way that the practice has changed, because there are a lot of characteristics of a small office that can get lost in a larger office and we've been reminding ourselves about all those characteristics. As we all know in general workplaces, there's a certain scale in groups of people where interaction and knowledge transfer occurs seamlessly. When that number get's above 10 people or so it tends to be better to divide into smaller cells – however, to get those cells to interact with each other is something that often doesn't happen in larger practices, but does happen in BVN Donovan Hill. We're being very careful to set up programs where through our daily rituals we're all participating with each other.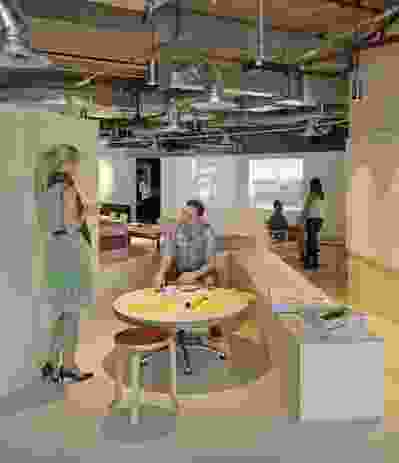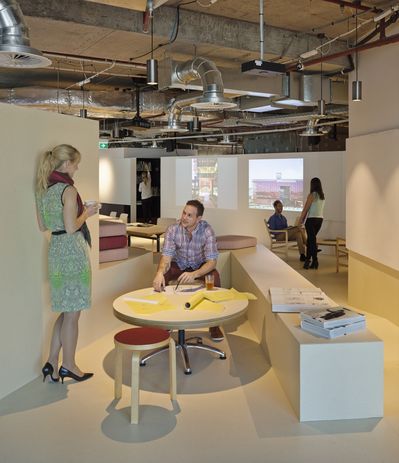 AAU: What cultural similarities did the two practices share?
BD: Firstly, an absolute commitment to doing the best buildings. An absolute commitment to participation of all the members of the studio; we are actively non-hierarchical in the way we do things. We are thinking about how we change our practice structurally as well – leaders of architectural practices don't have to be the bosses, leaders are those that lead, often through their own work, rather than through their position in the hierarchy.
AAU: How is this shared culture reflected in the fit-out for BVN Donovan Hill's new office?
BD: The general premise is that what we do represents our office, so everything here is on show. When you arrive in the office there's no formality – you arrive into the studio directly, through our library. The organisation is set up to promote the transfer of ideas within our group of people, but also with guests and friends. What we have in this building first of all is an intriguing plan. It's set in a seventies tower in Brisbane [by architects Peddle Thorp], with a central side core. The primary circulation through the studio is towards the core and we've designed that so all of the general team interaction occurs near that core, on the 'working wall', not on the edge of the building. So to get from anywhere to anywhere else in the studio, you go past the activity of the groups. Workstations are set up on horizontal, linear surfaces, much like a workshop, which I believe an architectural office is, to promote openness – there are no vertical planes at all, except for the vertical planes of the computer screens. The working wall is the mantel, if you like, for every type of architectural communication.
AAU: Why did you choose to have the library as the first room visitors to the studio pass through?
BD: Part of our practice going forward will involve understanding the critical nature of research in architecture and therefore learning is something that we care deeply about. If our office is about knowledge sharing or transfer, what is it that represents that? Even in a digital world you could choose digital representation, but we decided that a library is quintessentially a holder of knowledge. The action of people researching and reading books is one thing, but also the delight of arriving through this space.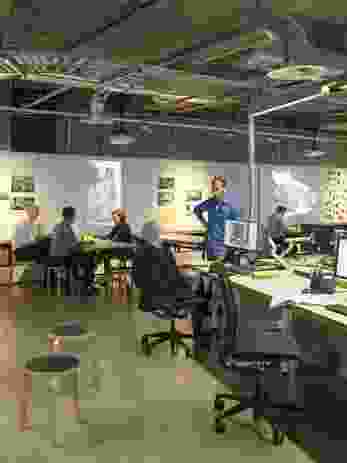 AAU: Donovan Hill was well known for its sensitivity to material considerations. Is there a particular material approach you've taken to the design for the new office?
BD: Tim [Hill] and I would often talk about the misconceptions around that. Donovan Hill first and foremost put forward strategically inventive ideas, that could be finished in any number of ways. So I could describe any number of our buildings in a similar way as an organization of public and private spaces, primary spaces and secondary spaces. There had been occasions where those buildings started of as concrete buildings and ended up as steel buildings – I'm thinking about a research building at QUT that we did probably ten years ago, for example. In the case of smaller buildings, it wasn't our preoccupation in the first instance if they were made of stone, brick or concrete – that was a secondary value. Then what occurred, if you set up an idea that everybody is party to, not only in the architectural practice but also in the building group, then it's only appropriate to set up things so that everybody can put their best skills towards it. If we were building something out of timber, then it was built beautifully because we set it up so that the carpenters could do their best and the joiners could do their best.
The aesthetic in this building is incredibly raw – we've ripped out all the ceilings and there is a concrete floor for 80 percent of the floor space. The bits that we have added are essentially planes and plinths made from Marmoleum, except for the working wall. So our desks are Marmoleum, the ground plane in our amphitheatre is Marmoleum, but we've been careful about how we detail it. It's not detailed in an elaborate way, but as a seamless, singular surface.
AAU: Why Marmoleum?

BD: As part of our overarching agenda in this office, sustainability was a value we wanted to incorporate. So we have re-used a lot of furniture from our previous office and just remade the tops on them. Marmoleum is a very eco-friendly material and can also be finished in lots of different colours, so we've used colour differentiation internally to link to the exterior aspects.
AAU: We understand there is an events space in the office, which is available for use not just to members of the office, but to outside parties. What purpose does this space serve?
BD: Yes, a tiered space adjacent to the arrival. I think as architects we need to participate in civil society openly and engage with people – we've got lots of ideas and they've got lots of ideas that they can bring to us. It extends the idea of openness, where being in the work place is an extension of being in the public realm.
Related topics