Brisbane developer Cornerstone Properties has lodged a development application for a 25-storey office tower in Brisbane's Fortitude Valley designed by BVN with landscapes by Lat27.
The tower will occupy a prominent site at the intersection of Wickham and Constance Streets in Fortitude Valley, a neighbourhood characterized by low-rise brick buildings. The site is currently occupied by a two-storey brick building, home to RSL Care offices, and neighbours a proposed 25-storey residential tower designed by Kris Kowalski Architects.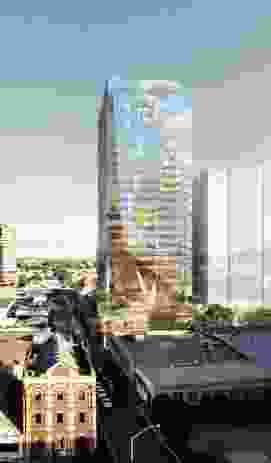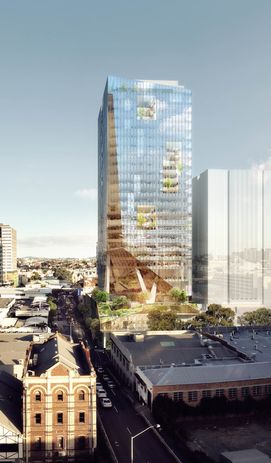 BVN's design divides the commercial building vertically into two separate parts: a tower and a podium or "street building." An elevated publicly accessible park, dubbed "a green oasis," will be sculpted out of the intersection of the two parks – a dynamic wedge-shaped cut in the tower soffit and a raked land form in the podium – to create better visual and sunlight access to the park. The podium will also have an accessible public realm at the ground level.
The building's facade will be punctured by a series of integrated vertical gardens and balconies. These protected outdoor spaces will give the tower its distinctive appearance. As well, they introduce landscaped elements into the office and incorporate biophilic design in the workplace – a practice that seeks to reconnect humans with nature in the built environment, due to its benefits to health, wellbeing and productivity. For instance, a 2015 University of Melbourne study found gazing at green roofs can boost concentration.
The tower's design has been described as "Australia's first tower to genuinely incorporate biophillic design into the make-up of the tower."
A roof garden at the top of the tower will also add to the vegetated spaces in the building.
The building will accommodate 30,000 square metres of flexible office spaces, a cafe, a gymnasium and a childcare centre.
Related topics