It shouldn't be a surprise, really. With Australians now living in the largest homes in the world, the tendency toward excess was always going to trickle down to affect the humble beach shack. Perhaps it's the result of new freeways making commuting to previously remote beachside communities a viable option, or perhaps it's due to a rise in retirees with bigger budgets, but my bet is on the McMansion effect (oversized houses) catching up with the shack typology. This whale's graveyard of bloated weekenders duplicating, and more often than not eclipsing, the size of the family home is all the more galling in the knowledge that they are a stone's throw from the suburbs they "escape."
I approached Cabin Two by Maddison Architects, nestled deep within the Blairgowrie hinterland on Victoria's Mornington Peninsula, with a lingering sense of dismay at the plight of the modest shack only to be pleasantly surprised at how far removed from the beach McMansion this project is, and at the apparent ease with which it has assumed its position, slotting in neatly between scrubby moonah trees as if it had been there for decades.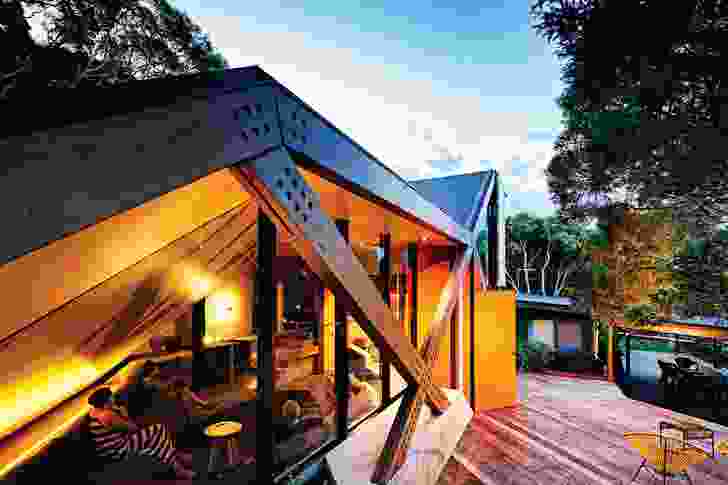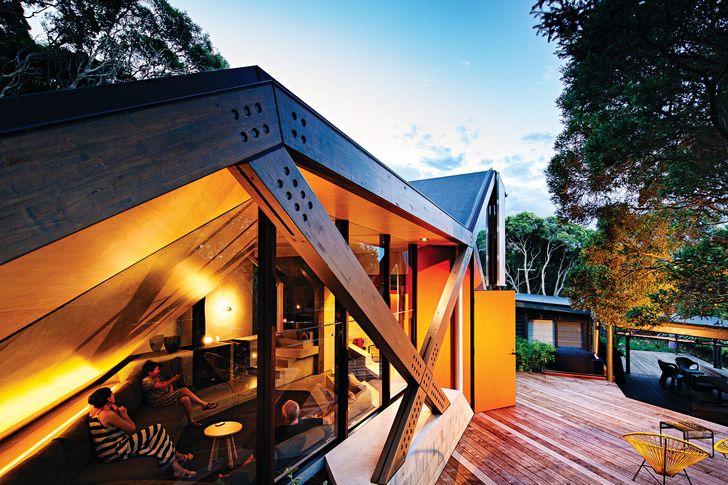 The genesis of the project was a conversation between architect and client about converting the clients' old carport into an outdoor seating area, replete with pizza oven, to relieve demand on space and allow guests to spill outside in summer. Maddison Architects director Drew Carling explains that the original shack – about as genuine a representation of this disappearing typology as you'll find, with its humble proportions, low-slung roof and single skin of pine log forming the walls – was "groaning" under the weight of the client's children, and now their children's children, making periodic holiday visits a logistical headache.
The project grew considerably over time until Cabin Two emerged. Essentially a retreat for the soon-to-be-retiring couple to occupy when the original house is brimming, it was to contain a single bedroom, a bathroom, a small kitchen and a spot to unwind. The complex and surprising form that houses this simple brief is the product of an intense reading of the site. Drew, also a practising landscape architect, explains it is a series of responses to the idiosyncratic coastal conditions. The rolling topography of the roof is an inverse reading of the ancient dune system upon which the two houses sit. Springing directly from a contour line, the gently sloping roof plane drapes over the living space, undulating to a second peak sheltering the loft bedroom on the upper level. Holding the roof plane aloft a series of herculean laminated trusses that echo, both in colour and form, the entwined moonahs around the house, the bent limbs of which have been shaped by decades of prevailing southerlies sweeping down the site, creating a rather convenient crisscrossing lattice to the street.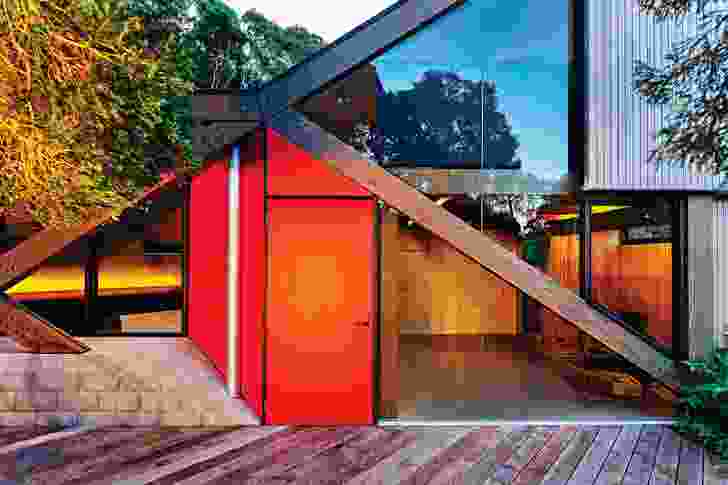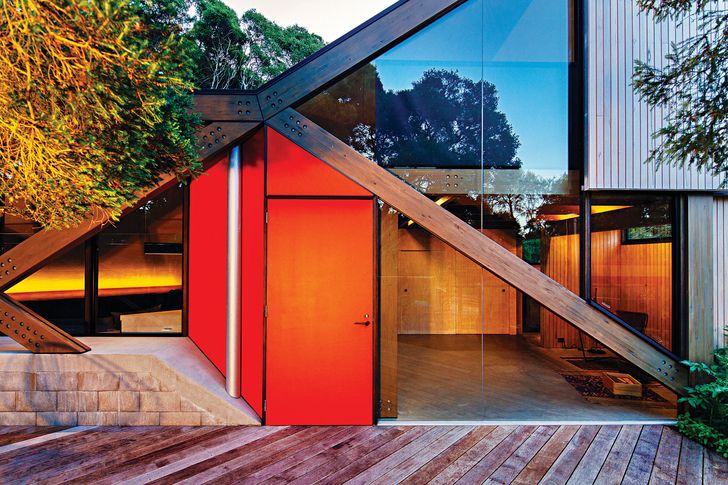 When entering the new cabin from its north-facing deck, you find yourself in the kitchen, the hub of the cabin, from which at any turn you will find a spot to relax. To the right is a sun-drenched meals area that begs you to sit at length with a newspaper and coffee; to the left is the kitchen and lounge area, embedded below ground level within a datum of solid concrete that is treated as a plastic element, and which morphs from floor to kitchen bench, from seating element to fireplace hearth and then also into a stair leading to the bedroom. At the ceiling's lowest point, where outside the roof meets gently with the ground, the concrete seating nook is lined with comfy cushions and wedged underneath a warm plywood-lined ceiling. This cosy corner is surely the definition of retreat. Drew admits that the extravagantly detailed concrete, while good for thermal mass in cooler months, crept in as a result of the practice's extensive work in high-end retail design, and despite the complexities, the local contractor handled it with aplomb.
Upstairs, apart from a sharply detailed monochromatic bathroom that can be closed off with a matching timber-lined sliding panel, the loft space has been kept open to the ground floor below, sharing its volume under the single plane of plywood. This, along with two banks of windows that can be opened up by sliding back two sizeable panels of the external cladding, helps this modest room feel much bigger than it is.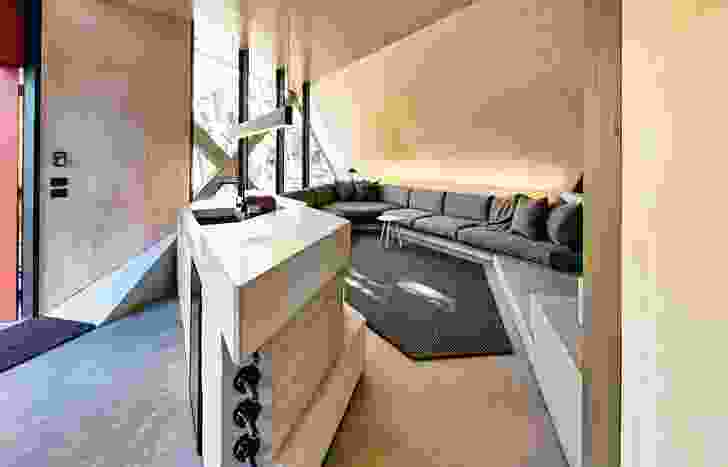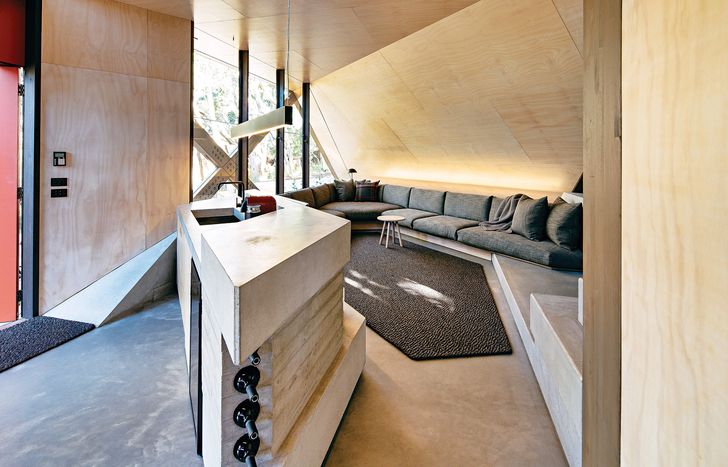 Externally, Cabin Two has been held back from touching the existing home. This creates a useful service yard and, more importantly, allows the old and new cabins to have their own identities. While the cabins do connect via their cascading northern decks (and past Cabin Two's raison d' ê tre, the initial entertaining deck and pizza oven), they also connect internally, through a well-concealed and narrow corridor allowing passage between the two spaces should it be required. With what is on offer in Cabin Two, however, I'm not sure how often this corridor will be used.
Cabin Two by Maddison Architects is a winner of the 2014 Houses Award: House Alteration and Addition under 200 m².
Products and materials
Roofing

Lysaght Longline 305 roof sheet in Colorbond 'Monument'; Tremco Tremproof 3300 HD torch-on membrane; Lysaght Half Round gutter in Colorbond 'Monument'.
External walls

Boral full-height block in rough finish; Glamex yellow cedar laminated beams; Radial Timber yellow stringybark shiplap cladding.
Internal walls

In-situ concrete; Glamex yellow cedar laminated beams; Radial Timber yellow stringybark shiplap cladding; Austral Plywoods marine plywood.
Windows

Aneeta sashless sliders in black powdercoat finish.
Doors

Lockwood Robert Watson Series hardware in black.
Flooring

International Floor Coverings Australia sisal carpet.
Kitchen

Abey kitchen sink; Astra Walker Icon tapware in black; Austral Plywoods marine ply joinery.
Bathroom

Classic Ceramics tiles in matt white; Astra Walker Icon tapware in black; Caroma Cube wall basin and toilet pan.
Credits
Architect

Maddison Architects
Melbourne, Vic, Australia
Project Team

Drew Carling, Amir Shayan
Consultants

Builder Frank Pty Ltd
Engineer Perrett Simpson
Lighting Masson for Light

Site Details

Location Mornington Peninsula, Vic, Australia
Site type Coastal
Site area 670 m2
Building area 80 m2

Project Details

Status Built
Completion date 2013
Design, documentation 12 months
Construction 10 months
Category Residential
Type Alts and adds, New houses

Source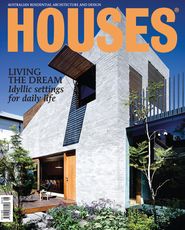 Issue
Houses, October 2014
Related topics