Contemporary urban design flourishes despite the most stringent limitations. Everyone wants maximum effect for minimal expense, to stand out while fitting in. Among the signature high-end corporate edifices of Melbourne's Docklands — the ANZ, NAB and Fujitsu buildings with their postmodern ornamentation and vast logos — Cafe Bourgeois occupies a slice of the ground floor of the Myer National Support Office, designed by BVN Architecture. Obviously, office workers need somewhere close by to eat, but they also need to feel they're really taking a break from their workplace. Given BVN's monumental grey cube of glass and steel, any local cafe design needs to have a casual flavour but without compromising the sophistication of the precinct. That's what Cafe Bourgeois sets out to do.
Positioned just to the left of Myer's main entrance, Cafe Bourgeois's identity was the latest in a series of collab-orations between Jan van Schaik from Minifie van Schaik Architects and Andy Sargent from SouthSouthWest. The brilliant wallpaper design dominates photographs of Cafe Bourgeois, a gargantuan post-Riley op-art ripple which swirls across two walls, up onto the roof and down across the floor, resulting in a continuous architectural synthesis of lights, visuals and ergonomics. It's a highly economical solution, too, a simple sticky-back vinyl print. Yet the striking photographs don't do the subtlety of the interior justice. The juxtapositions effected by the ripple unify the diverse zones of the cafe, from the dangling hula-hoop spangled with tiny LED string lights to the display cabinets, jazzing up the ambience without overwhelming the space.
One inherent difficulty of designing such spaces requires enhancing function without obtrusiveness – nobody wants to feel that they're being too obviously directed this way or that. With a pair of long tables to the left, the rear of the space is lined with a very comfortable timber banquette. The bench joinery is Ecoply, veneer panelling made from renewable plantation pine, with its end-grain expressed. Lighting is primarily provided by a row of task lighting distributed above the back of the bench. The floor is lined with Marmoleum, made from natural materials including linseed oil, limestone and resins, and with bactericidal and expansive properties, making it an ideal floor surface for a commercial space.
As you'd perhaps expect from an establishment named Cafe Bourgeois, you'll find baguettes, crepes (both savoury and sweet), coffee and cakes. And the new interior makes this a very pleasant place to go for a coffee or something to eat.
Products and materials
Flooring

Marmoleum acoustic finish.
Graphics

Vinyl wall printed by Tony Guthrie of Metro Media Technologies; Installed by Visual Exposure.
Credits
Design practice

MvS Architects
Melbourne, Vic, Australia
Project Team

Gwyllim Jahn, Sam Rice, Jan van Schaik
Consultants

Builder Binacon
Engineer Hive Engineering
Graphics and identity SouthSouthWest

Site details

Location Shop 3, 800 Collins St, Docklands, Melbourne, Vic, Australia
Site type Urban
Category Interiors
Type Bars and cafes, Commercial, Hospitality

Project Details

Status Built
Design, documentation 4 months
Construction 1 months

Source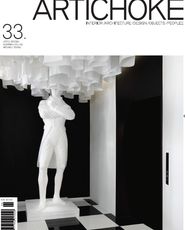 Issue
Artichoke, December 2010
Related topics