In Italy they do it standing up. In America they do it with great regularity and a preference for oversized couches. In Australia and New Zealand, we place a huge emphasis on quality. And we certainly aren't afraid to experiment. When you contemplate global coffee culture, there is no doubting Australia's prowess and international standing. Melbourne, in particular, is renowned for its sophisticated coffee market, setting the stage for a region-wide obsession.
"It's not about handing a cup of coffee over the counter," offers Lachlan Ward, a beverage technician and manager at Sensory Lab, an innovative, Melbourne-based specialty coffee company. "It's about educating customers about our beans, roasts and unique brewing methods." Sensory Lab's dedication to sharing and experimentation is underscored by its design sensibility. At it's cafe Plantation, and its Little Collins Street flagship store, the brewing stations – complete with halogen lamps, Bunsen burners and bubbling syphon filter beakers – take centre stage. At the latter, there is also a designated testing area, where staff, decked out in lab coats, offer a range of single-origin coffees brewed four ways.
But it's not only the Australian knack for sourcing, roasting and brewing quality beans, it's also where and how we consume them. In contrast to the global trend, the industry in Australia and New Zealand is not defined by a coffee chain model but by one of independent roasters, cafes and concept stores. History certainly suggests that this is the result of the influence of Italian and Greek immigrants who imported their coffee-making skills. Their coffee-drinking tradition focussed on the bar counter – a distinctly European, individualized and utilitarian style of drinking. Pelligrini's Espresso Bar, arguably the first of its kind in Melbourne, serves as an example of this early trend.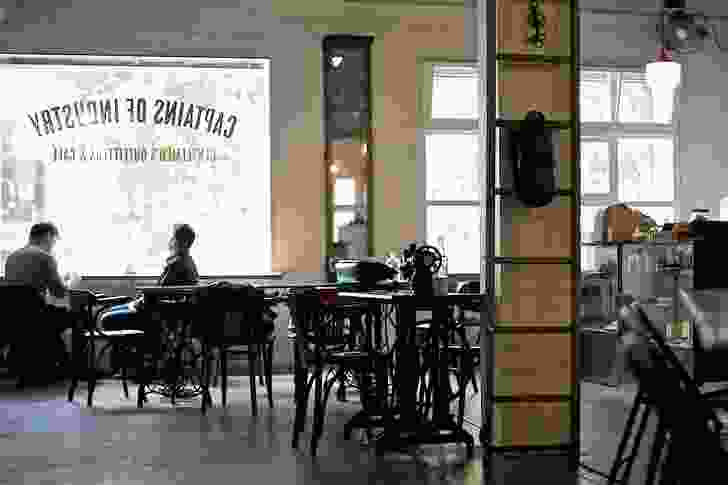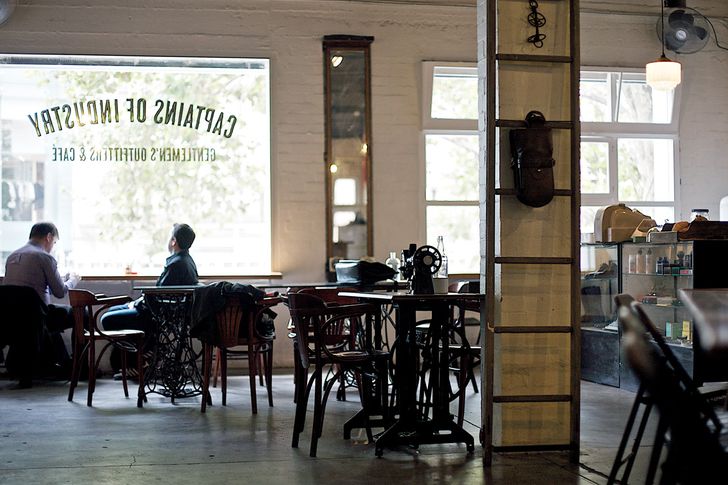 However, in the past ten years this model has been replaced with a far more interactive and social one, defined by an eclectic and organic design aesthetic. Think re-claimed industrial warehouses, vintage fittings, exposed brickwork, mismatched furniture, milk crate stools, communal tables and up-cycled crockery. Another trend is the fusion of work and play, where designers are integrating cafes into their work environments. In Melbourne, Captains of Industry serves coffee alongside a barber shop and a tailor and shoe-maker's studio, while The Little Mule serves it alongside a bicycle workshop.
"Most people buy one coffee a day," says Mike Murphy of Kokako,a certified fair trade roastery and cafe based in Auckland. "To maximize the experience, a space needs to engage all the senses." Murphy has just completed the fitout of his flagship cafe in an original 1930s post office. It features bespoke metal chairs, reclaimed sash windows, crisp white butcher-style tiling, a variety of seating configurations and an in-house roasting station. The result is a beautifully considered interior that feels as if it has always been there.
So, how did we get so good at this? "European immigrants have certainly played a part," agrees Ward. "But there are also a number of pioneering role-players like Sensory Lab's Salvatore Malatesta and Mark Dundon from Seven Seeds, who are spreading the word." These coffee connoisseurs, along with other established roasters like Toby Smith of Toby's Estate, are among the industry's stand-out personalities. The region's buoyant coffee culture has spawned a vigorous and evolving design language, one that influences the design fraternity as a whole, engenders a sense of community, encourages a creative use of urban space, stimulates technological innovation and, as a result, is gaining worldwide attention.
Coffee couture (Oz and NZ)

Sensory Lab (Melbourne CBD)
Kokako (Auckland)
Seven Seeds (Carlton, Vic)
Captains of Industry (Melbourne)
The Little Mule (Melbourne)
Toby's Estate (Australia-wide)
Source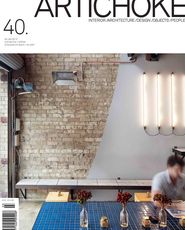 Issue
Artichoke, September 2012
Related topics