It's a long time since the words "romance" and "transport hub" have sat so comfortably together.
The decision to restore Wharf Shed Number 3 to accommodate the growing number of cruise liners that visit Cairns was truly inspired. Not only does the restoration provide thousands of passengers with a unique, subtropical experience as they disembark, but it also breathes life into a largely forgotten part of the Cairns waterfront. The brief was to retain as much as possible of the existing fabric of the building in its raw state, while creating a contemporary and adaptable multi-use space that could function both as a customs checkpoint and as a major event venue.
With steel-framed glass windows inserted into its external skin, the timber frame of the shed was opened up to the outside. A polished concrete floor stretches throughout and adds a remarkable warmth and tactility to the entire space. The painstaking process undertaken to select the right mix of aggregate for this floor was worth every step. Brass year markers pinpoint both key historical and trivial points in Cairns' development and discreet IT and power hubs enable the space to easily fulfil the many requirements of the customs team that needs to process visitors efficiently. Outside, a sculpture by Indigenous artist Thancoupie forms the centrepiece of a thoughtfully landscaped public realm which links the terminal to the centre of Cairns.
– Jury citation
The Cairns Cruise Terminal Wharf Shed 3 was originally constructed in 1914 and was part of the sequence of sheds servicing Cairns port operations. The wharf structure was one of the first concrete wharves to be built in Australia and is the primary reason for the listing of the precinct on the Queensland State Heritage Register in 2000. The contemporary insertions or openings into the existing fabric are an easily discernable and "polished" contemporary overlay, using complementary materials, and are, as part of the conditions set by the DERM, easily reversible.
– Arkhefield
For a full list of awarded projects see 2011 National Architecture Awards – the winners and for more awards discussion see Rachel Hurst and Rory Hyde's responses to the awards and the jury overview by Karl Fender.
Credits
Architect

Arkhefield
Brisbane, Qld, Australia
Project Team

Justin O'Neill, Karen Ognibene, Aimee Turner, Jemima Rosevear, Anne Sulinski, Justin Boland, Cyril Jankovic, Lara Nobel, Mark Sierzchula, Mathew Smith, Corinne Grant, Simon Wynn, Roger Mainwood, Andrew Simpson, Edi Piagno, Shannon Watson, Steven Trama, Stephen Pate, Ross Barnett, Glen English
Architect

Total Project Group Architects
Cairns, Qld, Australia
Consultants

Access consultant Davis Langdon
Artist Thancoupie
Builder Hutchinson Builders Brisbane
Building surveyor All Construction Approvals
Civil and structural consultant Cardno Brisbane
Cost consultant Rider Levett Bucknall Brisbane
Electrical and mechanical consultant MGF
Environmental consultant MGF
Heritage Converge Heritage and Community
Hydraulic services CMRP
Interior designer Arkhefield
Landscape Cardno S.P.L.A.T.
Lighting consultant MGF
Marine engineer Cardno Brisbane
Public art coordinator KickArts Contemporary Arts
Signage and wayfinding Dot Dash
Traffic and transport Cardno Eppell Olsen

Site Details

Location Cairns, Qld, Australia

Project Details

Status Built
Category Commercial, Public / cultural

Source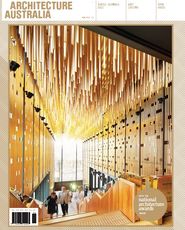 Issue
Architecture Australia, November 2011
Related topics