The Cairns Regional Council has approved the development application for the proposed Cairns Performing Arts Centre (CPAC), designed by Cox Rayner, in spite of an objection from the Australian Institute of Architects.
The project will replace the existing Civic Theatre with a new performing arts complex comprising a 940-seat main theatre, a wider and deeper main stage large enough for full 98-piece symphony orchestras and ballet performances, as well as a 400-seat studio theatre.
The new facility will have more than triple the floor space of the existing Civic Theatre. It is part of a $76 million redevelopment project that also includes the transformation of the adjacent Munro Martin Park. The new park, designed by landscape architect Andrew Prowse, will include an outdoor performance space, a 2,000-seat amphitheatre, and vine covered walkways.
The council's brochure touts the proposed CPAC as "designed for [the] tropical lifestyle" with "architectural elements synonymous with the tropics."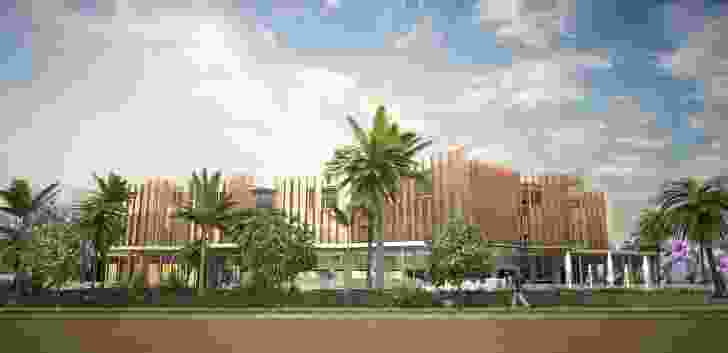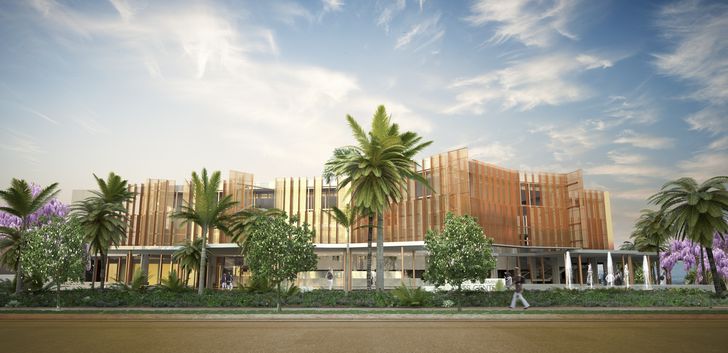 However, the Australian Institute of Architects has concerns the proposed building "does not adequately respond to the [council's] Tropical Urbanism Policy and Performance Criteria."
In a letter of objection signed by Shaneen Fantin and Julianne Field, co-chairs of the Institute's Far North Queensland Committee, the Institute found the proposed building did not comply with the Tropical Urbanism Policy on 21 points, particularly in relation to the design of some of the facades and the building's relationship to the street.
The site is bounded by Florence Street to the north-west, Grafton Street to the north-east and Sheridan Street/Bruce Highway to the south-west.
Perforated aluminium fins to the north-west Florence Street facade will "mitigate harsh tropical climate while allowing soft, natural light to brighten the interior," the council's brochure reads.
The Institute wrote, "the facade and entry sequence on Florence Street demonstrates good tropical design, but the remainder of building form, facade design and cladding do not demonstrate any elements distinctive to Cairns or reflective of a tropical environment."
The north-west and southern facades will be clad in light-coloured aluminium panels. "The building will not provide comfort to the residents of Cairns as they walk down Grafton Street, because there is no awning for protection from rain or sun," the Institute wrote.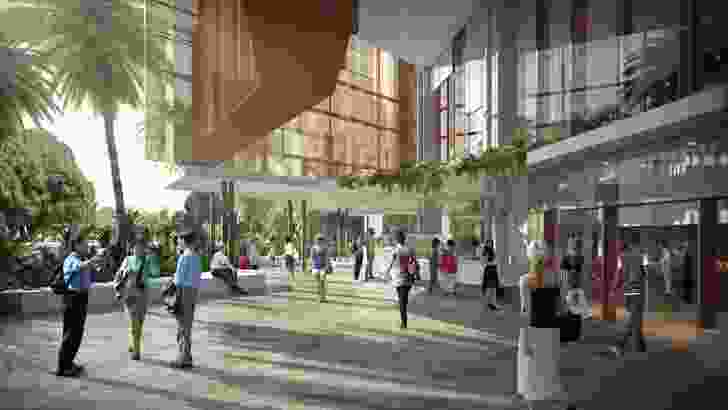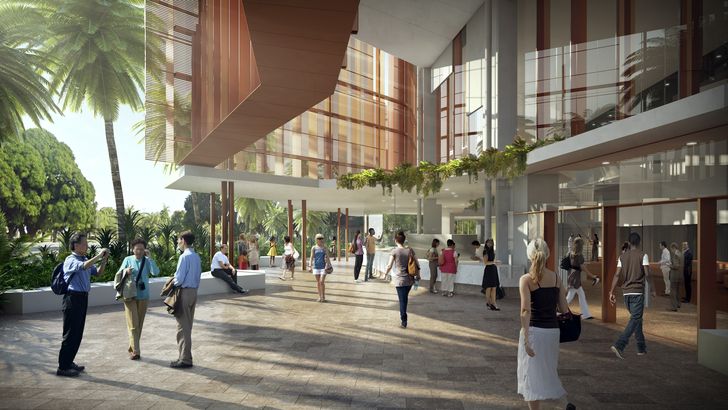 "Many of the open public spaces, including the entry and foyer […] face west and north, which is poor orientation for the Cairns climate. These spaces […] will receive the greatest solar heat load in the late afternoon, which is just before performances usually start […] It is not energy efficient or sustainably designed."
The Institute also raised concerns about the proposal's lack of street activation and its failure to create a "vibrant street-oriented atmosphere."
"The argument that it is a theatre [which] is only used at night and doesn't need a street presence demonstrates limited design thinking," the Institute wrote.
"This is a significant public building in an urban context. It should function as both a theatre and activate the street for visitors and residents simultaneously. This is achieved on Florence Street, but not on Grafton or Sheridan Streets to any substantial degree."
The local community does not appear to have shared the Institute's concerns. Councillor Linda Kirchner told ABC, "The overwhelming submissions were positive."
The redevelopment has been described in the local press as "Brisbane's South Bank on steroids."
Related topics