Brisbane's population temporarily surged in wartime. A million US servicemen passed through the city of 330,000, providing an awe-inspiring exposure to American luxury and technological innovation. These influences endured. Young designers who worked with Americans on wartime construction projects were the first Australians to embrace both new technologies and the corresponding lifestyles: outdoor living, surf culture, the ubiquitous automobile.
Similarities of climate and geography, and historical and cultural kinship, bonded Queenslanders with their Pacific seaboard neighbours. World War II's greatest social impact was that America became the world's dominant culture, but California's distinctive version of Americana became Queensland's. It is eminently fitting that Brisbane should host the world's "first major study of California mid-century modern design," travelling to just one city each in Japan, New Zealand and Australia.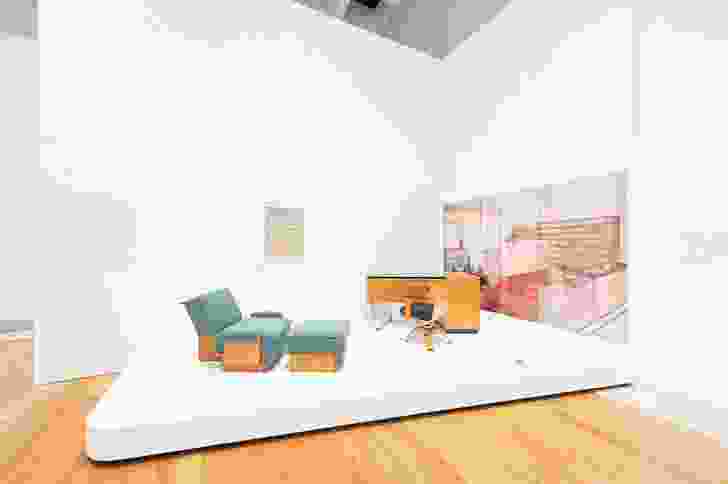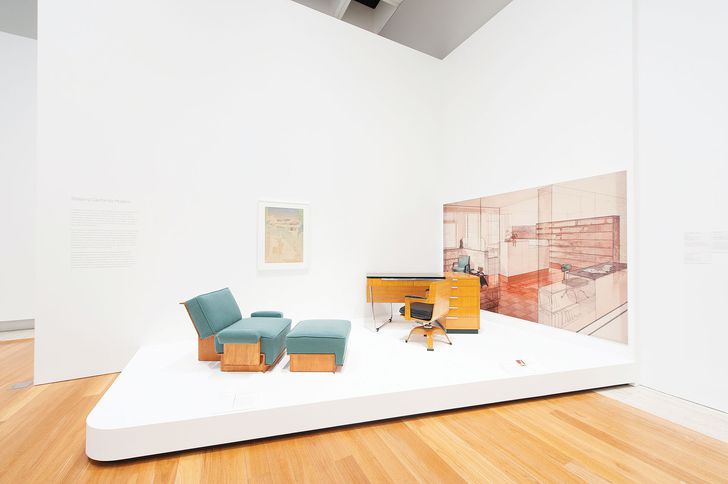 The show's genesis, in 2006, was the observation by Bobbye Tigerman and Wendy Kaplan, from the Los Angeles County Museum of Art, that no US institution had a California design section. They gathered a collection and created this exhibition while a wealth of knowledge and material remained accessible from the period's surviving artists and designers. Originally a three-month, short-run show, never intended to tour, it was a runaway success. Hence this edited and transportable touring version.
The exhibition demonstrates the impact of California's artists, craftspeople and designers on the houses, furnishings and products of mid-century America. It covers over 250 items: furniture, ceramics, textiles, graphic and industrial design, jewellery, clothing, metalwork, architectural drawings, photographs and film. There are bathing suits – one of gilded lamé for Hollywood, another a two-piece "swoon suit" – and Cedric Gibbons' Oscar. Children's toys (a favourite on opening night) are abundant, including the first Barbie, with her emasculated vinyl mate Ken and her 1962 Dream House.
It tells the great stories of wartime inventiveness presaging real change. Ray and Charles Eames, the foremost married design team, segued their wartime naval work with moulded plywood into a legendary line of chairs. The fibreglass flying car, with detachable wings, was conceived by industrial designer Henry Dreyfuss with engineers at Conair. Émigré designers and architects who reached California either side of WWII are represented by Richard Neutra, Rudolph Schindler, Kem Weber and Greta Magnusson Grossman.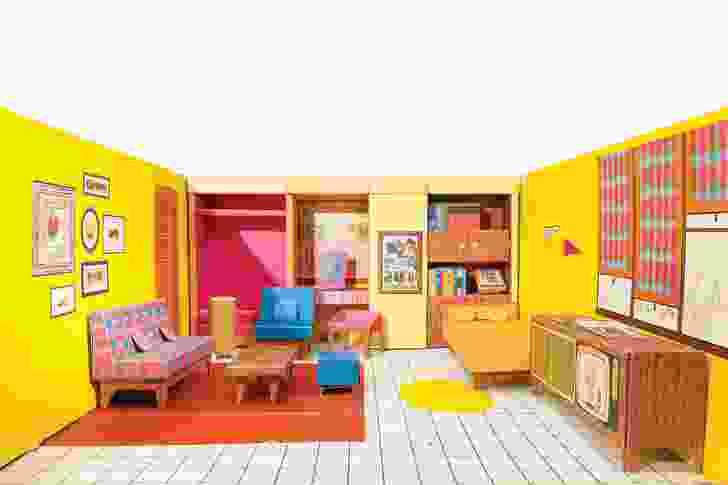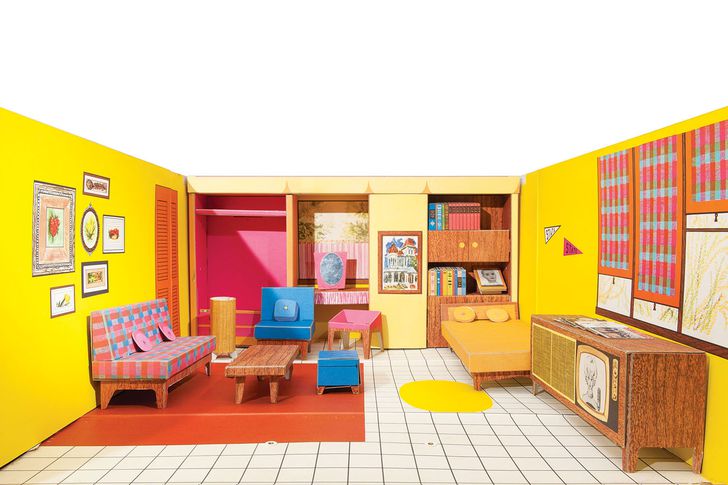 Clever curatorial skills present the well known while rescuing the nearly forgotten. Flanking the forecourt are two mid-century icons: a 1936 Airstream "Clipper" caravan and a gold 1964 Avanti Studebaker, both delicately laid on white Kashmiri crushed pebbles. Gobsmacking craft objects such as John Kapel's walnut chair and Sam Maloof's cherry and ebony rocker are presented in the same room as the Eames's DCW moulded rosewood plywood and LAR fibreglass chairs. The appeal is broad. For car fans, Clipper fans, toy fans and fashion fans, this exhibition has it all.
But two scenes steal the show. One of the entry loops comprises an office scene: a Schindler armchair and ottoman under a framed perspective of his Shep House, paired with Weber's desk and chair (exhibited at the Golden Gate International Exposition) set against a super-scaled architectural drawing. The sofa and table from Spencer House's languid living room, framed by an Eames lounge chair and ottoman and a Grossman walnut and wire screen set, fills the final room. The scale of each gives a real feel to living California design.
A Los Angeles Times review likened the Airstream Clipper to "a dose of design-world Prozac." A better analogy might be "California rocket fuel," the cocktail of psychoneurological medications prescribed for treatment-resistant depression. This show bursts with giddy optimism: set in the last years of privation and reflection, ebullient with enthusiasm, almost impatient for the future.
The California Design 1930–1965 exhibition was shown at the Queensland Art Gallery between 2 November 2013 and 9 February 2014.
Source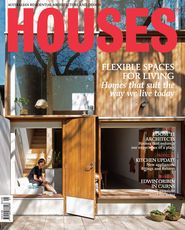 Discussion
Published online: 10 Apr 2014
Words: Alice Hampson
Images: Courtesy QAGOMA, Julius Shulman, 1947. Getty Research Institute. © J. Paul Getty Trust, © 2011 Museum Associates/LACMA, © 2011 Museum Associates/Los Angeles County Museum of Art (LACMA), © Museum Associates/LACMA
Issue
Houses, February 2014
Related topics