The Australian Institute of Architects and the creative directors of Australia's exhibition at the 2018 Venice Architecture Biennale are calling on architects, urban designers and landscape architects to submit their designs and projects to be considered for inclusion in the 2018 exhibition.
Repair, by Baracco and Wright and artist Linda Tegg, will aim to showcase Australian architecture that engages with the rehabilitation of the country's natural environment.
"Since we've been making buildings and cities in Australia, it's mostly been to separate us from the natural environment," said Louise Wright, co-director of Baracco and Wright, at the Melbourne announcement of the creative team. "Consequences of the disregard of natural systems have now been felt. There is [now] a shift of thinking among built environment disciplines towards repairing the natural environment as a meaningful and enduring framework for urban form and an expansion of the natural environment in a sort of reverse order of urban sprawl."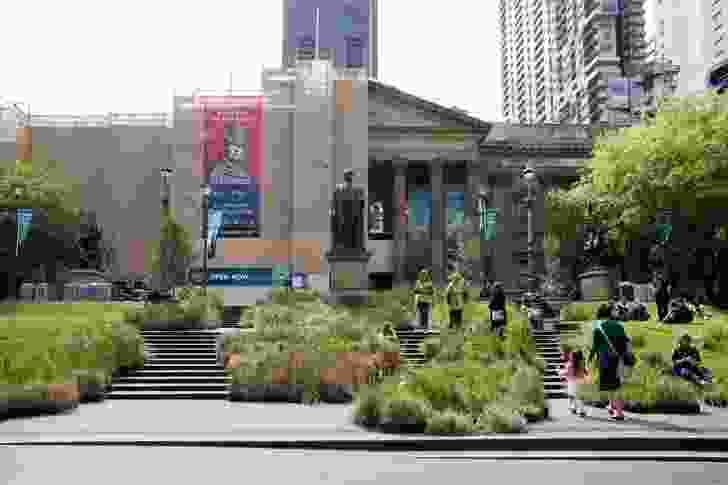 The exhibition will feature a living installation of temperate grassland in Australia's Pavilion in Venice, similar to the one artist Linda Tegg created on the steps of State Library of Victoria in 2014. The installation will comprise thousands of nationally threatened Western Plains Grasslands species, which are currently being grown in Venice. The installation will be combined with large-scale architectural projections.
The creative team is calling for designs and projects that "demonstrate the role of architecture as an agent of repair" and "have been conceived in relationship with their ecosystem to effect repair be it civic, social, cultural, economic or environmental." A selection will be displayed in the exhibition.
Jill Garner, Victorian government architect and chair of the Institute's Venice Biennale committee said, "While this exhibition exposes an international problem, our exemplar projects will certainly be incredibly and uniquely Australian."
To make a submission, click here.
Related topics