A local council in Melbourne's north has nominated a UFO-shaped modernist prefabricated house designed by Finnish architect Matti Suuronen for state heritage protection.
The Whittlesea Leader reports that the Futuro House, currently housed on a go-kart track in the outer-northern Melbourne suburb of South Morang, was nominated for inclusion on the Victorian Heritage Register by Whittlesea Council.
Suuronen first designed the structure in 1965 as a ski house for a friend. The dwelling, which perches on four legs, was a concept for a ski house that would be easy to construct on uneven terrain. Manufacturer Polykem produced a series of houses made of prefabricated fiberglass.
Licenses were granted to produce the house in 25 countries. The capsules were composed of 16 curved fiberglass panels, which could be assembled on-site or moved as a single whole piece by helicopter due to its lightweight construction.
In their book Prefab Houses, which traces the relatively short history of residential prefabrication, authors Arnt Cobbers, Oliver Jahn estimate that there are roughly 60 of the capsules still in existence.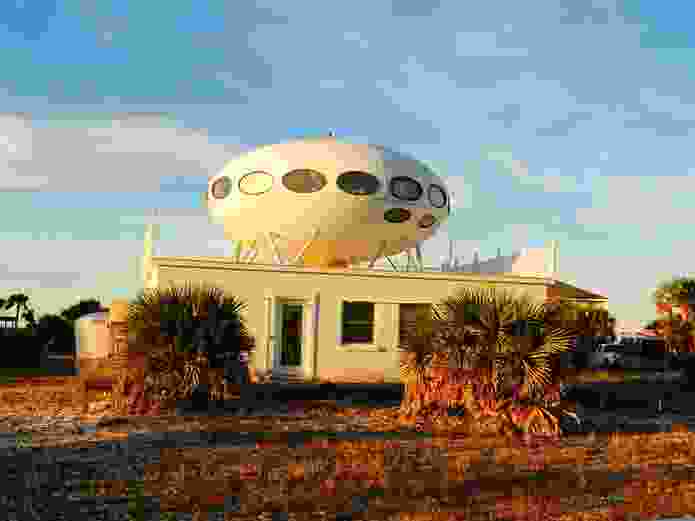 The Futuro house was listed among a number of post-war buildings without heritage protection in a special edition of Architect Victoria on post-war architectural heritage, published in August 2010 and guest edited by heritage consultant Simon Reeves of 20th century architectural heritage consultancy Built Heritage. The South Morang capsule was described as one of only a "mere handful to have been sighted in Australia, and the only example remaining in Victoria."
"Marketed as the Futuro house, these space-oddities were distributed around the world, where they were displayed at home shows and trade fairs to much merriment," Reeves wrote.
The listing notes that, while the provenance of the building is ultimately unknown, it was once used as an office for a real estate agent in the nearby suburb of Greensborough.
The decision to nominate the building, which is in a state of disrepair, was made after the council approved a development plan for the site on which the capsule perches.
In a report to the council made on 27 June 2017 regarding the subdivision, council officers recommended that council "investigate the potential for the building to be included on a heritage register and work with the proponent to ensure that building is restored relocated to a site with public presence."
The officers also noted that, as the house was designed to be transportable, it should be entirely possible to relocate it without damaging its heritage value.
The house is now before Heritage Victoria for evaluation.
A hobbyist website that attempts to catalogue all of the Futuro houses in existence can be found here.
Related topics