A sandstone wall bisected by a high stainless steel gate hints at the coalescence of old and new in this renovation and extension of a Bondi cottage by Sam Crawford Architects. Walking up a steep set of steps onto a large, elevated, north-facing front lawn, it becomes apparent that this project is full of surprises. Set back on the rear half of the property is an early 1900s cottage that is unlike any of its neighbours. The dwelling would have been built before the area was subdivided, explaining its unusual site placement, and it has been successively altered over the intervening decades. In the 1960s, enclosing the verandah with large windows and glazed doors formed a study and extended living room. A ramshackle medley of lean-to outhouses had also been tacked on the rear of the basic brick form.
Sam Crawford's clients, a couple with three young children, love the breezy modesty of their beach bungalow. Given the long-standing friendship between architect and one of the clients, Sam embraced the opportunity for a collaborative dialogue on how best to accommodate a growing family and the need for a parents' retreat. The couple's brief was to extend the existing dwelling to gain a larger living area, to add a first-floor main bedroom and to address the ad hoc rear of the house without losing its original character. This presented Sam with a challenging contradiction. To simply extend upward would retain more of the rear yard; however, the new form could overwhelm the unassuming nature of the cottage. On the other hand, to extend into the south-facing back of the property would make it difficult for the new interiors to harness adequate natural light.
In the end, the decision was easy once the options had been modelled. A rear extension with an upstairs pavilion made it possible for the upper storey to just peek over the cottage roof. "I think of it as quite playful, almost like a child's toy left sitting at the back of the house – a wooden block with a bit of colour," says Sam. "Right from the beginning our early drawings had a sense of playfulness that has carried through, partly in response to the character of the cottage and partly in response to the relaxed personalities of the clients. It didn't have to be a very serious house."
The scale of the extension remains modest. The ground level comprises an open-plan kitchen, dining and living area with an inset powder room, topped by a master bedroom, dressing area and bathroom with a westerly glimpse of Sydney's Centrepoint Tower.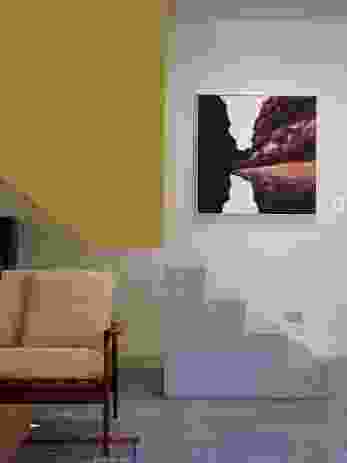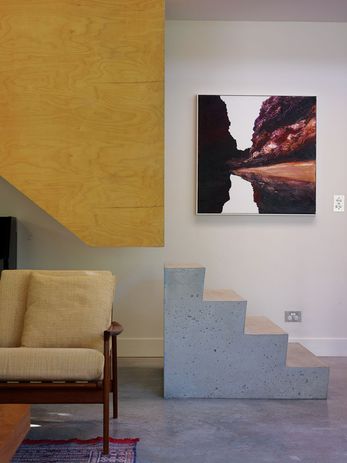 Sam and project architect Claire McCaughan decided to leave the circulation and connections between spaces as loose as possible to suit the couple's preference for informal living. They also responded to the clients' love of their 1970s kitchen – complete with orange formica benchtops – by encouraging their selection of colours for larger panels and opting for exposed shelving on which the clients can display their extensive dining-ware collection.
A staircase and light void make a major statement in this space. A concrete plinth rises four steps before stopping abruptly, to be almost met by a floating timber stair. The juxtaposition of heavy and light materials emphasizes the play on connection and disconnection between upstairs and down.
"Upstairs is a very distinct space and we wanted people to literally 'take a leap' between one level and the next," says Sam. Separating the parents' retreat so emphatically keeps it reserved for the couple. The north-facing light void also helps divide the zones and draws ample sunlight into the rear addition and upstairs suite. In another playful twist, glass panes are fixed and plywood panels are operable such that a simple pivot will open the room up to light and breezes or shut it down for total privacy.
Externally, the material palette is restrained to fibre cement sheet cladding, shiplapped Western red cedar and glazing. Attention has been paid to passive heating and cooling principles – for example, an exposed concrete slab that provides solid thermal mass also boasts underfloor solar-powered hydronic heating that runs with incredible efficiency in cooler winter months. The outcome is that the extension is comfortable and welcoming.
Engaging landscape architects Spirit Level Designs was another crucial component in the success of the project. In collaboration with lead designer Hugh Main, the rear garden was reworked into an alfresco dining area bordered with raised planters. This area has become a favourite with the couple, who enjoy the verticality of the space and the chance to focus on the sky above.
"We very much wanted to maintain a connection to the past and to the history of the site," recalls Sam, referring to the light touch employed on the front of the house and commending Spirit Level Designs' contribution in levelling the front yard, reworking the sandstone fenceline and adding a pergola and sandstone verandah that echo Bondi's early history in quarrying stone.
Throughout this project, Sam Crawford Architects has played up to the light-hearted personalities of its clients and delivered an extended home that allows for all the connections of family living as well as the sanctuary of a private retreat.
Products and materials
Roofing

Stramit Speed Deck Ultra; Lysaght Custom Orb.
External walls

James Hardie HardiFlex sheets, hardwood battens, painted Dulux 'Antique White USA'; Western red cedar cladding.
Internal walls

Painted Dulux 'Antique White USA'.
Windows & doors

Scar Top Joinery Western red cedar frames and solid window panels, Sikkens Cetol Filter 7 finish, Porter's Paint aqua gloss enamel finish in various colours.
Flooring

Australian Architectural Hardwoods recycled spotted gum with Feast Watson China Wood Oil finish; rotary cut BB hoop pine plywood with Sikkens Vloerlak finish.
Lighting

Modular Lighting Instruments Duell Wall black from JSB Lighting; vintage pendants.
Kitchen

Form Joinery cupboards, spotted gum veneer, Porter's Paint aqua gloss enamel finish in 'Ping' and 'Mango'.
Bathroom

Metallic gunmetal wall tiles supplied on site (ensuite and bathroom); Form Joinery spotted gum veneer cabinetry (ensuite and bathroom); recycled ironbark benchtop (ensuite); metallic gunmetal benchtop tiles supplied on site (bathroom).
External elements

Spirit Level Designs recycled sandstone entry patio.
Credits
Architect

Sam Crawford Architects
Sydney, NSW, Australia
Project Team

Sam Crawford, Claire McCaughan
Consultants

Builder Latitude Constructions
Engineer Partridge
Landscaping Spirit Level Designs

Site details

Location Bondi Beach, Sydney, NSW, Australia
Building area 180 m2
Category Residential buildings
Type Houses, Residential

Project Details

Status Built
Design, documentation 19 months
Construction 12 months

Source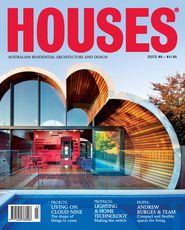 Related topics