Campbelltown aims to be 'Australia's greenest' city
Campbelltown council has unveiled a vision that reimages the south-west Sydney regional centre as a "true metropolitan CBD" and "Australia's greenest city."
Coming in the the wake of the Western Sydney City Deal, which will see an influx of infrastructure funding for the area, the Reimagining Campbelltown plan sets ambitious goals for employment, transport and sustainability.
The draft strategy, prepared by Deloitte in collaboration with Cox Architecture and the council, outlines a series of targets for when the city's population has grown to 800,000 from a current population of 270,000.
Among them are that all electricity will be solar-generated, 70 percent of people will be using recycled water and there will be 70 percent green canopy cover.
"Climate change will continue to increase the frequency and intensity of heatwaves in Campbelltown," a draft strategy summary states. "Continuing street retrofits to increase canopy cover and green facades on the existing built form will be required."
Streets and public spaces will be designed to reconnect to the natural environment by creating "urban stormwater reed-bed solutions" along footpaths.
In addition, the city will aim to become a compact, "30-minute-or-less" city, with jobs and amenities readily accessible.
"With our massive spike in population, in addition to Australia's biggest infrastructure project – the Western Sydney Airport – a stone's throw away, there is a great opportunity to re-shape our city and capitalize on the public, and private sector interest that is happening across the region," Campbelltown mayor George Brticevic said.
"To do that we need to build a place that appeals to young millennials and to big corporates which are looking to leverage the opportunities, and growing talent-pool that exists in Campbelltown and beyond."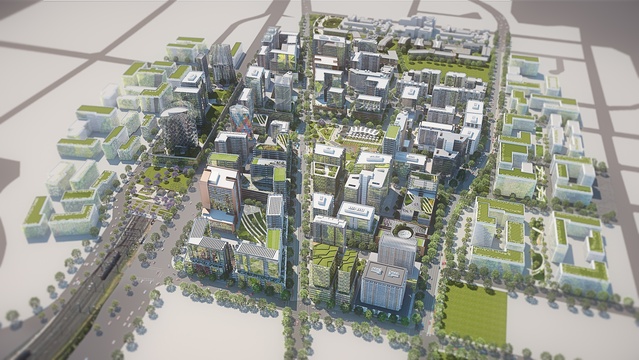 The report notes that residents in the Campbelltown city centre and surrounding area use their car for 89 percent of trips. Proposed measures to create a better transport mix include an "over station development," which would provide greater connectivity along the rail corridor, the decoupling of car parking from new developments and a pilot project for autonomous cars.
The draft strategy also points to the importance of managing the transition of the local economy, stating that a future Campbelltown will focus on a specialization in advanced logistic, health and education and hi-tech manufacturing.
In terms of housing, the report notes that more than 79 percent of resident in the council area currently lived in single-detached dwellings. "A greater diversity of low, medium and high housing types is needed in the future to support residents of all ages," it states.
The importance of good design is also noted: "Ongoing design excellence to produce award winning architectural buildings and public domain will position Campbelltown city as an international benchmark."
Campbelltown council is one of eight councils to be included in Western Sydney City Deal between local, state and federal governments announced earlier this month.
The deal includes commitments to joint federal and state funding of the first stage of a rail link connecting the planned Western Sydney airport to suburbs to the north and south; targeted initiatives to create jobs and develop skills across the region; and the establishment of a $150 million Liveability Fund, shared among the eight participating councils.
Off the back of that deal, the Reimagining Campbelltown strategy seeks to "leverage the growth, investment and opportunities of the future."
"I'm proud that, as a council, we're taking ownership to proactively plan for and capitalize on the opportunities that come with extensive growth, while responsibly considering and enhancing the historic and natural assets that make our city unique," stated the mayor, George Brticevic.