If there is a relationship between furniture design and building design, Tomek Archer would know it. He won design awards for his Campfire Table while still an architecture student. Now a fully fledged architect, Tomek has headed up his own practice, Archer Office, for the past five years. The office's project range is wide. He describes the extremes of its design output as running from "a very high level of control" as with his furniture design, to needing to wield "diplomacy" with large commercial developments. The smaller projects inform the larger ones and vice versa.
The Camperdown Warehouse project is about as close to the furniture end of the architecture spectrum as it gets. You might think that reworking an apartment interior would be the perfect project for the furniture-designer-cum-architect, but in fact it would normally be too small a job for Archer Office. It's the first residential interior the practice has completed and the budget was tight. Tomek says he took it on because it contained such an interesting set of conditions for exploring ideas around adaptive re-use. The base building, which dates from 1926, is a former motor vehicle factory comprised of a heavy concrete frame with long-span floors and no internal structural walls. "The cool thing about the building is that it is so loose fit. And that's something we explore a lot," says Tomek. The design team was motivated by the idea of developing a "prototype," as Tomek puts it – a model for adaptive re-use that could be applied to future projects.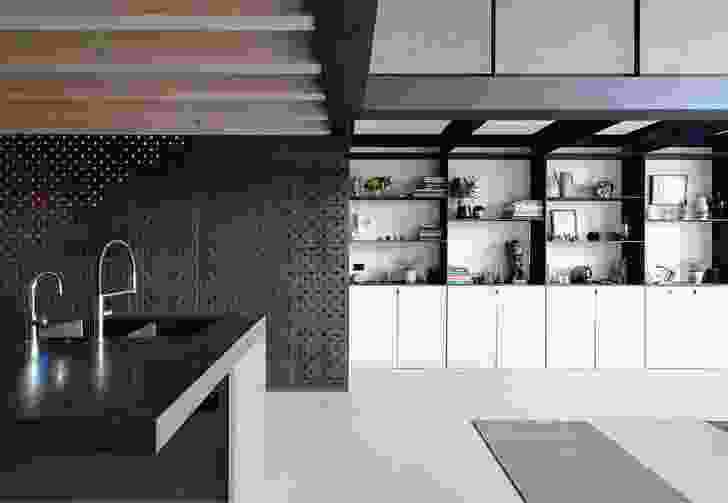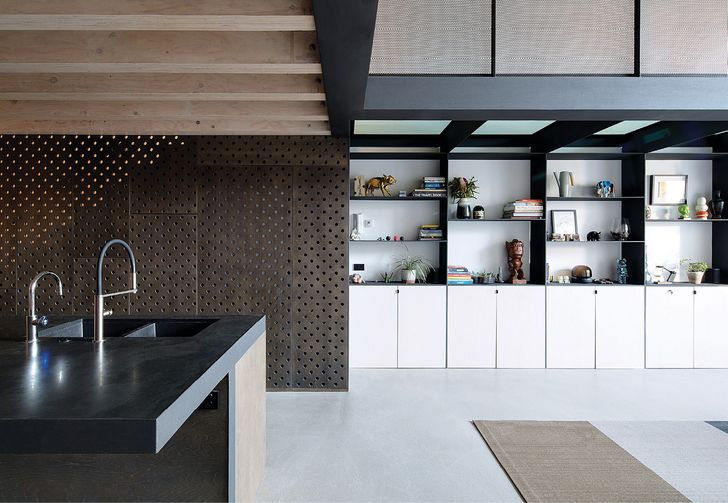 The industrial building was converted to a residential complex in 1993. The client purchased an apartment on the first floor, which has exceptionally high ceilings (4.9 metres). This apartment contained two mezzanine bedrooms that faced the street and also blocked a lot of the available light from the double-height living spaces behind. Tomek and his client decided to completely gut the interior and start from scratch. With no structural partitions to lean on, all the mezzanine floors had to be supported on columns that reached the floor slab. Archer Office has added more mezzanine floor space, turning it into a three-bedroom apartment while allowing more light to reach the living spaces. This was achieved using black-painted steel, natural timber and generous amounts of glass, including a glazed structural floor in the mezzanine walkway. The space can be adjusted and adapted to a variety of use conditions. Sliding screens and bifold doors abound. The client couple can open the whole place as a single volume or compartmentalize it in various ways when hosting guests.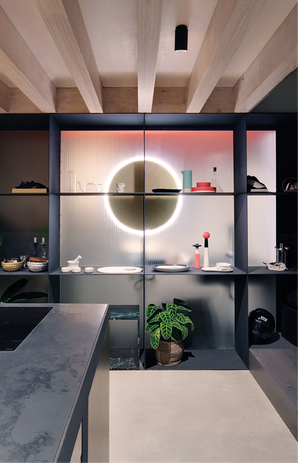 "Furniture is an adaptive re-use project," claims Tomek. "It transforms the way space is used." His Campfire Table, whose three timber legs interlock to form a reciprocal frame that supports a circular sheet of glass, is a physical invitation to gather, a piece of infrastructure that performs a social function. Adding or removing furniture and other interior elements to an existing space is "changing the performance," as Tomek puts it. The kitchen in Camperdown Warehouse, for example, is comprised of a single island bench. All the appliances and cupboards are within this built-in furniture, which alters the way the kitchen performs socially. The cooktop is at one end and the act of cooking literally becomes a "performance." According to the client, dinner guests frequently help to prepare the meal as they chat with the chef.
Just from looking at the details, it is clear that this project was designed by an architecture practice with a very good grasp of materials and the art of assembly. The inbuilt shelving in the kitchen, far from simply providing adjustable shelves, instead uses permanent welds between the steel blades to create a rigid frame that supports the walkway above. The spacing of the verticals was adjusted to accommodate rows of wine bottles in a cupboard below. By making the furniture double as structure, Archer Office maximizes space and visual elegance. A key strategy in achieving a very high level of refinement was the decision to work with a trusted steel contractor and to make a large proportion of the project out of this single material. Steel is used in the windows, the joinery and, of course, the structure. The vast majority of the details were bespoke creations.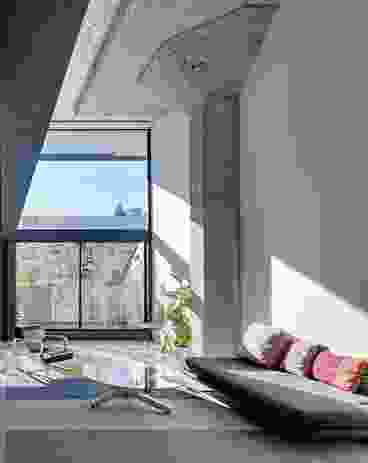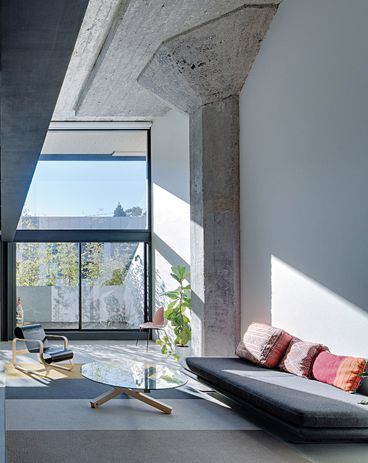 In removing the previous apartment interior, the designers cut right back to the raw concrete. The original 1920s concrete appears monolithic, almost ancient Egyptian in its mass and form, especially in the main bedroom, where the column capitals are close to head height. It openly displays its industrial past, including a chopped-off wiring conduit. Archer Office has leveraged the loose fit quality of the 1920s factory, showing off just how much potential remains in industrial architecture as a typology. "I don't know how long the apartment will last in this configuration. Twenty, fifty years?" Tomek speculates. In some ways the design is highly specific and in others highly adaptable. Either way, the whole thing could be taken out as if it were a temporary installation … just like furniture.
Products and materials
Internal walls

Viridian Lineus glass partitions.
Doors

External glass door by Aluminium and Glass Constructions.
Flooring

Havwoods American oak flooring.
Lighting

Brightgreen track lights and downlights; Flos Glo-Ball wall light.
Kitchen

Bora Basic stove; Oliveri Santorini sink; Phoenix Vivic slimline tap.
Bathroom

Oliveri Santorini sink, Kohler Chalice Vessel basin, Phoenix Blix flexible hose sink mixer.
Heating and cooling

Ozshade blinds and curtains.
Other

Custom doors and joinery by the builder; steel fabrication by Metwork Services; Campfire Table by Tomek Archer; Artek Armchair 41 "Paimio" by Alvar Aalto and Woodnotes rug from Anibou.
Credits
Architect

Archer Office
Sydney, NSW, Australia
Project Team

Tomek Archer, Carmen Blanco
Site Details

Location Sydney, NSW, Australia
Site type Suburban
Site area 130 m2
Building area 130 m2

Project Details

Status Built
Completion date 2018
Design, documentation 7 months
Construction 6 months
Category Interiors, Residential
Type Adaptive re-use, Apartments

Source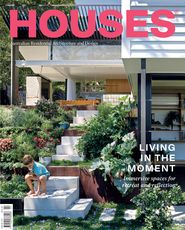 Project
Published online: 19 Jun 2019
Words: Tobias Horrocks
Images: Kasia Werstak
Related topics