Mallorca is a curious place. At the mouth of the Mediterranean Sea between Spain and Algeria, this island is rustic, ruggedly beautiful, yet fuelled by tourism and foreign wealth. Its mountains merge to meet farmlands strewn with crumbling old stone buildings – wonderful ruins that lend the island its charm.
But that is in its off-season. In the warmer months, Mallorca's coastline is the playground of Europe. Packed with tourist resorts, themed restaurants and go-karting tracks, the island is teeming in summer, while, in winter, its shops lie boarded up and dormant. It is a remarkable sight, like an abandoned amusement park.
These contradictions seem to me an unlikely setting for Jørn Utzon's Can Lis, a house located on the south-western edge of Mallorca's coastline. It lies just beyond one of the many tourist towns that ring the coast, yet it feels of another world entirely. Perhaps this is due to the spectacular nature of its site – peaceful to the point of being eerily silent.
Built in 1971-73, and named after Utzon's wife, Lis, Can Lis was the first of two houses Utzon built on Mallorca, intended as the holiday residence for the family, who visited the island frequently in summer. In 1994, Utzon completed Can Feliz, further up in the mountains of Mallorca, overlooking the coast. Today, his daughter Lin holidays at Can Feliz.
Built as a summer house, Can Lis is perched on a platform beside an escarpment that plummets down to the sea. Utzon closley oversaw its construction, and his detailing is evident at every turn. Concealed behind its thick wall of dusty pink stone (quarried from the nearby town of Santanyi), Can Lis is barely visible from the street. The front door, when opened, displays the relief of a half crescent moon, a motif that reappears throughout the house: in the living room's crescent shape, the profile of the drying area, and patterning of the tiled seats. The pattern references the houses' former street address on Avinguda Media Luna, though the street has since been re-named after Utzon, whose name commands local respect to this day.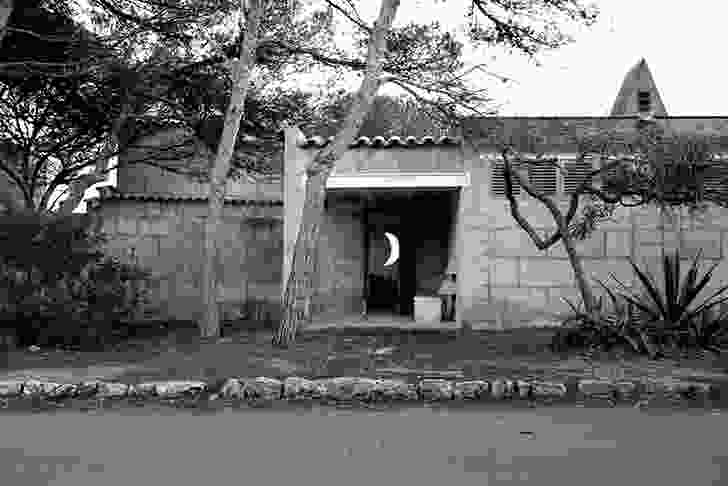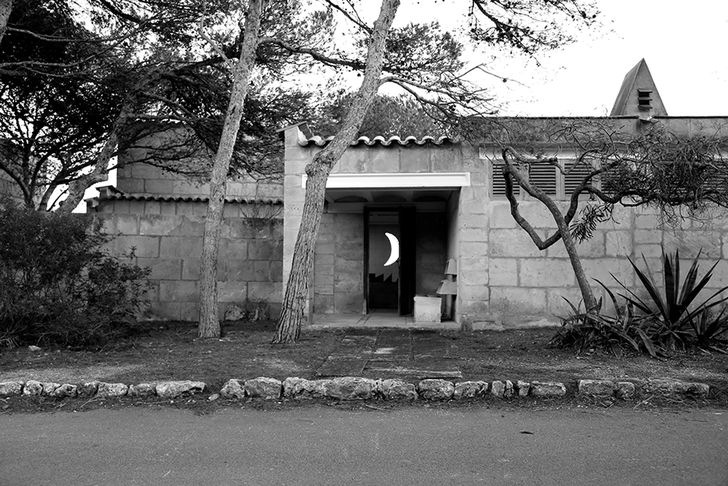 Behind this protective wall, Can Lis is arranged as a series of discrete pavilions connected by transitional space. The rooms are strung out along the cliff's edge like beads in a necklace, strung together by courtyards and stepping stones. Cooking, living and sleeping quarters are all contained in distinct buildings, and there's a certain peacefulness in this separation, as each activity becomes intentional and uncluttered. Spaces are also clearly delineated as personal or congregational, private or public.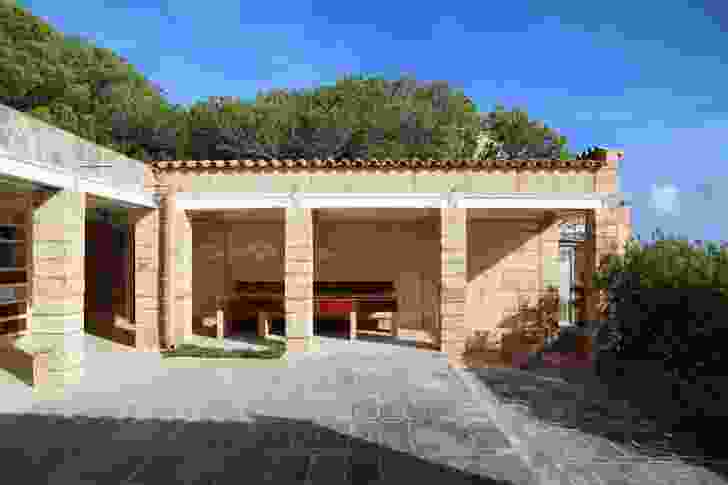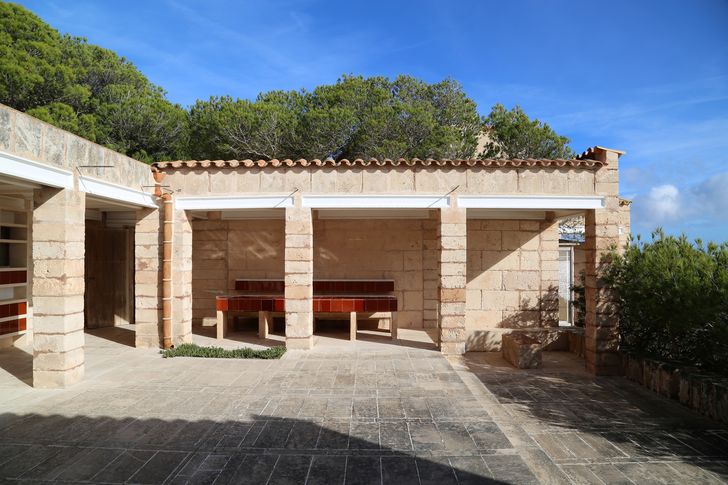 The house embodies the most fundamental of architectural ideals, those of prospect and refuge. Its monolithic construction evokes the ruins of ancient temples, with its stone pock-marked and worn. Within its thick cave-like walls, furnishings are kept to a minimum with tiled stone tables and seats constructed as permanent fixtures for public gathering, while bed nooks have been carved from the stone mass to form protected niches.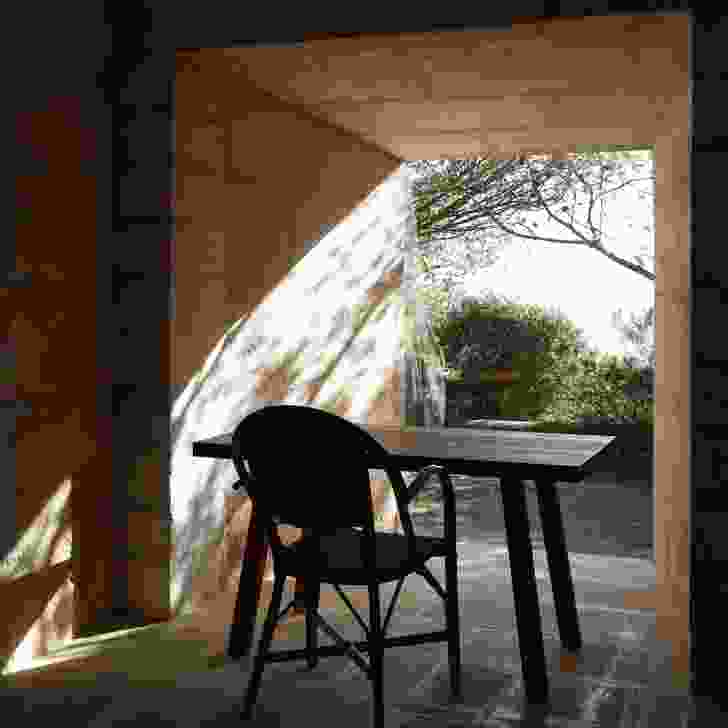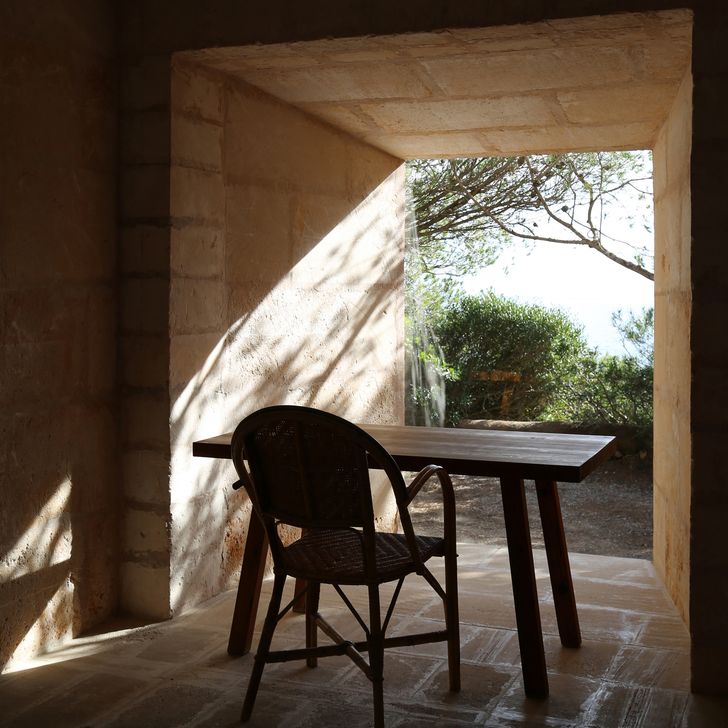 In each room, the deeply recessed windows frame small interior vignettes, with furniture placed to take in the view. The most captivating of these is in the living room, where the windows hold the horizon line like a Rothko painting. Indeed, light takes on a painterly quality throughout the house; its large, tapered windows forcing daylight into dramatic shards which creep across the floor as the sun moves. The windows are similar in scale and effect to those of along the Western Foyer of the Sydney Opera House (one of its only authentically Utzon interiors), where an exhibition of Danish design was held in 2013.
Can Lis feels deeply anchored to its place and purpose, offering a sense of permanace on an island undergoing continual change. Today it is privately managed by the Utzon Foundation, which purchased the house in 2011 with the assistance of the Obel Foundation. Though not accessible to the public, it can be visited by invitation or application. These usually take the form of residencies for architects, artists and student groups for short or long visits.
I was lucky enough to spend five days at Can Lis in 2014 as part of the first Multi-disciplinary Australian-Danish Exchange (MADE) program with the Sydney Opera House, prior to our six-week internship at Henning Larsen Architects in Copenhagen, with the other inaugural MADE practitioners. It was a wonderful opportunity to get to know one another (having only briefly met in Sydney), that also acquainted us with one of Utzon's most powerful pieces of work.