Canberra's 'most endearing piece of urban architecture' inspires art exhibition
They are a ubiquitous, distinctive presence around Canberra's suburbs, and now they are to be the subject of a major exhibition at the Canberra Museum and Gallery.
Canberra's brutalist bus shelters, designed by architect Clem Cummings from 1974, have been depicted by British-born artist Trevor Dickinson in a series of drawings and photographs in celebration of their contribution to the national capital's urban fabric.
More than 43 years since the first shelter was installed, some 496 of the structures remain across Canberra.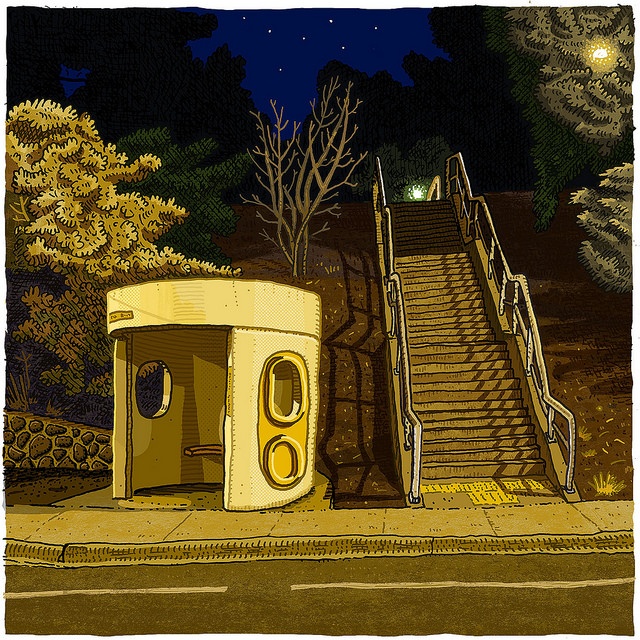 On exhibit in October will be 52 drawings of the shelters, along with photographs of all 496, with notes on their location.
For Dickinson, the shelters are a defining part of Canberra's suburbs – a feature which is perhaps only now being appreciated.
"When I first started drawing them, I'd be going to markets to sell them and a lot of people would say how ugly they were and [how] they hated them, but I never hear that anymore," he said. "It seems to have really changed, people are kind of accepting it as an iconic Canberra piece of architecture."
The Queensland-born architect Clem Cummings – who at various times worked for the Department of Works in Canberra, for the Prime Minister's Office and for Dirk Bolt Architects and Town Planners – completed the design for the bus shelters in 1974 for the National Capital Development Commission, while in private practice as C.G Cummings and Associates.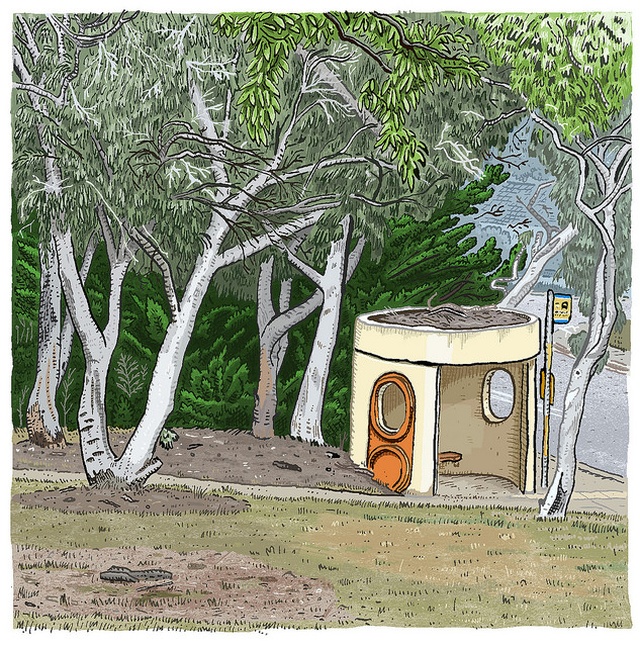 Ninety-eight of the shelters built to Cummings original design (Series 1 design) were installed around Canberra in 1975, with each costing an estimated $2,000.
Cost considerations would lead to the design being updated in subsequent years, with a number of variations of Cummings design being installed up until the 90s, according to Archives ACT, which described the bus shelters as "Canberra's most endearing piece of urban architecture."
The archival body notes that by January 1976, the Departmental Coordinating Committee felt the cost per shelter was unrealistic and suggested that the cost be brought down to $1000.
Transport Branch assistant secretary B.C. Darke defended the design at the time, saying the shelters were "functionally adequate" and "resistant to vandalism which is the predominant problem." A compromise was reached, with some seating and the polycarbonate windows removed to keep costs down.
Plans of Cummings original Series 1 design were missing from the public record until 2016, when the Territory and Municipal Services records manager uncovered a complete set of plans stored at the Tuggeranong bus depot, south-west of the city centre.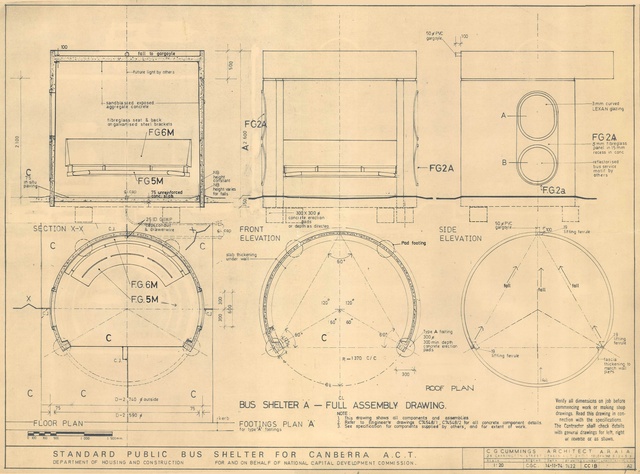 Some of these plans will be displayed as part of the exhibition in October.
Clem Cummings died in 1997, but in the process of portraying the bus shelters Dickinson has been in contact with members of his family – who he says are appreciative of the renewed attention for the architect's work.
"It's quite funny because obviously he's done a lot of grand buildings or larger projects, but it's through this he's getting his name out there a lot more – because he's designed these utilitarian bus shelters."
Some of Cummings other notable projects include Burgmann College at Australian National University, the Canberra Grammar School master plan, and some of Canberra's first town house and medium density projects.
It is the bus shelters that have left an indelible impression on how Dickinson sees Canberra, however.
"If you go to cities all around the world, you might find London with it's red phone boxes and post boxes, and New York has their taxis; I really feel these define Canberra quite well," he said.
"There're not many cities where you actually find things like this that can define a city, so I think that's a really important reason to keep them."