A proposal for a 13-storey extension of the QT hotel in Sydney has been submitted to the City of Sydney.
Designed by Candalepas Associates, which also designed the QT Hotel in Melbourne, the building will occupy a site in a rich heritage precinct in the heart of Sydney's CBD.
The proposed building will be situated opposite the historic Queen Victoria Building on George Street and will replace two existing buildings – the former Globe Theatre at 458-466 George Street and the former Dudley House at 468-472 George Street.
Sandwiched between the Gowings building, which the existing QT hotel occupies, and the State Theatre annexe, the design of the extension will respond to the adjoining heritage buildings in both form and materiality.
"The design respects the historic character of the sandstone façades in Sydney in a contemporary way, but also looks at all the complexities associated with building in such a sensitive area," said Angelo Candalepas. "But it is its own building as well. It makes a positive contribution to the streetscape that draws upon the Byzantine nature and architectural influences of the Queen Victoria Building and understands it in the post-Newtonian world."
"We wanted to create something that is incredibly beautiful on the street, that absorbs the light within its materials and creates an appropriate warmth as a well-suited companion to the Queen Victoria Building.
"It will enable both sides of George Street – the eastern side of the Queen Victoria Building in the morning and the western side of our part of George Street in the afternoon – to glow with that golden warmth that is Sydney."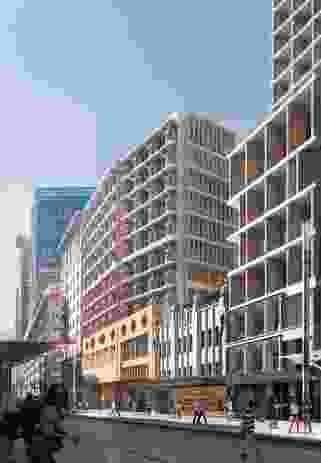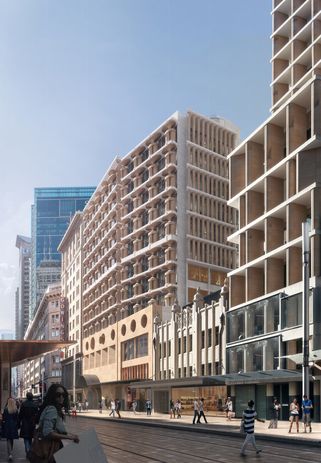 The height of the proposed building aligns with the neighbouring Gowings building and its highly articulated street wall will be constructed in stone, neutral toned concrete, copper and brass.
The design proposes a new arched entrance to the QT Hotel on George Street, which reference the arches of the Queen Victoria Building. "The curved entry that enables people to imagine sandstone arches," Candalepas said. "It's a contemporary building that has ancient values."
Above the podium, the complex geometry of the curvilinear columns define the facade of the building.
"Let's call it a kind of welcome decoration," Candalepas explained. "Architecture has for a very long time has not sought to decorate the column – the capital, the base and the shaft – in a way which responds to human's reactions. It's rare that we're doing it. It's rare because we're looking at ancient ideas and transforming them for contemporary purposes."
Candalepas Associates also designed the neighbouring AHL Headquarters, home to the company that owns QT Hotel and the State Theatre. The building won the Harry Seidler Award for Commercial Architecture at the 2016 National Architecture Awards.
The project will also include minor changes to the interior of State Theatre and Gowings buildings as well as an upgrade to the back of house facilities of the State Theatre. Parlour Lane will also be retained.
Related topics